NoStranger (No Stranger)
By: Scott Mulligan

This is a complete a step-by-step walkthrough with hints, tips, tricks, solutions and answers for the iOS and Android text adventure game NoStranger by Scott Mulligan. Feel free to ask for extra help in the comments section.
Intro + Chapter 1 | Chapter 2 | Chapter 3 + Bonus Stuff + Videos
Introduction:
Adam needs to find a hospital nearest to Grazin' Diner in Hudson, New York. Use Google Maps to find the diner. If you look a bit east, you can find the Columbia-Greene Hospital Foundation (or Columbia Memorial Hospital).
So tell Adam the direction to the hospital is East.
Chapter 1:
Adam asks you to look at Tim June's blog and tell him the last word of his latest blog post. Head over to The Good Life is Now blog at https://thegoodlifeisnow.blogspot.com and look at the last post, which is at the very top of the page, called "Need to get something off my chest…" Scroll all the way down and find the last word, which is alive — that's the answer for Adam.
Adam then asks you to find out where Tim June is going on 9/24. Head over to the "Exciting Plans!" post at https://thegoodlifeisnow.blogspot.com/2016/06/exciting-plans.html?m=1 and Notice it says he'll be at an R & B Festival at the Brooklyn Academy of Music (or BAM) — enter either Brooklyn Academy of Music or BAM as the answer.
Adam then asks you who Tim is taking with him. The answer is Momma June.
Next, Adam wants you to help him sneak into the Peter Sharp Building at BAM. Open Google Maps and search for it. Go to Street View and find the front of the building. Head around the left side of the building to find a stage door.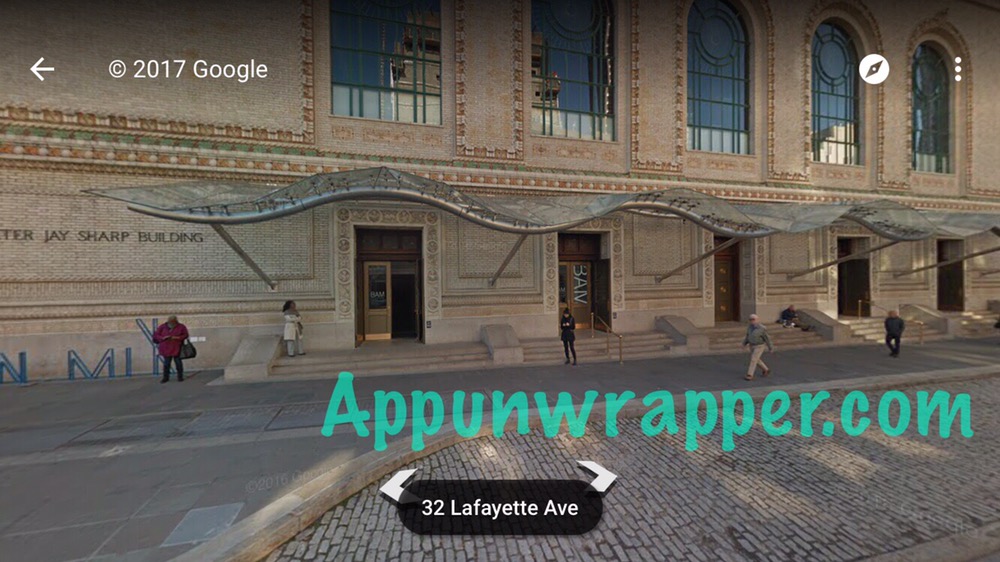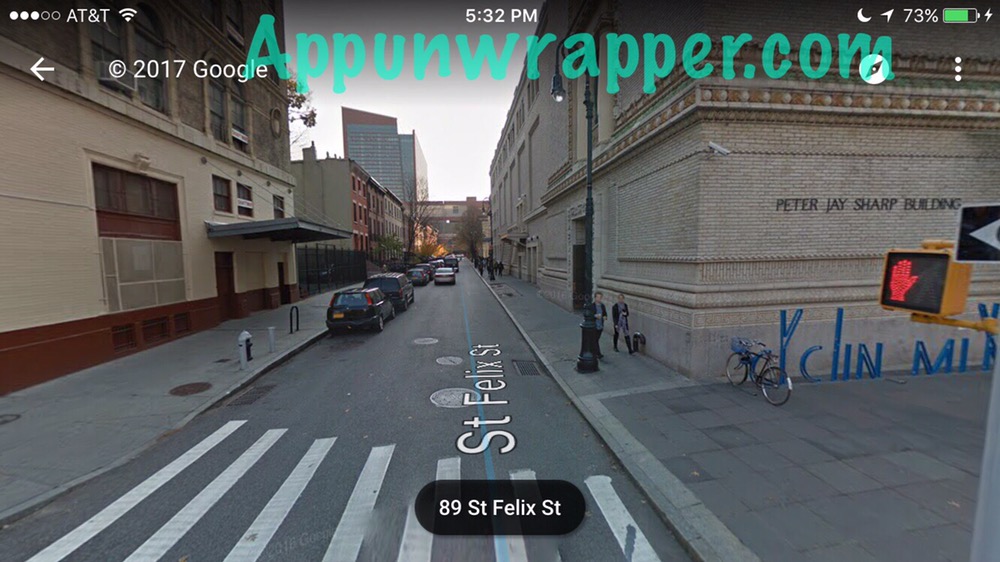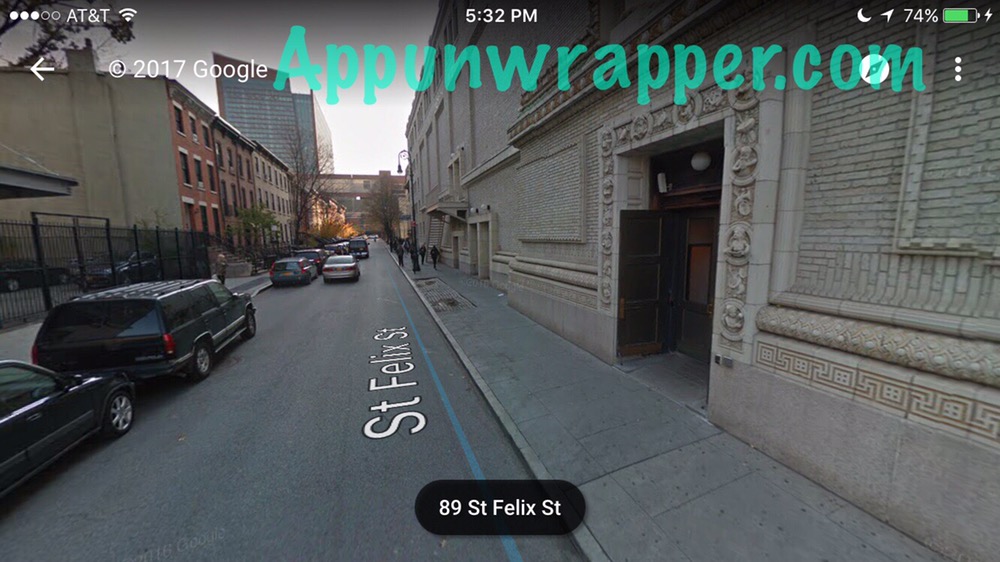 Tell Adam I think I see an open stage door (may be risky).
Adam asks what street it's on. Tell him St Felix.
He then asks you to go back to Google Maps and look at the pink photo of the inside of BAM. He wants you to find someone with a beard and a mother by their side. You can see someone like that by the bar! Tell Adam, I think I see him by the bar.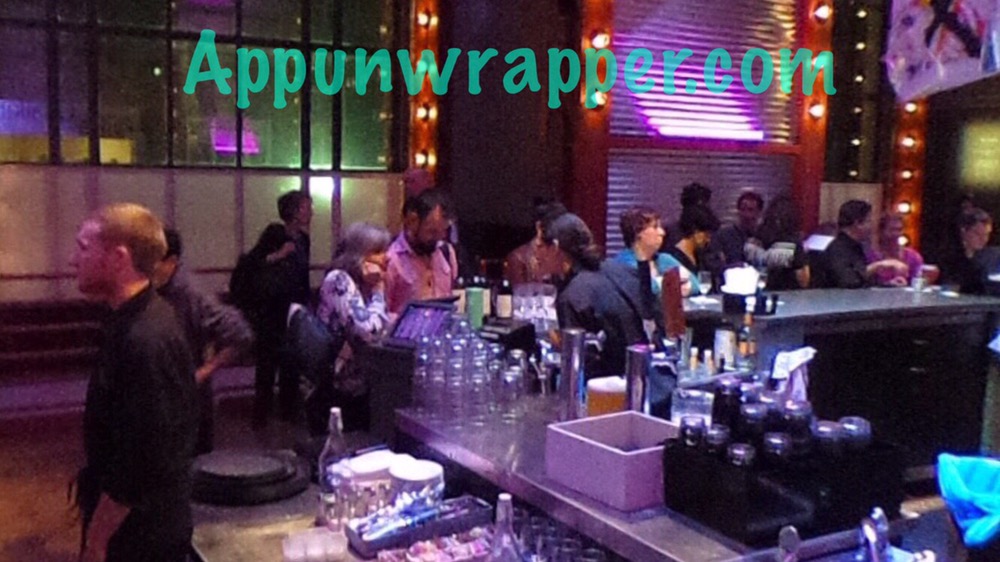 Riddle 1:
Go to this URL: https://tinyurl.com/flubberton-riddle-1
This is the riddle:
"This is the Flubberton riddle.
There was a town of Flubbertons. Nice jolly creatures.
It wasn't a beautiful night like any other in Flubberfall due to the huge fog that had set over Flubberfall due to the annual flood.
That day there was a dead Flubberton, the Flubber trumpeter, found in the town hall.
There were five Flubbers in the hall at the time.
The Flubber Mayor, number 1
The Flubber doctor, number 2
A Flubber clerk, number 3
A Flubber teacher, number 4
And you, the Flubber detective happened to be in the hall as well.
The Flubber mayor said he was in his office signing legislation when he heard the trumpeter cry out.
The Flubber doctor said he was with the Flubber teacher checking out old town records.
The Flubber clerk said he was in the observatory at the time of the murder watching the stars.
The Flubber teacher concurred with the doctor.
You claimed you were doing 'detective' work and couldn't disclose your doings.
Needless to say, the Flubbers have united against you and will execute you if you don't find out who murdered the trumpeter in five minutes.
Defend yourself. Who really murdered the trumpeter?
1, 2, 3, or 4?"
Answer: 3, because the clerk couldn't have been watching the stars on a foggy night!
Adam then asks you to take a personality test at https://www.16personalities.com/free-personality-test.
He also gives you a Spotify playlist if you want to listen to it: https://tinyurl.com/my-playlist-listen
Take the test so you can tell him what you got. It's five letters. Mine was INFP-A.
Click on the little numbers below to continue to Chapter 2 or click here.
***
Note: Sometimes a promo code is provided for a game, but it does not affect the review in any way. At AppUnwrapper, we strive to provide reviews of the utmost quality.

Check out my recommended list for other games you might like.

If you like what you see on AppUnwrapper.com, please consider supporting the site through Patreon. Every little bit helps and is greatly appreciated. You can read more about it here. And as always, if you like what you see, please help others find it by sharing it.

I also offer affordable testing and consulting for iOS developers.

COPYRIGHT NOTICE © AppUnwrapper 2011-2020. Unauthorized use and/or duplication of this material without express and written permission from this blog's author is strictly prohibited. Links may be used, provided that full and clear credit is given to AppUnwrapper with appropriate and specific direction to the original content.