Bubble Bust! Update 1.21
By GameOn
Win a Bubble Bust! promo code!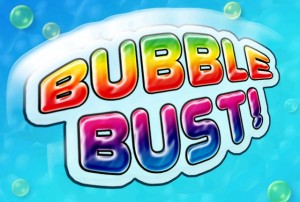 I recently reviewed Bubble Bust!, giving it a 4.5 with my only complaint being that there wasn't more of it. Well, GameOn just fixed that with their newest update.
Here's what the new update boasts:
* 14 new levels with many new great features for free
* Catchy new soundtrack
* Powerful new fireball
* Polished graphics
* Extended help with Scoring, Tips and Tricks
* In-game tutorials added
The 14 new levels are part of the first world, which brings the total to 90 levels. In addition, two new worlds have been added with 100 worlds each. Each world can be purchased via IAP for $0.99. The new worlds boast exciting new power-ups that make the original version feel dull.
I really enjoyed the 14 new free levels. There are new balls like split balls (two different colors) and the homing fireball is a blast. It squeezes in through gaps and explodes in fit of fireworks. Even with these new power-ups, I'm finding the new levels to be a good challenge. So the extra free levels might last you longer than you think.
Here are a few screen caps of the new levels:
**World 2: Shooting Stars**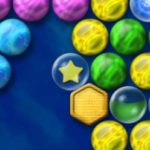 As the name suggests, the second world has you shooting at stars. In addition to the usual coins, you'll find stars in bubbles which add bonus points to your score. But you have to pop them before they vanish or you lose out! While you may think this means it is easier to get higher scores, it's actually harder to get a gold star at the end of the level, because the game expects you to really earn it. This means more replay value for those who like a challenge and are aiming for all gold stars.
As with the first world, there are various types of special marbles that you'll encounter. They are introduced to you gradually so you can get used to them. The first one you'll notice is the "Bumper Energy Bubble." As the game tells you, you need to collect these to charge a bumper. When you have a fully charge bumper, you can use it to push back all the balls. This is a great lifesaver when you're near the end and it just isn't going your way.
You'll soon be introduced to marbles that switch places: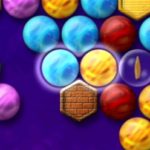 and marbles that blow your marbles in directions you don't want them to go!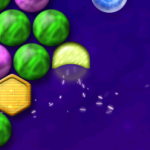 You'll also encounter these little colored circles that change the color of a marble that goes through it: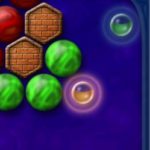 Then there is the black widow bubble, which cannot be matched with any colors. You must find other ways to destroy it (one of my favorite ways is changing its color!).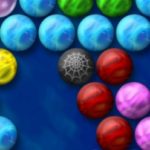 And these meteors can end your whole game if you don't destroy them first!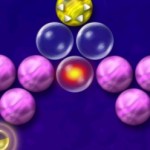 **World 3: Struck by Lightning**
World three adds even more types of marbles, including a new kind of color-changing one that cycles through all the different colors: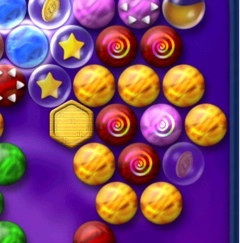 All these elements serve to make a more challenging, and more exciting, Bubble Bust! I highly recommend the new worlds if you loved the first world.