Bubble Bust!
By GameOn
Win a Bubble Bust! promo code!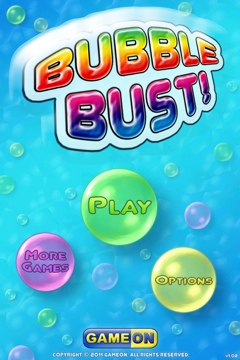 ***Check out the new update here***
When I downloaded Bubble Bust, I didn't have high expectations. There are so many match-three and bubble-shooting games out there, and I didn't think this could add anything new to the genre. Wow was I wrong. From the second I started playing, I couldn't put it down until I completed it. Literally. I would try to stop, but it always pulled me in for "just one more level." This is one highly addictive game.
Gameplay: 5/5
The concept of Bubble Bust! is very simple but well-implemented. There is only one control. You tap anywhere on the screen to shoot a colored marble at other colored marbles that are slowly falling towards you. You can also keep your finger on the screen longer for more accuracy. Your goal in this match-three game is to clear the marbles and bust the hidden key bubble at the end of each level. If any of the marbles crosses the glowing line at the bottom of the screen, the game is over.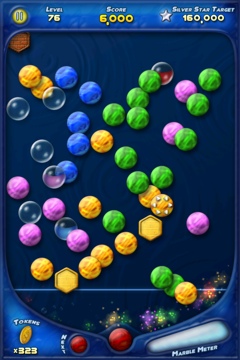 Like most well-made puzzle games, the first level eases you in so you can learn the ropes. But as you progress it gets gradually more challenging. You'll eventually encounter imploding, multiplying, and color-changing marbles, and even brick walls and wormholes. But don't fret — you're given new types of marbles to help even the score, such as rainbow marbles, exploding bombs, and steel marbles that slice through anything. But use them wisely, because they're rarer than you'd like. If you fail, the game tells you how far you made it so you can try again.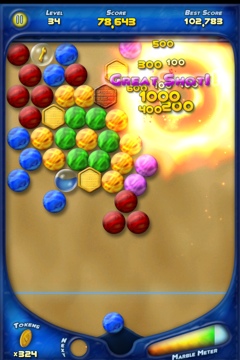 While you're popping bubbles, keep an eye out for coins. You'll want to collect these, because they're used to unlock bonus levels. You'll have to use coins each time you play them, but you can win more coins doing so. I played through the whole game with plenty of coins to spare, so don't worry about not being able to experience every level. You can also skip a level that you can't afford yet or is giving you trouble. This is a nice feature, as I've given up on some other puzzle games that don't allow this. There are a total of 76 levels, and you'll want to try and complete them all.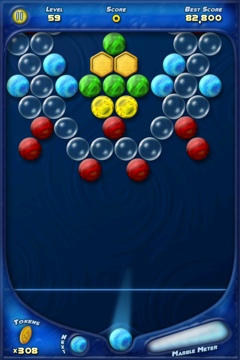 Graphics: 4.5/5
The graphics are simple but polished and optimized for retina display. The animations all look flawless. From explosions to implosions, they're fluid and convincing. The menu options are floating bubbles that bounce and squish at your touch. There's no lag, so the animations are in tune with your gameplay. There's even a colorblind mode with shapes added to the colors.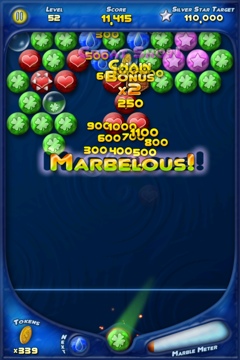 Audio: 5/5
Bubble Bust! also shines with its soundtrack that I found surprisingly atmospheric and relaxing. It fits well with the game and I never got tired or irritated with it. The sound effects are also spot-on, pulling the whole package together.
Replay Value: 3.5/5
Bubble Bust! is nearly perfect. The only thing it really lacks is the longevity of other popular puzzle games that get continuous updates. While there are 76 solid levels, I wish there was more. I would also love to see endless and vs modes so I can compete with friends over Facebook. As it is now, there isn't much replay value unless you're someone who likes to compete for high scores with yourself or strangers. The GameOn website has international leaderboards to appeal to the most hardcore players. But for the rest, this will likely be a game you only pick up once in a while after completing it.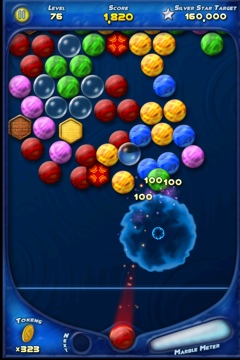 Conclusion: 4.5/5
Despite the lack of serious replay value, Bubble Bust! is a top-quality, highly-addictive puzzle game that any fan of the genre will love. At just 99 cents, you're definitely getting your money's worth. There's also a lite version if you're hesitant to buy without trying. So what are you waiting for?