Plants vs Zombies
By Popcap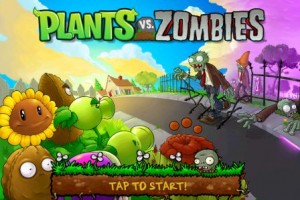 Plants vs Zombies is a tongue-in-cheek strategy game where you build an army of plants to defend your home against invading zombies. When I first heard of Plants vs Zombies, I was skeptical about it, despite its huge popularity. I had played other strategy/defense games and didn't think it could offer anything different. But Plants vs Zombies has earned its huge following.
Gameplay: 5/5
Each level of Plants vs Zombies begins by showing you the area you can plant on, as well as the Zombies waiting to attack. The game starts out simple, with six rows that you can plant on. You also start with only a couple types of plants with which to defend your home. You're eased into the game so you can learn the ropes before it gets more difficult. the first thing you're instructed to do is plant Sunflowers, as they produce sunshine. You need sunshine in order to plant anything, so the Sunflowers are incredibly important.
As you progress, you'll acquire more plants, each with their own distinct abilities. For instance, Wall-nuts are like walls, as you might guess. They have high defense but don't attack, so they're ideal for protecting plants with lower defense. There are 49 plants plants to unlock, and you'll have to choose which ones to take with you into each battle.
While your plants' varieties increase, so do the zombies. You'll soon encounter Balloon Zombies and Pogo Zombies which can only be defeated by certain plants.
And, to add even more variety and strategy to the game, the battleground changes location, starting from your front lawn, to backyard (with pool!), and even the roof. You'll also sometimes have to defend your home at night, in which case you'll have to use mushrooms. There is so much variety in this game, that you'll likely never get bored.
Unlike some other defense games, the army you raise in PvZ is a static one because it's made up of plants. Other games allow your troops to move within a row, or maybe even throughout the whole board. But in PvZ, your plants stay where they are, so you have to think strategically before placing them down. This can also make the game feel a bit slow at times, since the Zombies are mostly slow-moving. I've wished upon several occasions that there was a button to speed it up. But this is not as noticeable as the game progresses and becomes more challenging.
Story: 4/5
There isn't much of a story here. Your house is being attacked by zombies. If your plants don't defeat them in time, they'll come and eat your brains!
There's a lot of fun dialogue from the shopkeeper who's a bit crazy, and the Zombies send you humorous letters once in a while in an attempt to trick you into letting them in. The game is very tongue-in-cheek and never takes itself too seriously.
Graphics: 5/5
The graphics are optimized for retina display and look great. The plants are charming and the zombies are quirky. There's a lot of personality here. The animations also look great, from exploding cherries to flinging butter. Everything's smooth and polished.
Audio: 5/5
There are very few video games that I'll play and actually get the music stuck in my head. Plants vs Zombies is one of those games, and it has a terrific soundtrack that fits the game just perfectly. It's relaxing but never boring, and I can't see playing the game without it.
The sound effects are also spot on, and I never seem to get tired of the zombies' groans. Overall, the audio really ties the whole game together.
Replay Value: 5/5
There's a huge adventure mode to get you started. In addition, there are plenty of mini games to unlock as well as the Zen Garden. There is so much to do in this game, that you'll definitely get plenty of use out of it. There are also GameCenter leaderboards and tons of achievements to keep you busy.
Conclusion: 5/5
If you're a fan of of strategy/defense games, Plants vs Zombies is a must-have. They're popular for a reason. The game is complex and full of rich content that makes it addictive enough that you'll want to keep playing. But it's also very pick-up-and-play friendly for those who don't have the time to fight zombies day and night! I definitely recommend it to anyone who's looking for something different that's not too fast-paced but offers plenty of strategical challenge.
If you like Plants vs Zombies, try these other strategy games.
See my Plants vs Zombies Cheats.