Infinity Blade III (3) Soul Hunter Update
[DKB url="https://www.appunwrapper.com/IB3″ text="Download" title="" type="" style="" color="green" width="" opennewwindow="" nofollow=""]
The first content update is now available to download. Read up about it before you update. I'll be posting here any helpful hints and tips I could think of. Check back for more.
See our Ausar Rising guide here.
***News: If you haven't updated yet and gotten the new pumpkin helm, do so this weekend, as Chair just announced it will no longer be available after this weekend!***
– All known gold and BC glitches have been fixed, including cooking gems from potions.
– All gold has been reduced to 50 million (if you had more than that before the update) and BCs to 16,000 (if you had more before the update). This was to compensate for all the gold and BC glitching.
– The Blacksmith now has 5 forging slots, but you need to buy the extra slots with battle chips (sigh).
– Play the new area, The Metius Observatory, and defeat Oslim to win the Dual Infinity Swords for Siris. You'll be able to access this new area (Interlude – The Blood Mage) after you finish Act 2.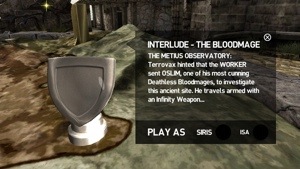 – You can now get the Vile set for Siris and a new Wraith set for Isa.
– Holiday helms are back, this time as a separate helm for each holiday.
– Four of the locations can now be revisited after defeating the boss. You fight a regular Titan at the end, like you would in IB2 at the top of the tower if you chose to avoid the bosses that round.
– Some titans seem to have new abilities like Spectrum (Rainbow) Attack and insanely high levels. Hopefully this will be fixed.
**This is from the Official Infinity Blade site. Looks like the "Boss Perks" are here to stay:
"Attention all you Aegis Warriors, this one is for you!
The newly released free content pack Infinity Blade III: Soul Hunter includes an exciting addition that will put the skills of harder core players to the test. All new Boss Perks give Titans unique advantages, forcing players to alter their play style to survive.
Titans at level 100 or higher may have Boss Perks. The higher the level, the more likely the Titan will have a Boss Perk. You can tell if a Titan has a Perk by clicking the info icon on the bottom right of the screen before battle. The Boss Perk will be listed, along with any elemental attacks and resistances it has.
HereΓÇÖs a full list of current Boss Perks you may encounter in Infinity Blade III:
Immune to Magic ΓÇô You canΓÇÖt use magic in this fight ΓÇô not even to heal yourself!
Immune to Super ΓÇô You cannot use your Super Move against this Titan.
Elemental Titan ΓÇô This Titan is immune to all elemental damage and delivers Darkfire elemental damage, which canΓÇÖt be defended against!
Great Parry Only ΓÇô Normal parries have no affect! You must perform Great Parries or Perfect Parries (you can also block and dodge).
Perfect Block Only ΓÇô Normal blocks cannot defend against this Titan. If you choose to block, only a Perfect Block will do the trick.
Normal Damage Resist ΓÇô The Titan takes very little damage from non-elemental attacks. Use strong elemental attack gems for this one!
Super Fast Attack ΓÇô The Titan attacks much faster than usual.
We heard from many hardcore IB3 players who wished the game would ramp up the difficulty more at super high Awakenings. Boss Perks is one of the ways weΓÇÖve addressed this fan feedback. And while it might sound difficult, you can take some solace in knowing that Titans can only have one Boss Perk. Happy hunting!"
So there you have it — IB3 is now hardcore.
**Update: They said they are adjusting the difficulty a bit so lower level players don't encounter too many Boss Perks. They're also considering an option to go back multiple awakenings at a time instead of just one.