Haunted Halloween Escape
By TeraLumina Games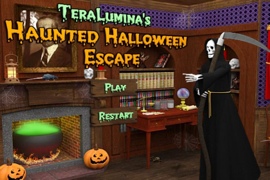 [DKB url="https://www.appunwrapper.com/hhe" text="Download" title="" type="" style="" color="green" width="" opennewwindow="" nofollow=""]
Click here for my Haunted Halloween Escape walkthrough.
Just in time for Halloween, TeraLumina Games has released a ghoulish Halloween-themed iPhone room escape game that is whimsical and spooky fun for the holiday.
Gameplay 4/5
It's not a particularly challenging game, but it's entertaining nonetheless. The controls are intuitive and responsive. You tap on an item to pick it up or use it to solve puzzles in order to escape the haunted house. The puzzles are fairly simple, but there is enough going on here to make it an enjoyable experience. TeraLumina is also the maker of all the gem-collecting room escape games. Here they replace gems with bats. You tap on jack-o-lanterns and a bat flies out. Can you find them all?
Story 4/5
You have to escape a haunted house, complete with ghosts, vampires, skeletons, bats, rats and more. Occasionally something pops out at you. You even get to kill a few of the monsters. What more could you want?
Graphics 4/5
The 3D graphics are a bit cheesy, but fun. The atmosphere is bright and clear, not dark like most Halloween-themed games. Perhaps if it were darker, it would be scarier. There's a lot going on here. Rats, bats and spiders skitter about on every screen. One might say the screen is too busy, but that adds to its appeal. It's a delight every time a new monster pops up on-screen.
Audio 5/5
The game starts off with the classic Halloween music, Johann Sebastian Bach's Toccata and Fugue in D Minor. It continues with spooky sounds like moaning ghosts, cackling witches and squeaky bats. These all come together to set the right tone for Halloween.
Replay Value 3/5
It may be fun to replay this game to revisit all the spooky guests, as well as find all the bats if you didn't do so the first time around. You'll also likely want to share it with your friends and family once you've had your fill of it. It's a great game to show off.
Conclusion 4/5
It's a fun little game, but sadly not very challenging. If it offered more of a challenge and lasted longer, it would earn a higher score. This is a family friendly game that everyone will want to play. However, it is rated 9+, so make sure to play through it yourself before deciding whether to show it to younger children.
Note: While this is an iOS game, if you don't have an iDevice, you can also play the flash version of this game online.
[DKB url="https://www.appunwrapper.com/hhe" text="Download" title="" type="" style="" color="green" width="" opennewwindow="" nofollow=""]
If you liked this game, also check out these other escape games, including my review of Diamond Penthouse Escape 2.