Contradiction – Spot the Liar!
By: Tim Follin

This is complete a step-by-step walkthrough guide with help, hints, tips, answers and solutions for the PC and iOS game Contradiction by Tim Follin. Feel free to ask for extra help in the comments section.
See my Contradiction review here.
Walkthrough:
Friday, after 5 PM, 0%:
You can watch my video for this part of the walkthrough or continue below for the step-by-step guide:
1. Head up North Road to Eden Lodge (Simon & Emma). Before going in, tap the magnifying glass in the corner to inspect the bike, the home brewing equipment and pick up a screwdriver.
2. Knock on the door to speak to Simon. Ask him about everything you possibly can. Then interview Emma and ask her everything. Then leave.
3. Go past Wood Lane to the jetty by the lake. Tap the magnifying glass to see something stuck in the cracks. Use the screwdriver to dig out the broken pendant.
4. Go back to Eden Lodge and ask Emma about the broken pendant. She'll tell you it's part of a Freedom Necklace that she gave to Kate. She'll give you a business card with some information on it.
5. Talk to Simon and ask him about the broken pendant and the card. Now you can catch him in a lie, your very first contradiction! Select these two lines to create a contradiction and progress to 6PM:
"Simon has known Kate for three months."
"Simon said he saw Kate wearing a Freedom necklace at college."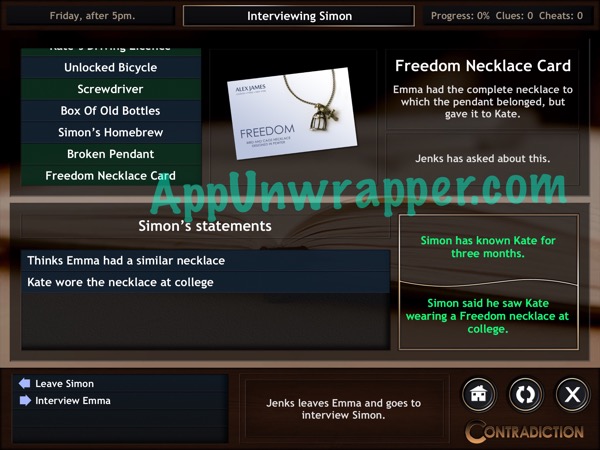 Click on the little numbers below or click here to go to the next page of the walkthrough.