Thimbleweed Park
By: Ron Gilbert

Update: Thimbleweed Park is now out on iOS!
I've heard that Ron Gilbert's Thimbleweed Park is inspired by the television show, Twin Peaks, but I didn't really know what that meant until I started watching the 1990 show about a week ago. While I'm still early on in the show, its quirkiness has piqued my interest in the game. And there's obviously some X-Files stuff going on here, too, especially with the red-haired female detective and her male partner. All this sounds like the perfect inspiration for a tongue-in-cheek adventure game, so I'm glad to finally have it in my hands. It comes to iOS devices in just a few days on September 19th, and I've only played about forty-five minutes of it, but wanted to share some early impressions.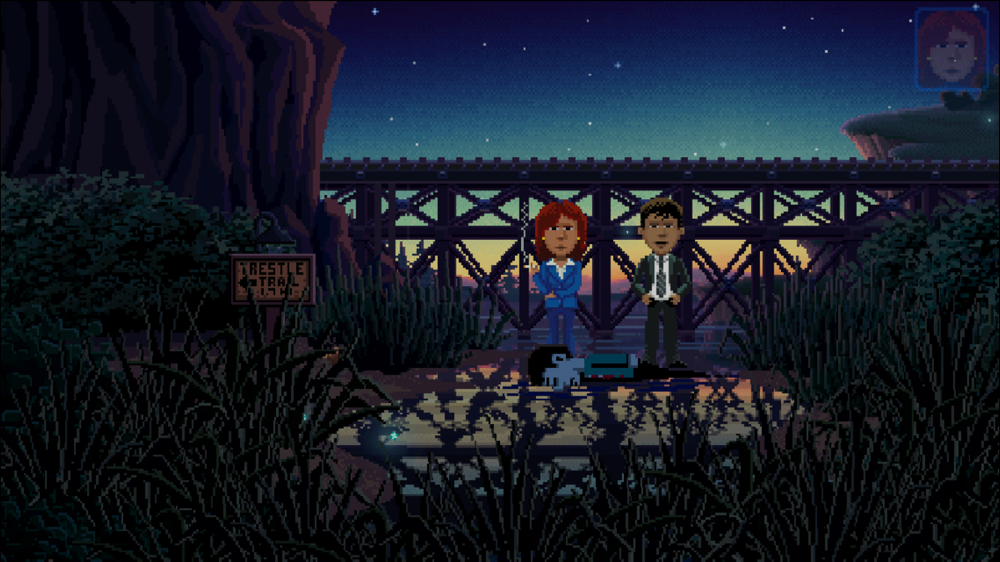 First off, I have to mention the artwork. I can be picky when it comes to pixel art, and I think screenshots I've seen of the game didn't do it justice. In the first scene, there are reflections of the sunset in the water under a bridge that are far prettier than they have any right to be. And there's this great parallax effect when you move your characters across the screen, yet it's subtle enough to make me question what exactly I'm seeing. But my favorite is the camera placement. You often have the vantage point of watching the scene from behind something like a box of donuts or a corpse's feet. It adds not just depth to the scene, but a whole lot of character. These little details show how much thought went into everything.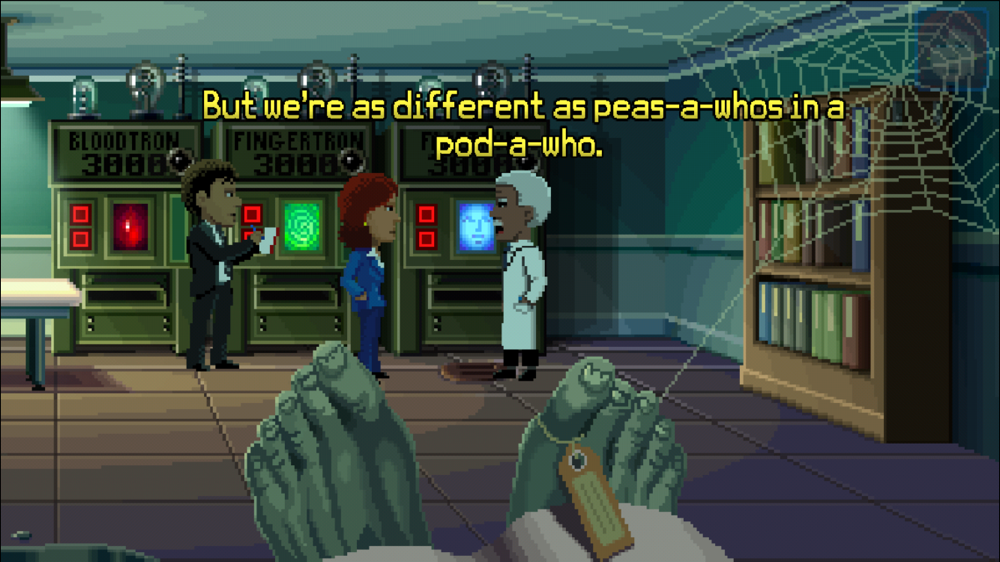 Then, of course, there's the main attraction — the humor — with plenty of fourth wall-breaking and just all sorts of silliness. Like a sheriff and coroner who seem to be the same person but no one else in town sees the resemblance. Or two plumbers dressed as pigeons that I keep bumping into. You can even go into the settings and turn on the "toilet paper over" and "annoying in jokes" options. This is definitely a game you want to take your time with and explore as much as possible.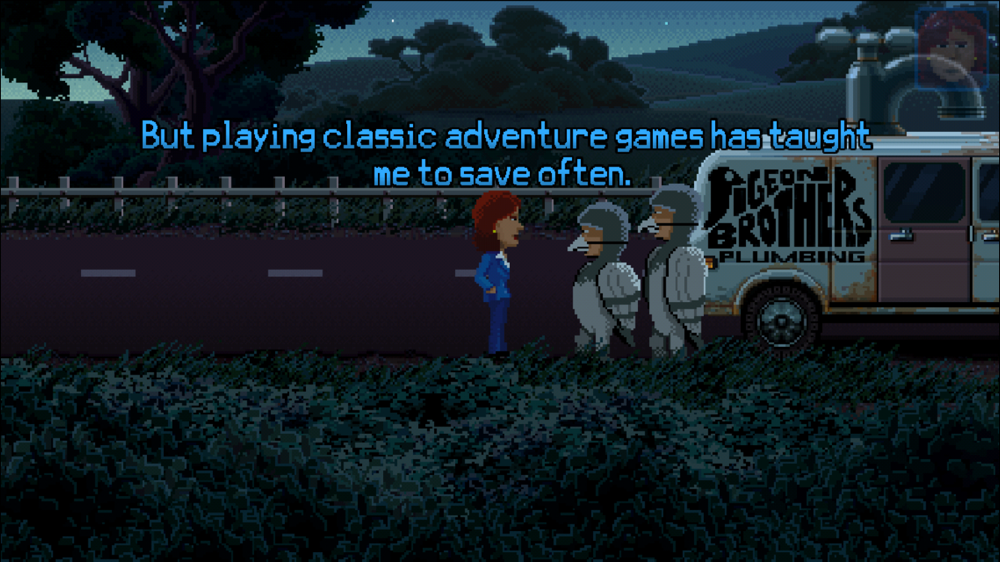 Any reservations I've had about the game ahead of release were due to its old school controls that involve lots of verbs to choose from. I played a few adventure games as a kid but only truly earned an appreciation for point-and-clickers on my iPad and iPhone. I like that modern adventure games, especially on touch devices, usually allow you to tap once to pick something up, and then drag the item from your inventory to use it on something. Alternatively, you'd tap it once to select it and then tap on the object you want to use it with. Sometimes you might have the option to inspect objects, but for the most part, the controls are simplified as much as possible and I like it that way. I'm happy to say that Thimbleweed Park does offer some shortcuts to make things quicker. For instance, double-tapping on a door will open it instead of making you tap the word "open" before tapping on the door. Movement is also very touch-screen friendly with several options to make everyone comfortable.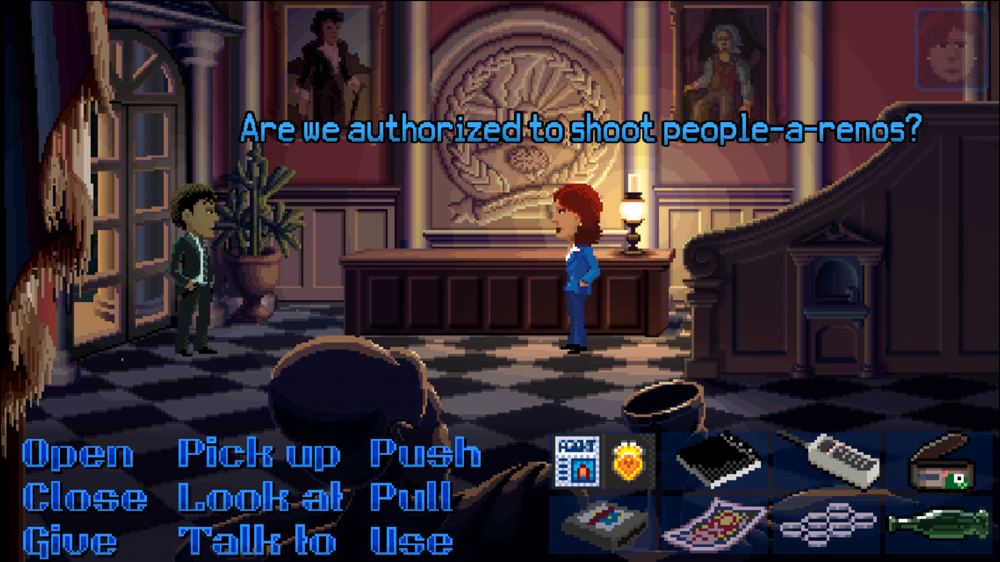 Lots of other little quality of life features have been added, like holding on the screen to see all available hot spots and using multiple fingers to skip dialogue and cutscenes. Sadly, it's not full-screen on iPad, so the user interface still covers the same area of the scene as on iPhone. But I'll talk about that more in my full review, once I've played through the game. I may have some small niggles with it, but I'm eager to see where the story goes and I'm glad to have the opportunity to play this comfortably with an iPad on my lap. If you're a point-and-click adventure fan, you'll definitely want to keep an eye out for Thimbleweed Park when it hits iOS on September 19th. And I'll have more on the game once it's released, so make sure to check back here.