Puzzlepops! Trick or Treat
By: Layton Hawkes

Puzzlepops! was one of my favorite puzzle games this year, so when developer Layton Hawkes sent me an advanced copy of the Halloween-themed sequel, Puzzlepops! Trick or Treat, I dropped every other game I was playing to dig in. Even though I had plenty of other games I was enjoying, for two days I played nothing else until I completed it.
I suggest reading my Puzzlepops! review if you haven't yet, to see why I loved it so much. If you've already played the original Puzzlepops!, some aspects will be familiar to you, such as the basic workings of the game. It's a relaxed puzzler that combines strategy with trial-and-error. Once again, you slide candies along tracks to combine them and ultimately reach the goals, indicated by dotted lines. The basic candies work the same way and just have new skins to fit the holiday theme. Thankfully, there isn't much crossover between the two games, so other than some basic puzzles that show you the ropes, those who played the original should still find plenty to enjoy here.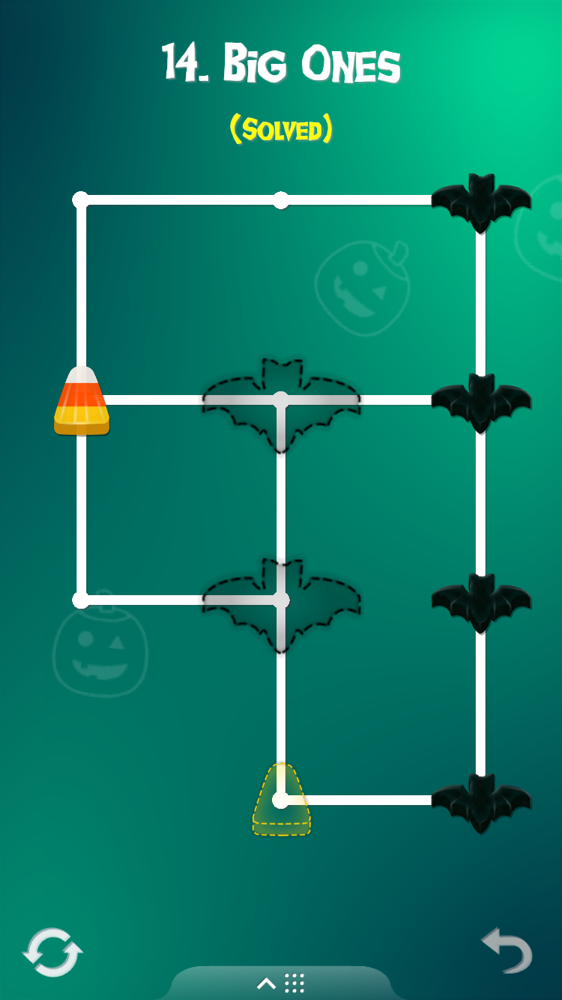 So what's different? Well, all the special candies have been replaced by new ones that fit the Halloween theme. There are bats that swap places with the candy that collides with them. Instead of regular jawbreakers that you slide manually, there are eyeball jawbreakers that move when another candy within their line of sight moves. They get stunned for one move after they hit a wall, but then wake up to cause more smashing of innocent candies. Then there are wax vampire lips that suck up other candies to make them bigger. And finally, there's the marshmallow ghost that switches between a solid form that works like any other candy, and its transparent state in which other pieces can pass right through it or even land on top of it. There isn't much handholding, though. Each new piece is introduced through a very simple level, but you might not fully understand how they work until you play more complex puzzles. The game really wants you to figure things out on your own, and I liked that about it. It was one of things I also loved about Snakebird, another superb puzzler. It feels more rewarding when you discover a gameplay element you hadn't noticed before.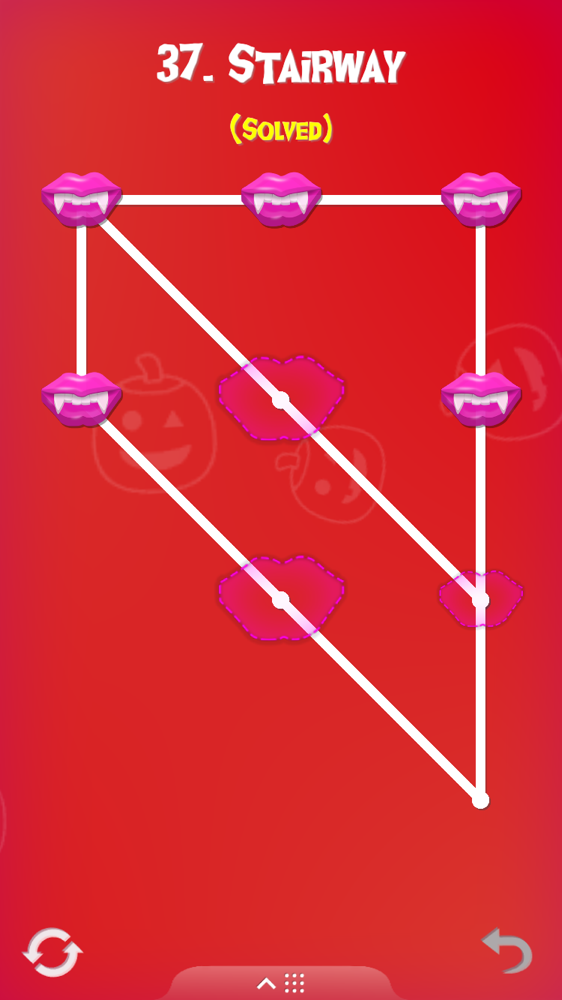 Perhaps most notable is that the shake-to-move pieces are nowhere to be found in this version. While I did like the challenge those added to the game, they were the most problematic because I often accidentally set them off just by moving my phone a bit or tapping it against something. There is an undo button in both games that saves the last five moves, so shaking by accident wasn't too much of an issue. But simplifying this game to include only swipe-based gestures was probably a good idea to make it more accessible to more people.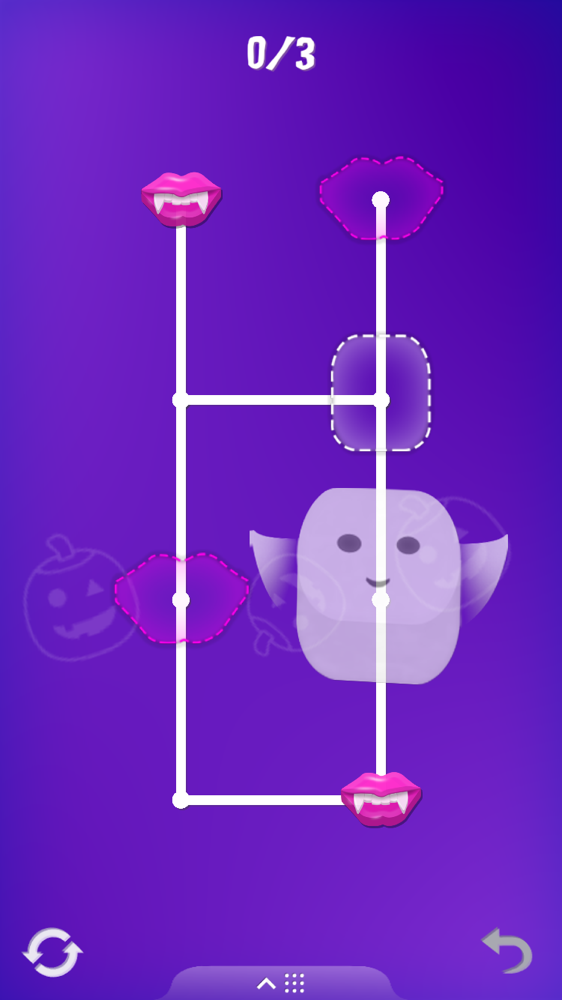 As in the first game, once you unlock a pack of puzzles, you can play them in any order you like. I really appreciate this, as sometimes I just need to take a break from a specific puzzle and come back to it later once I've solved some others. I skipped around quite a bit this time, but eventually solved all seventy-five. Keep in mind, the last five are only unlocked once you solve all earlier puzzles. Think of it as a bit of an extra challenge for those who mastered the game. There's also flawless iCloud sync, so you don't have to worry about losing progress. Even though it's a perfect one-handed iPhone game, some might want to play on an iPad while home, and its always nice to have that option.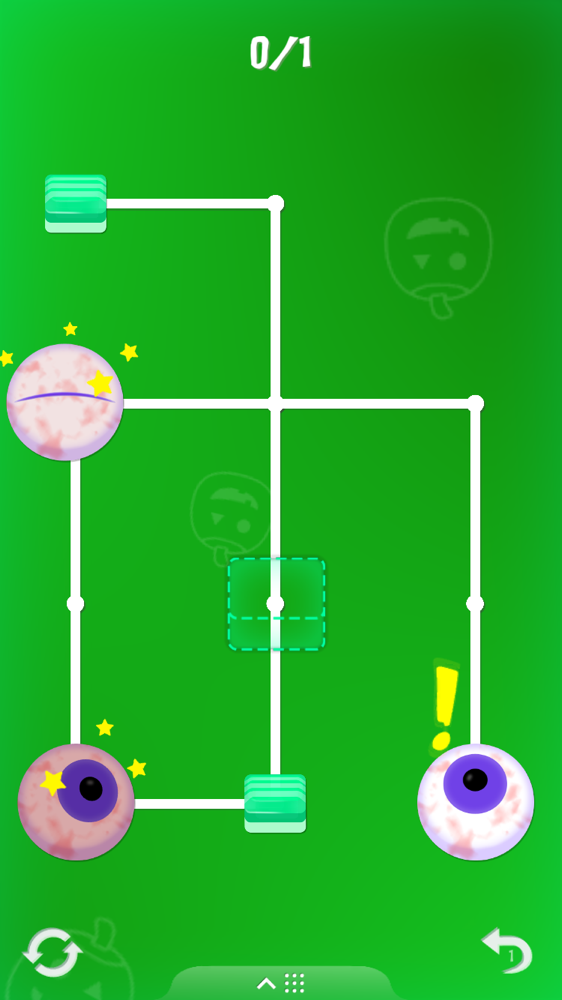 If you like puzzle games, there's no reason not to download Puzzlepops! Trick or Treat. The first 25 levels are completely free and then you can purchase another 50 mind-benders for a measly $0.99. This is a very generous price, as you likely won't just breeze through these puzzles. And if you like them, make sure to grab the original (currently on sale for only $0.99) for another 150 brain-busters. You can download Puzzlepops! Trick or Treat here to get an early start on the Halloween spirit. I know it's hard to tell from looking at it what a terrific game it is, so I hope the free sample gets Puzzlepops! into more players' hands. I know I would gladly fill a whole folder with these games.
If you still need convincing, you can watch my little gameplay video:
If you're playing and you need help solving a puzzle, try my walkthrough guide.