Her Story
By: Sam Barlow

Warning: This guide has spoilers for the game Her Story. If you haven't spent any time with the game, I suggest not looking yet. Instead, read my spoiler-free review and come back here if you get stuck or want to discuss the story with others.
If you've already played the game and want to see all the clips in order, you can do so here.
You can also see the full text transcript here.
***See my interviews with Sam Barlow and Viva Seifert here.***
What you'll find here are some useful starting tips, including everything that's on the screen when you first start the game. I also list some search terms that lead to important bits of information. Consider this also an open place to discuss the story, since it can be a bit ambiguous. If you want bigger spoilers, keep scrolling down.
I've posted some of my thoughts on the plot below all the tips so as to not spoil it for those who haven't completed it yet. Also, for those who already completed the game or close to it, you can find videos of all the interviews in order here. If you didn't play yet, I suggest waiting on them. There are also summaries of each interview, using the information we're given and the most straightforward explanation. The further you go on this page, the more spoilers you'll see! As I think about things more and discuss it with others, I'm adding more thoughts to the bottom. I apologize if they're a bit of a hodgepodge of ideas at the moment. But I'll likely keep adding and changing thoughts down there until I'm convinced one way or another of a plot point.
Starting Guide:
You can watch this little preview video I made of just the first four clips if you haven't bought the game yet and are still on the fence about it:
The following are windows that are available from the very beginning of the game.
Readme.txt & REALLY_Readme!!!.txt:
The Readme.txt basically tells you how to play the game. It explains the search engine and user session.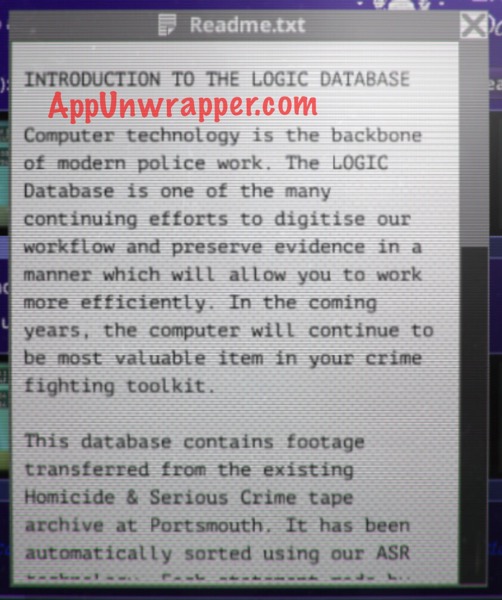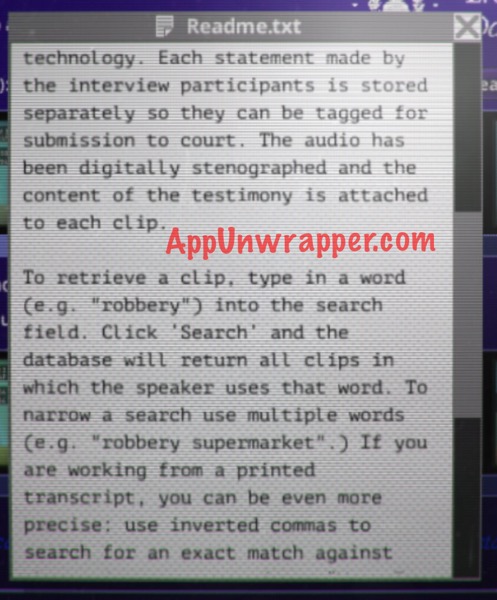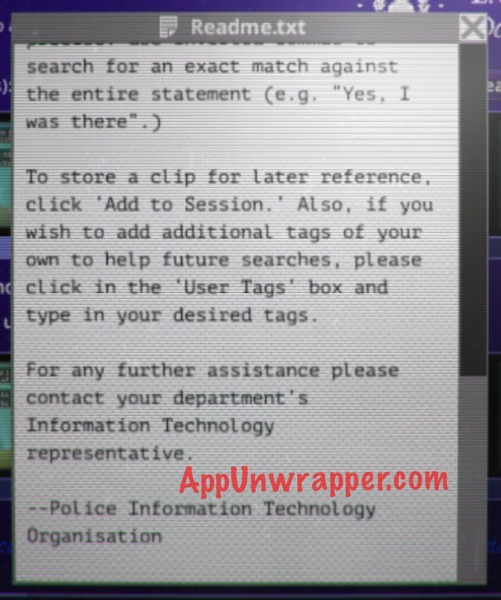 The REALLY_Readme!!!.txt explains why the videos are stuck in an old "mothballed" database. In this game, Y2K actually caused some problems with the PC. Something to ponder.
Also, I think SB stands for Sam Barlow.
Query History:
All your keyword searches are saved in a list so you can go back to them at any time. But on my iPad, the list glitched out after a while and went black so I couldn't see my search (query) history. The developer is aware of this, though, and working to fix it. Just be aware that this may happen to yours, at least on iOS devices. You may want to take notes elsewhere just to be safe.
User Tags:
You can also add your own keywords to each clip so you can find it again. You just need to type something in where it says "BLANK". I used it to number them in the right order.
Database Checker:
If you move the archive window a bit to the right, you can access the Database Checker, which will show you how many of the 271 clips you've seen so far. The green spots are clips you saw and the brown ones are the ones you're still missing. The yellow square shows the location of the last clip you watched in the entire 271-clip sequence.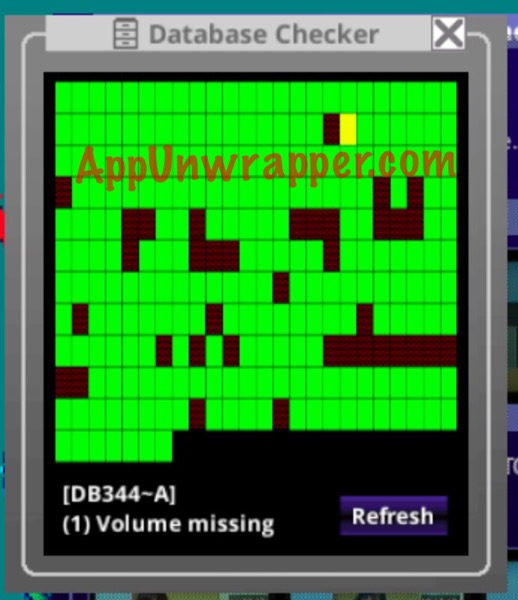 Delete Session:
Be careful about pressing the button that says "Delete Session." It sounds like it would just clear your user session, but it actually wipes your whole progress. So don't press it unless you want to start the game over from scratch.
Rubbish Bin:
If you open the Rubbish Bin, you can find the Hack.nfo file and the Mirror game.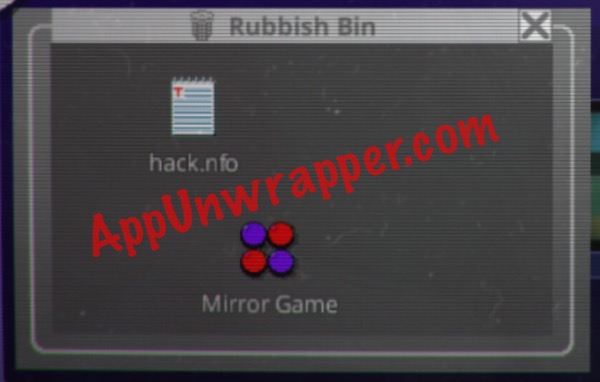 The Hack.nfo File:
Grace Hack? Anything to do with Grace Kelly's death?
Cracker: Cyberghost
Supplier: The Legends
Stripper: You never seen us XXX
Packager: Illusionist
One for the moms here. Classic 2 Player strategy for lunch time gaming. Enjoy!
And is that picture of Grace Kelly?
Cracks with Class.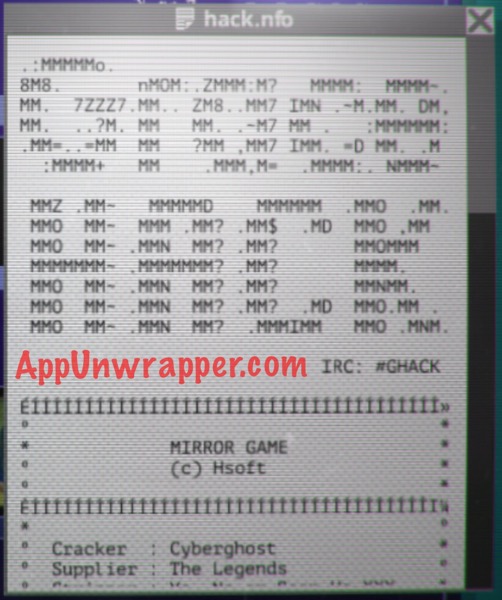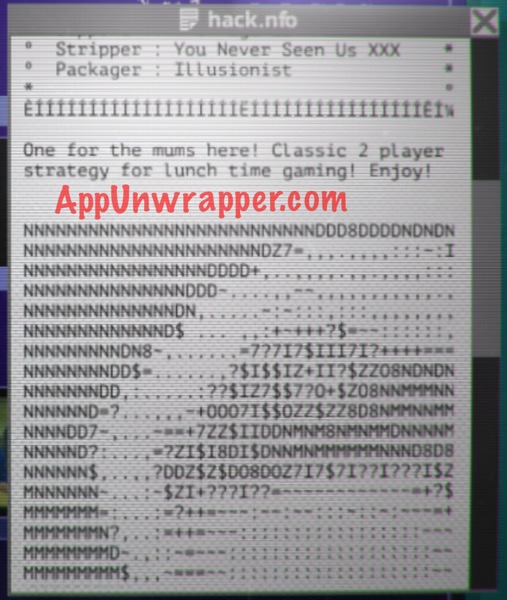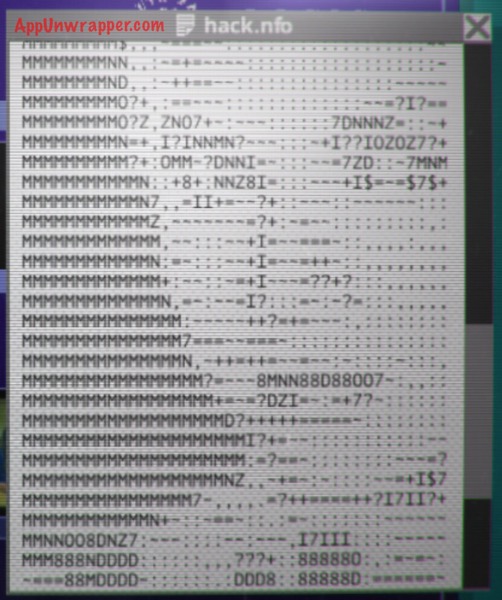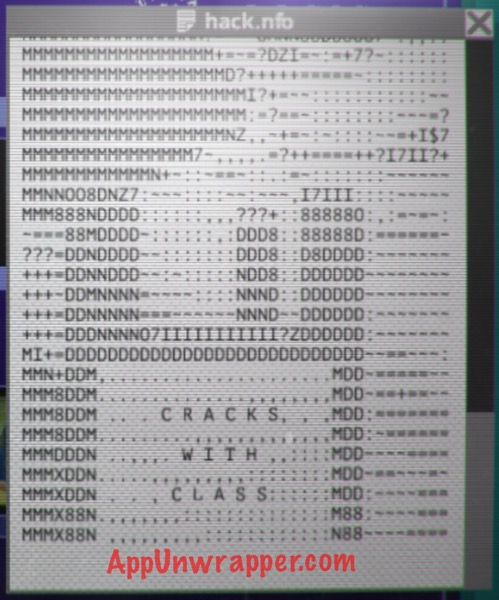 And thanks to dayzydee for this much clearer image of the hack file: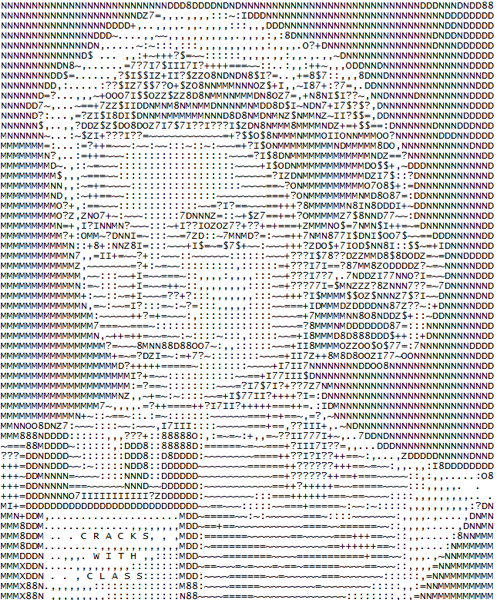 Mirror Game:
There's also a little Mirror Game you can play. I imagine it's more fun if you play with a friend than by yourself.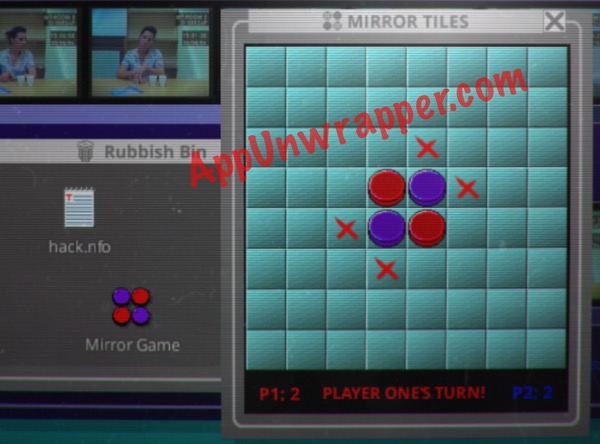 Clock:
There's a clock in the game that's always set to the date 16/06/15 and the hour is always set to around 7. The minute and second hand go by the time on your PC/device. Notice there's also a beach in the background, a theme in the story.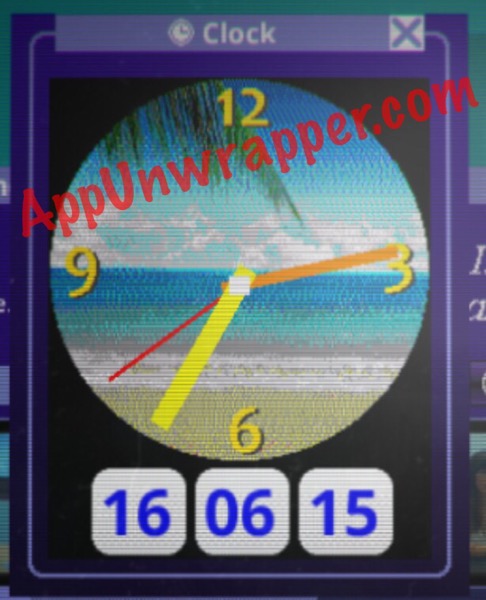 Gameplay Video:
You can also watch this video for some ideas on where to start. But again, it will spoil things!
Tap / Knock / Morse Code:
There are at least two clips where she appears to to be using tap code. I'm not sure what she's saying, but you get the clips if you search "Hannah Eve" and "Tap Code." Reader George translated them in the comments section as "LOVE U" and "BYDHANNAN," or probably BYE HANNAH.
This does lead to questions about who the messages were for. If it's multiple personalities, they could be communicating with each other. But if they're twins, how would they get each other's messages?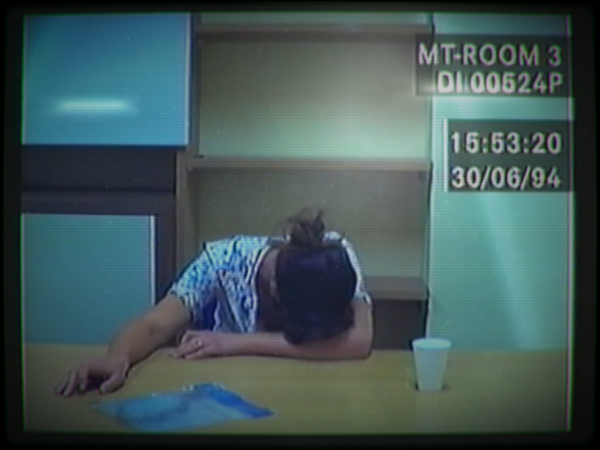 Ending:
There is an ending, but you can continue playing afterwards to find any clips you were missing. So don't worry about ending the game too early.
Characters:
Simon
Hannah
Eve
Florence
Eric
Diane
Carl
Peter
Helen
Eleanor
Doug
Domino
Sarah
Search Terms / Keywords:
Mirror
Reflection
Attic
Suspect
Cheated
Fingerprints
Glasgow
Guitar
Tattoo
Diary
Glass
Glasses
Fairy Tale
Rapunzel
Princess
Stories
Pregnant
Miscarriage
Baby
Twins
"Yes"
"No"
Car
Cat
Sex
Affair
Cellar
Blood
Oxford
Conference
Camera
Princess Diana
Grace Kelly
Important Videos:
If you find clips that offer vital information, you'll notice some flickering and sounds, brief changes to the screen, even a reflection. At some point, the game will decide that you've gotten enough info to see the ending. A Chit Chat icon will appear. If you open it, SB asks you if you think you understand. Type "Y" for Yes and "N" for No. You can accept it whenever you want, but don't worry — you can always continue after to find more clips. But watching the credits will unlock some admin controls for you.
Sarah's Reflection:
Those playing on an iPad might not notice Sarah's reflection as much as other players. I barely did when playing on my iPad Air 2. So I was surprised to see how clear her reflexion is on my iPhone 5. It also shows up very frequently. I took a snapshot of it for those who can't make it out: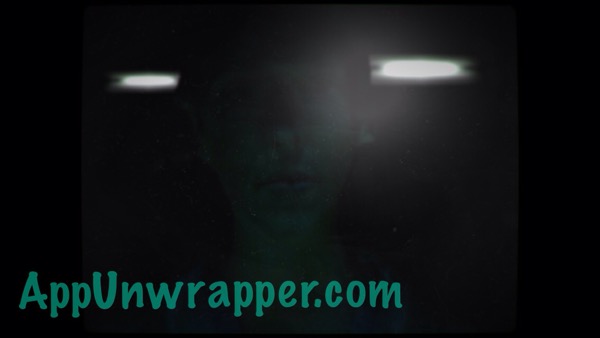 Chit Chat:
FYI, it doesn't really matter if you answer SB's question in Chit Chat as Yes or No — Yes basically takes you straight to the credits, while No lets you continue playing and watch the credits when you feel like it. But you won't be able to use any Admin commands until you watch the credits.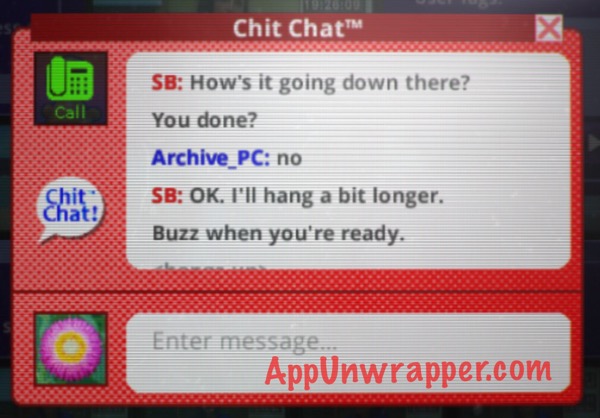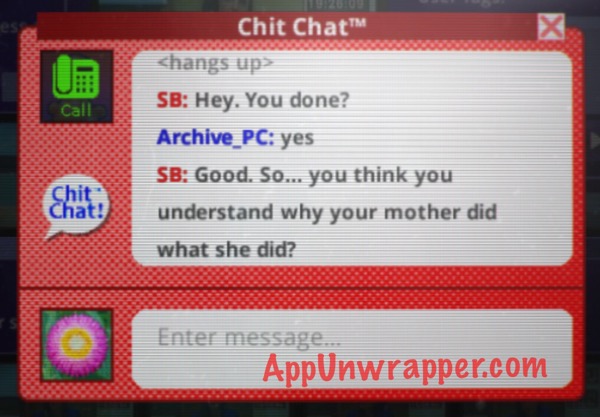 Admin Commands:
Make sure to watch until the end of the credits!
After you see the credits, you can enter "admin_random" for a random clip and "admin_unlock" to unlock the ability to view 15 clips instead of just 5!
(Someone also found an admin code that unlocks all the clips at once, but I think that ruins the game.)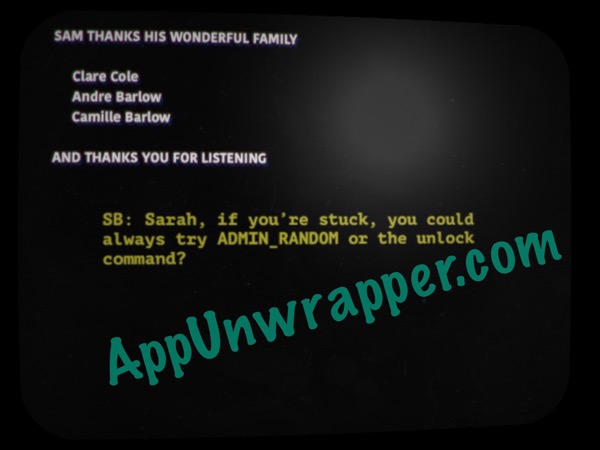 A reader also pointed out the command "admin_share" — this seems to email your search history to the developer, perhaps for a future "word cloud."
There's also "admin_delete" which will delete your progress — so careful!
I'm hoping that there's another code that we need to find that will unlock some bonus footage or information. There are a lot of little details and inconsistencies that might be part of some elaborate in-game treasure hunt.
Videos of All Clips In Order:
I put all the video clips in order and separated them according to each interview. You can see them here, along with the guitar song, "Dreadful Wind and Rain."
I also put the summaries/explanations of each video with them, and the lyrics to "Dreadful Wind and Rain" on that page to clean this one up a bit.
Continue reading for some more thoughts and many questions.
Click on the little numbers below to continue to page 2 of the walkthrough or click here.