Adventure Escape: Allied Spies
By: Haiku Games
This is a complete step-by-step walkthrough guide with help, hints, tips, tricks, solutions and answers for the iOS and Android puzzle game, Adventure Escape: Allied Spies, by Haiku Games. Feel free to ask for extra help in the comments section.
See my other Adventure Escape walkthroughs.
Walkthrough:
Chapter 1 | Chapter 2 | Chapter 3 | Chapter 4 | Chapter 5 | Chapter 6 | Chapter 7 | Chapter 8 | Chapter 9 |
Chapter 7:
You can watch my video for Chapter 7 here or continue on for my step-by-step guide:
1. You're playing as Ed again and he's in handcuffs! Answer their questions like so:
I'm an American citizen.
Ed Hamilton.
The Yorktown Protocol.
I'm on loan to British intelligence.
I demand to see my ambassador.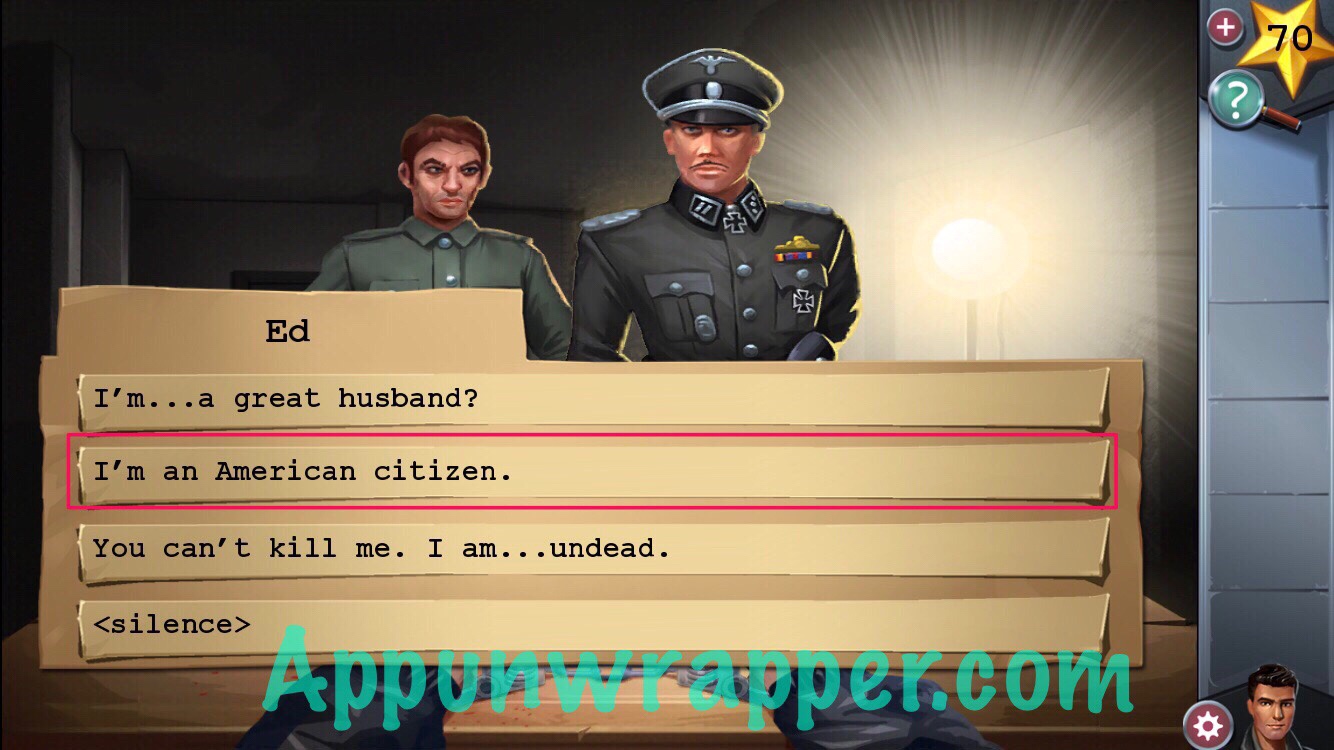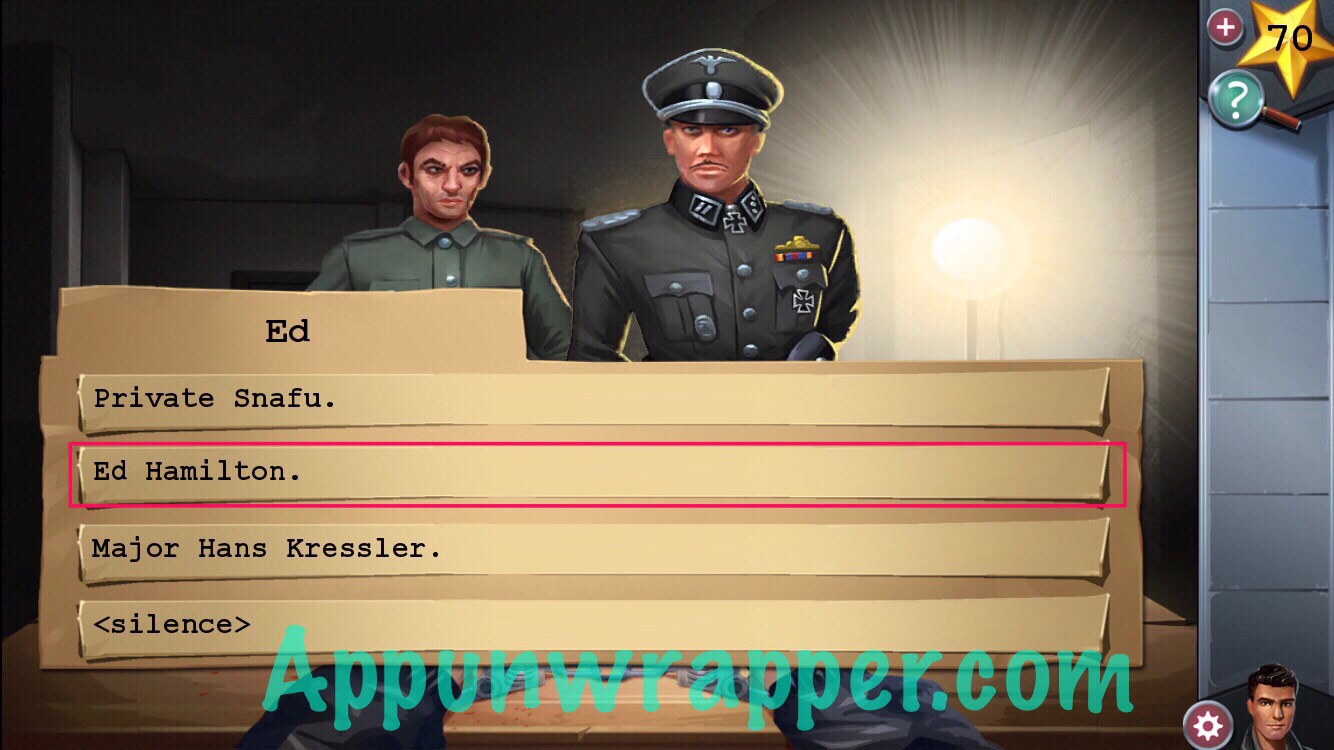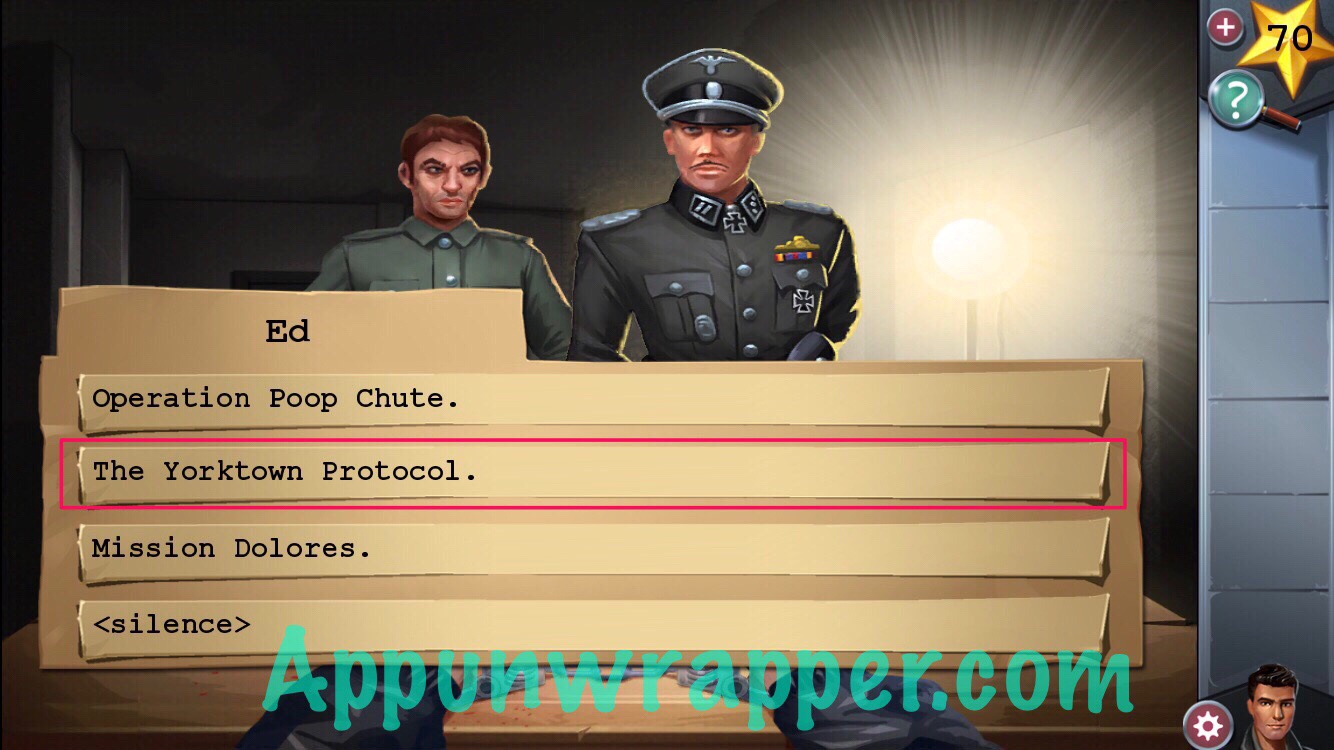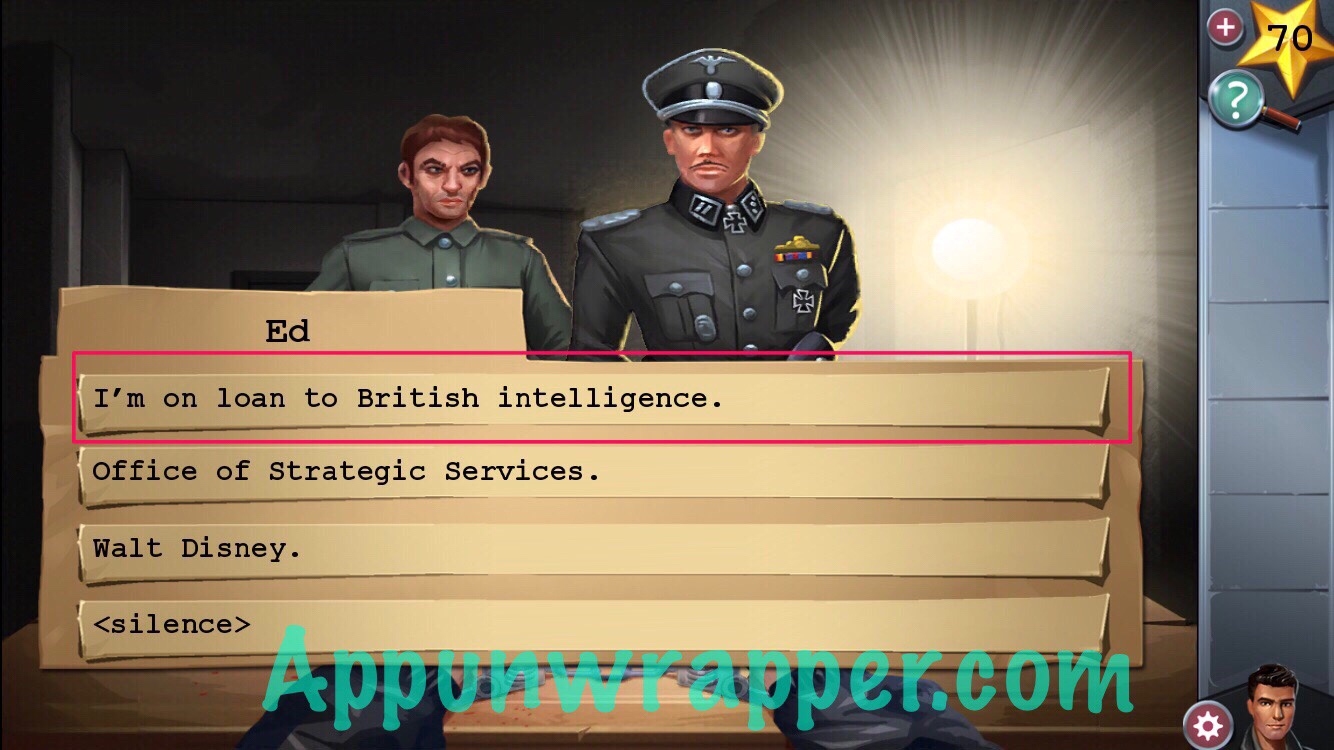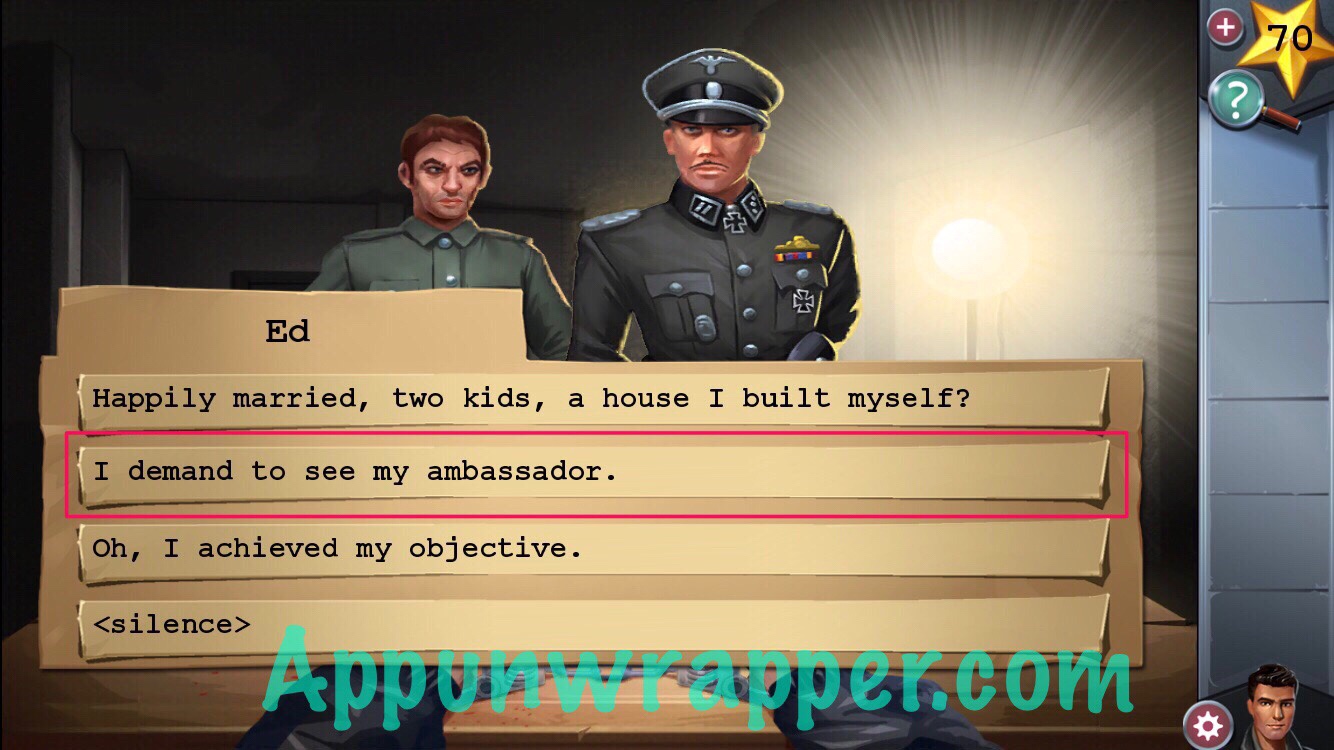 2. Pick up the pen and the confession. Hold the paper up to the list to see the numbers 6382.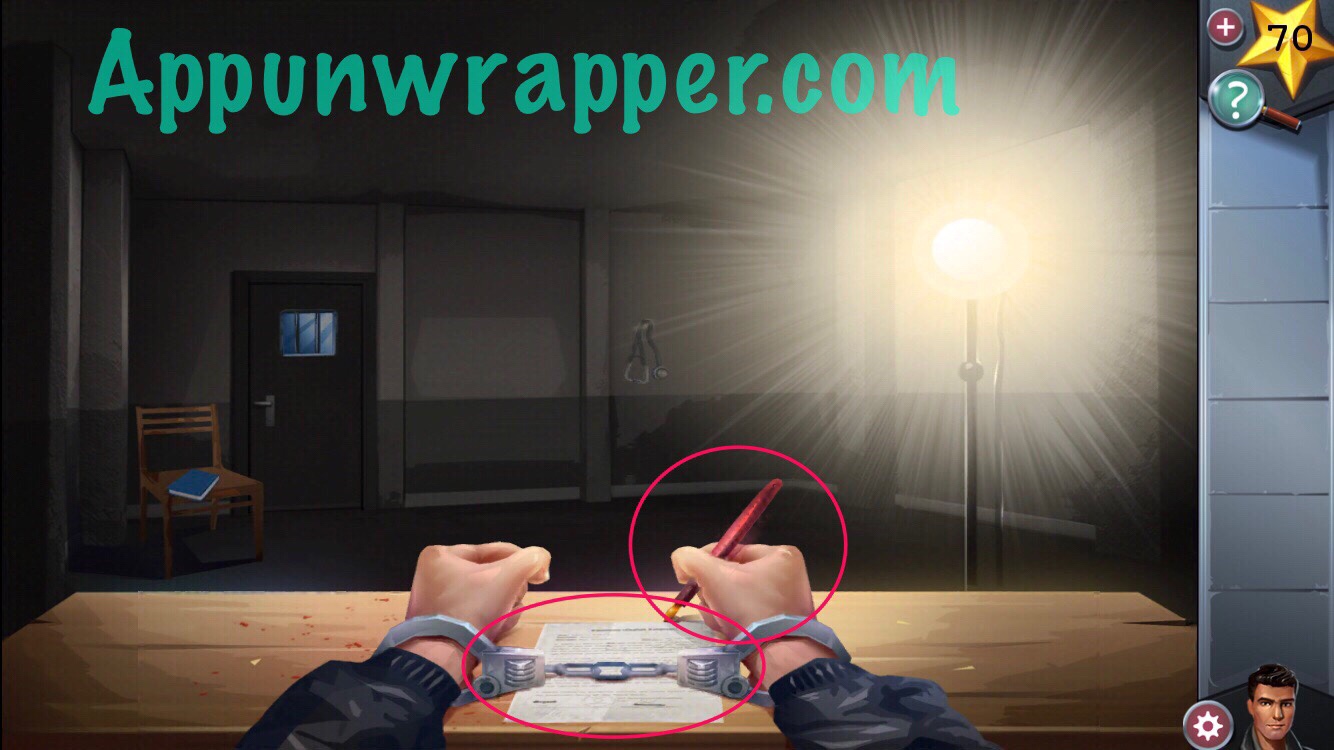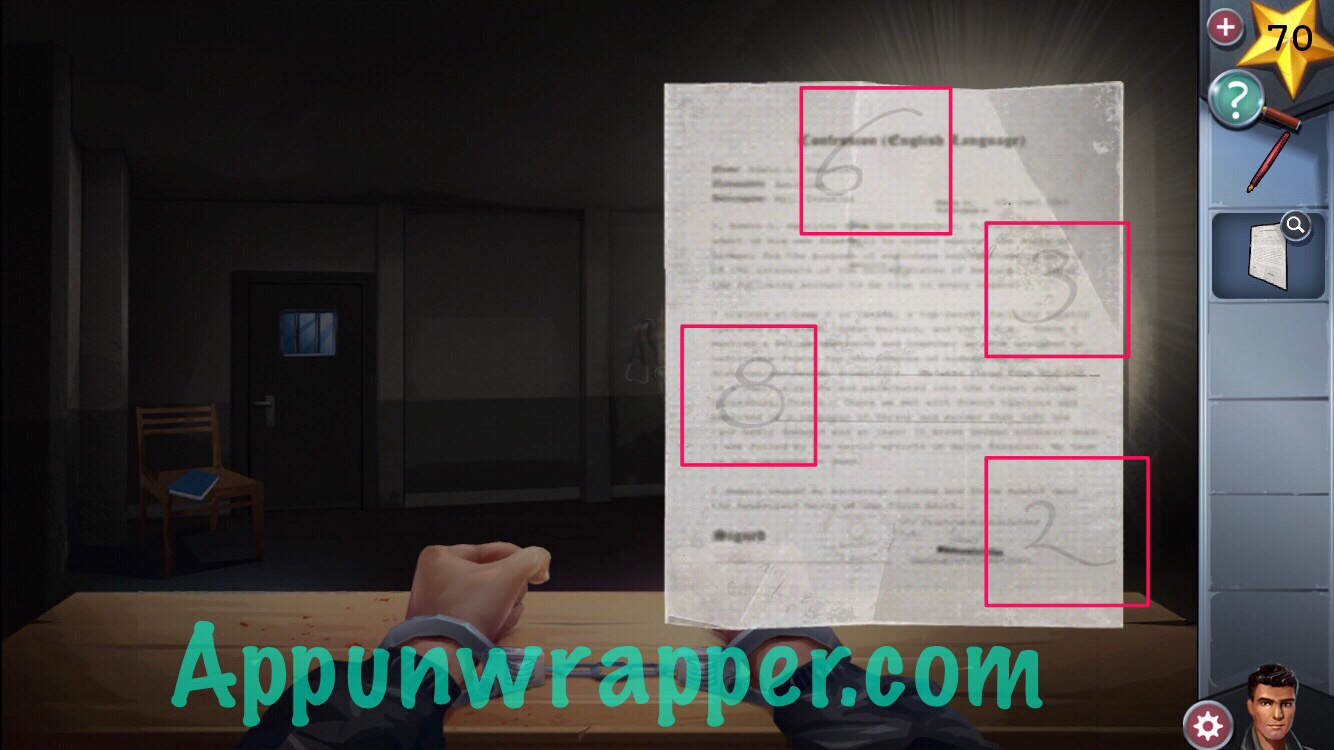 3. Enter 6382 into the handcuffs to remove them.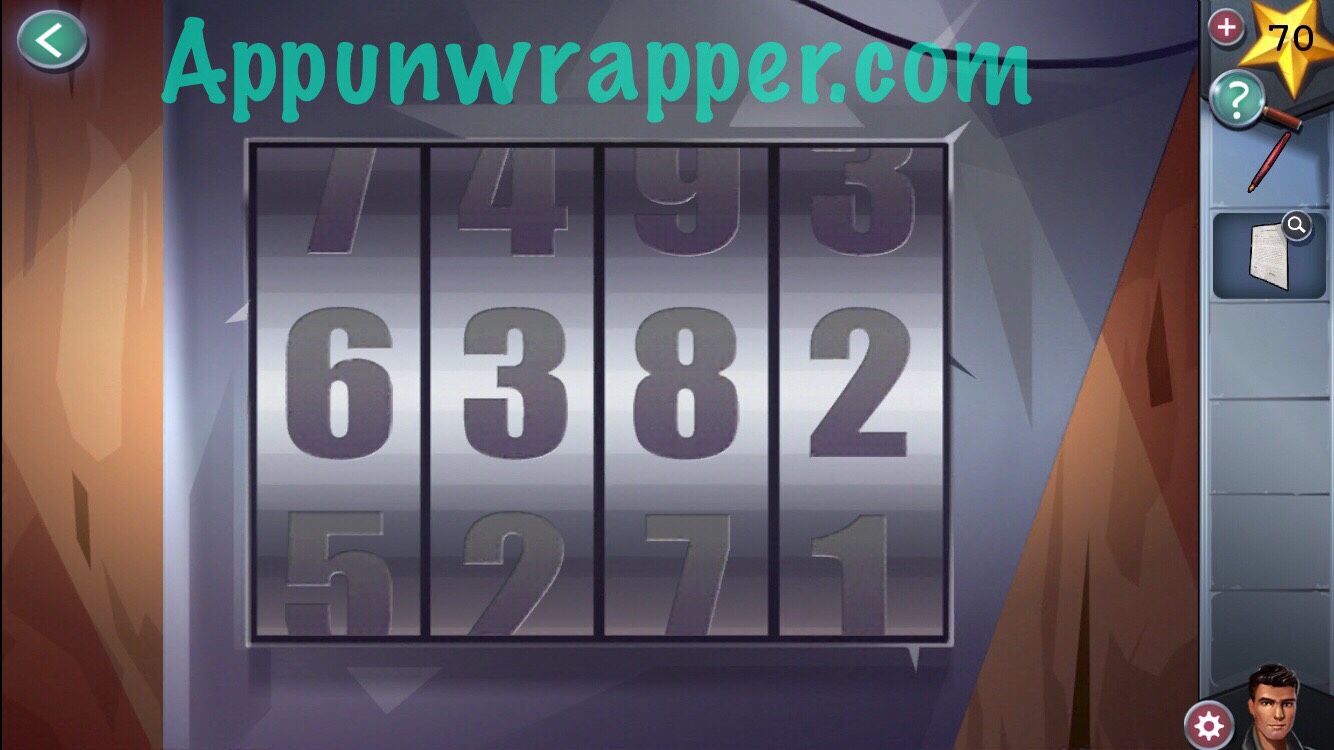 4. Grab the stethoscope and read through the book on fighting techniques. Memorize it. It says:
Punch beats kick.
Kick beats elbow.
Elbow beats punch.
Stab beats anything except a dodge.
Block cancels anything except stab.
Dodge cancels anything.
5. Head out through the door. You need to fight the guards using what you learned. If you use a move, you can't use it again, so choose wisely. This is the order I did it in:
First guy:
Block
Nothing
Punch
Second guy:
Nothing
Dodge
Elbow
Third guy:
Stab
Kick
Nothing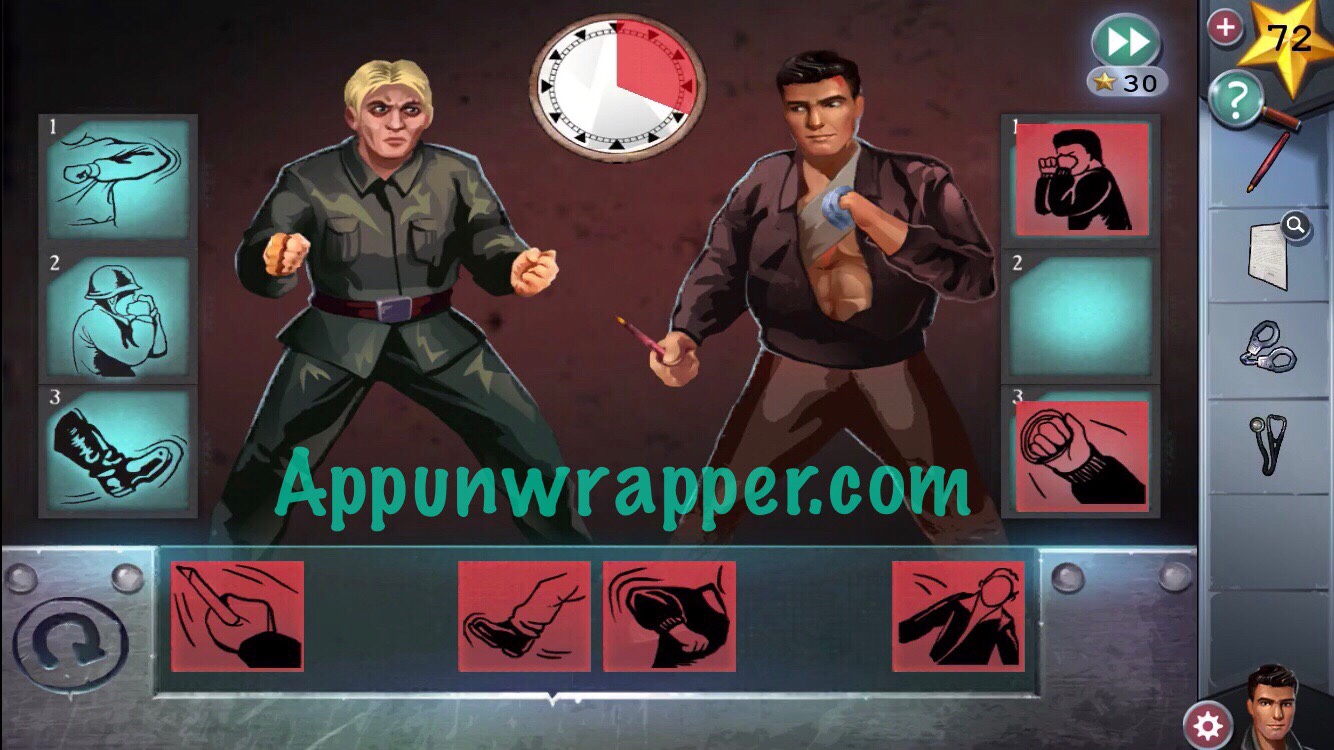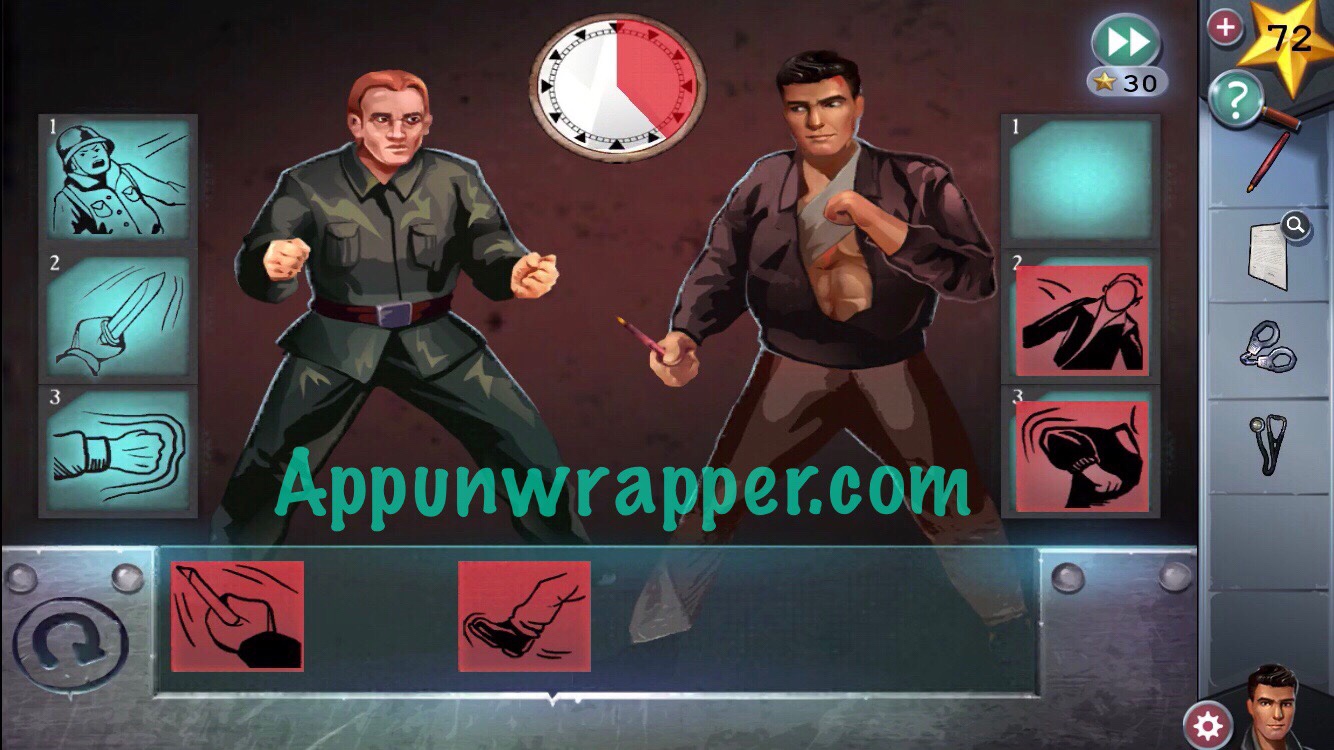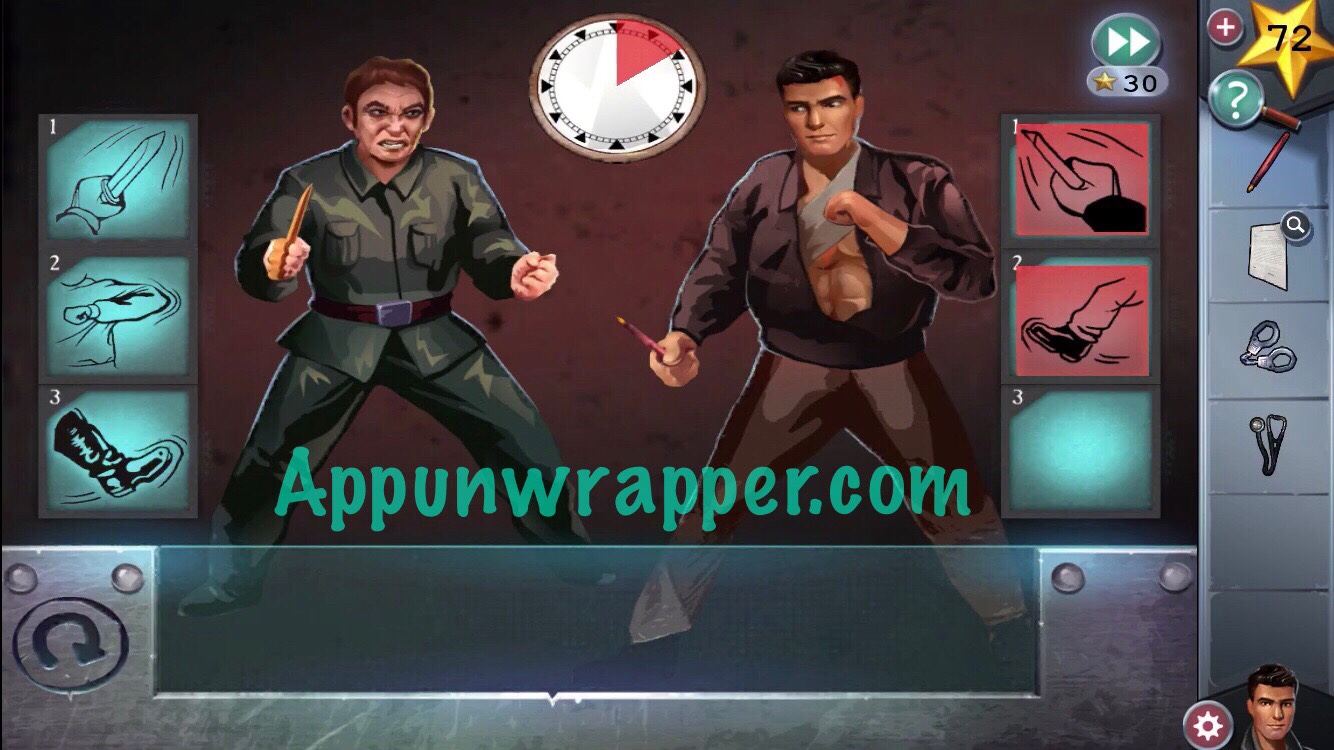 6. Go through the door to the right and answer his question:
I'm not talking till I see my wife.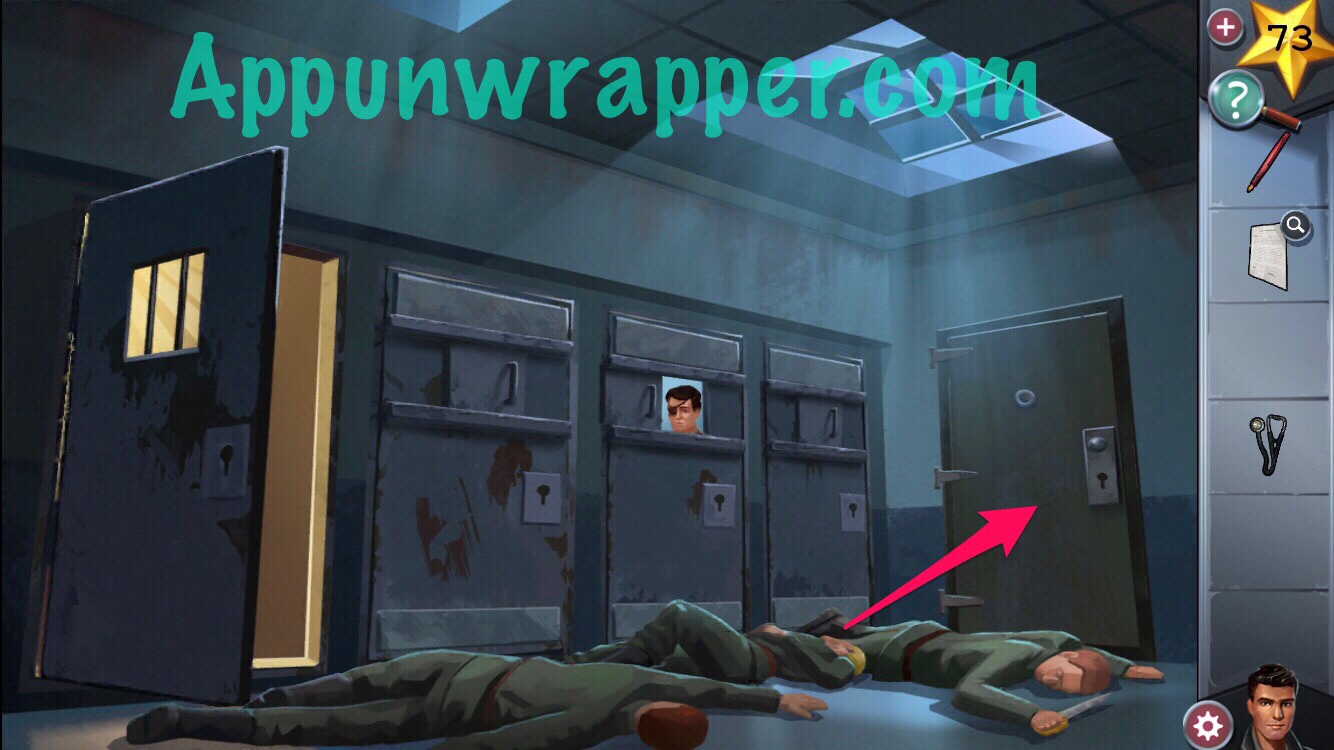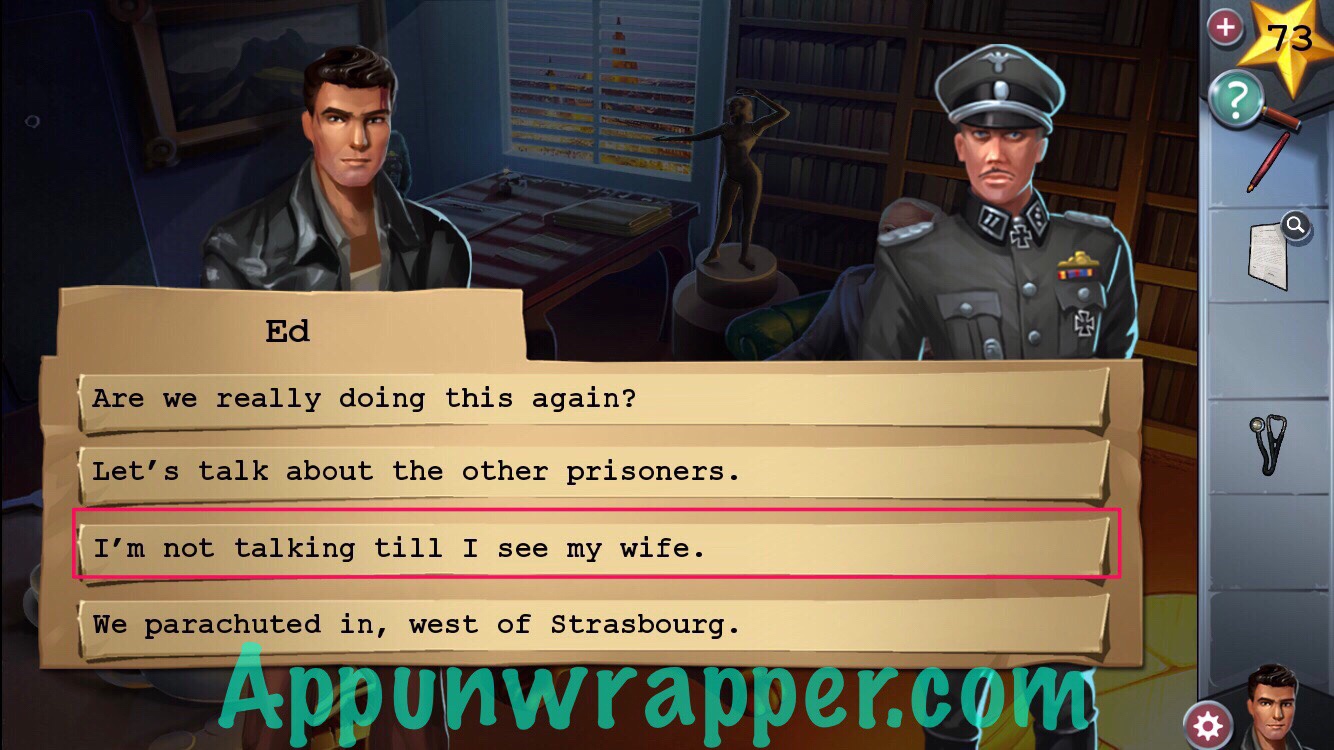 7. You now have to play a game of Blockade with him. You need to completely surround the United Kingdom to form the blockade. The red dots are bases. Place ships on bases in water. Place planes and rockets on bases on land. The spy can go anywhere on land in the United Kingdom. There's more than one solution, but once again the game only accepts one, so it might drive you a bit mad. This is what it should look like:
8. Now you have to answer more questions. I'm not sure it matters how you answer, but this is what I said:
You set up my wife at the consulate.
Why'd you betray us?
Who else is in on this?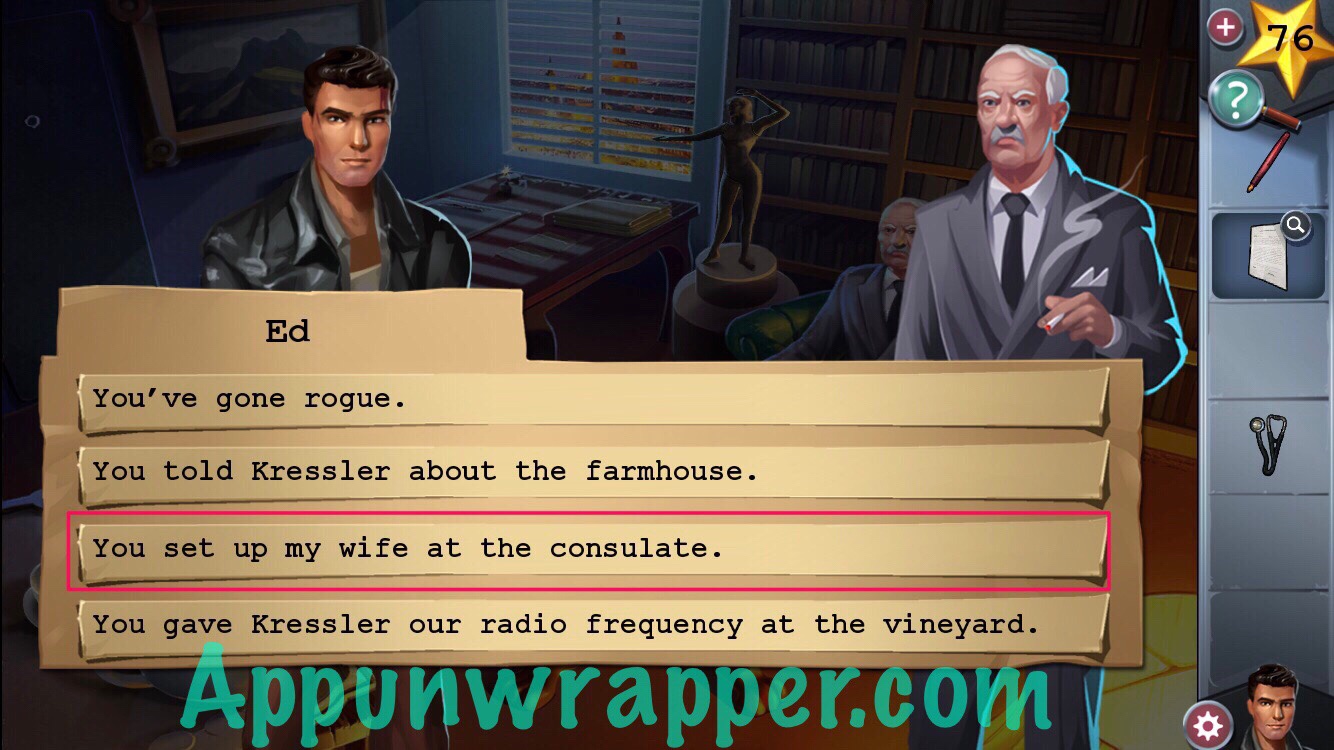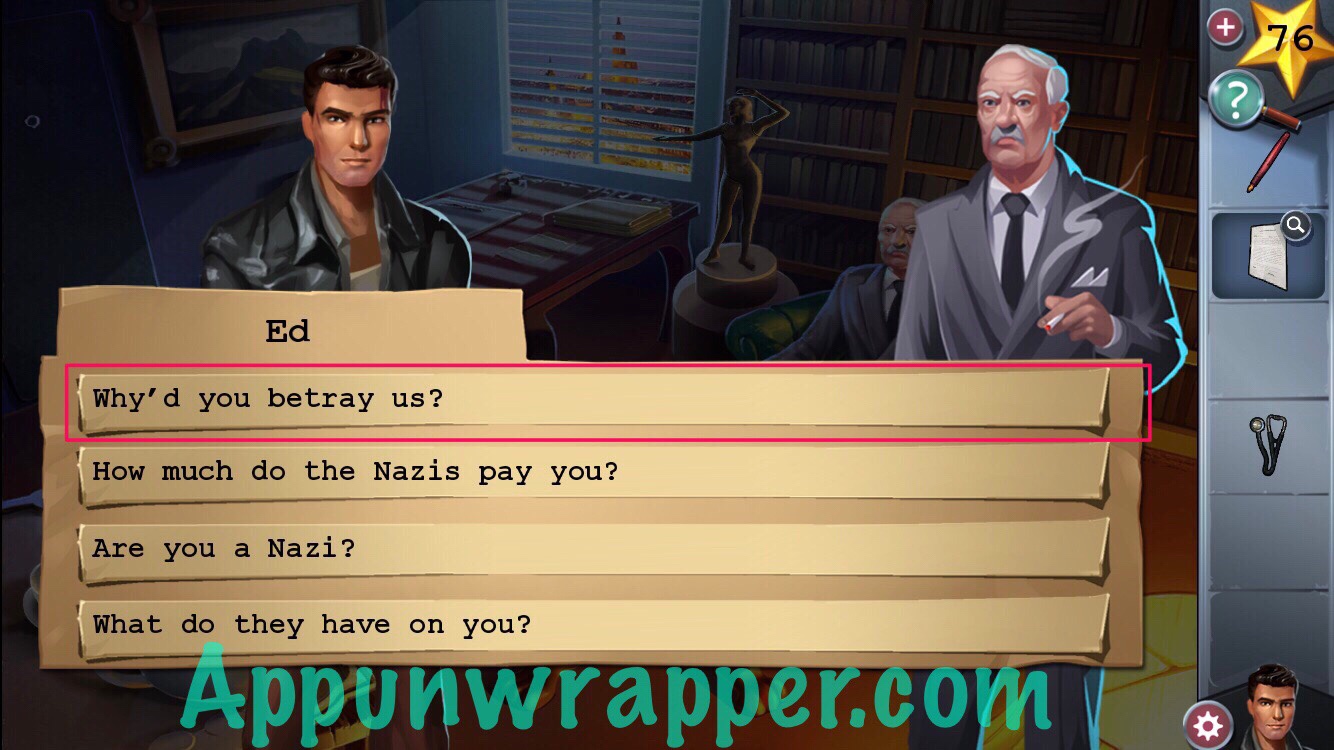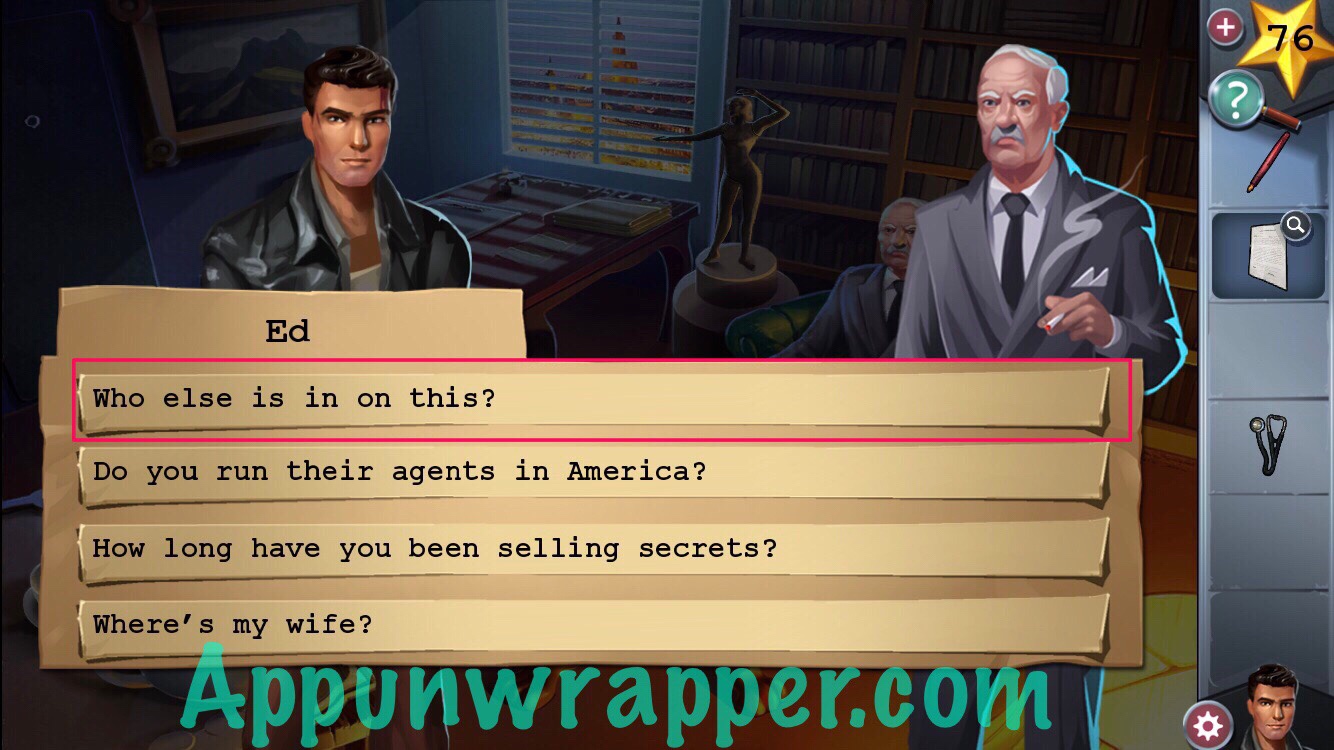 9. The ambassador's been drugged! Take the photo off him and look at it.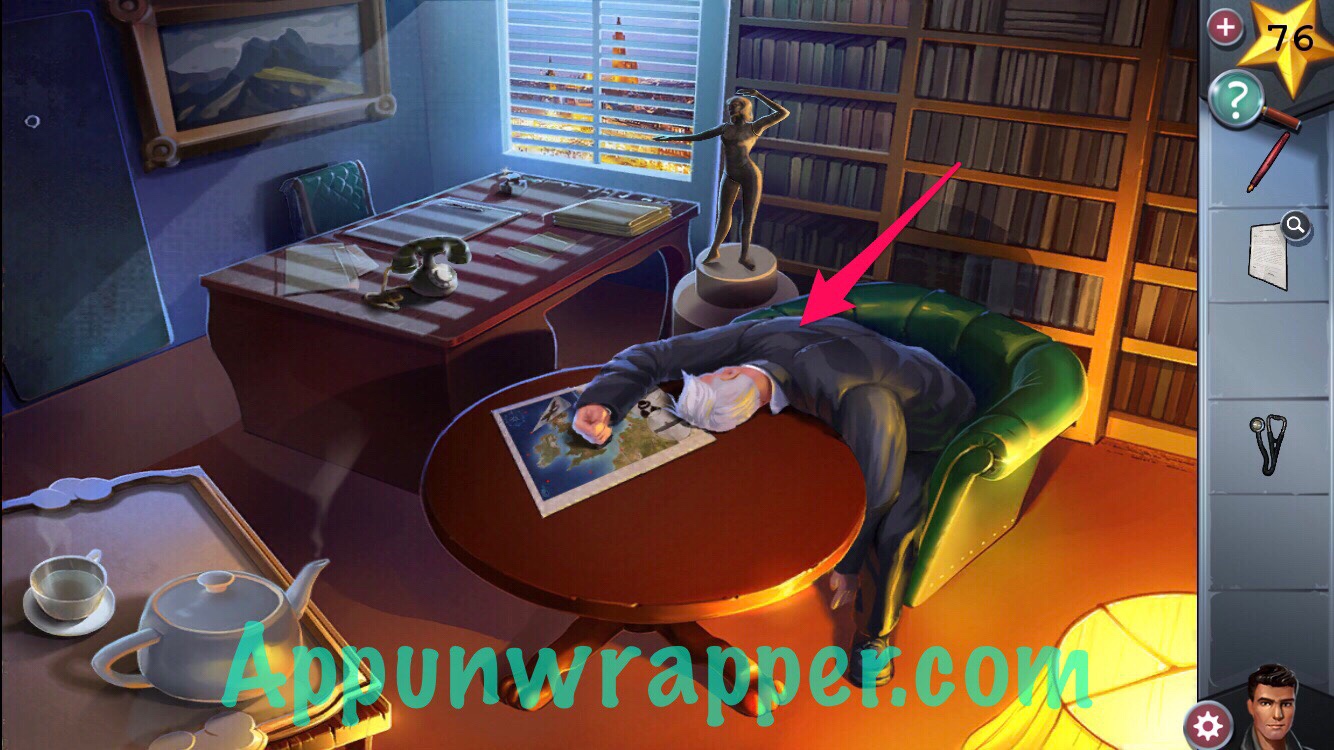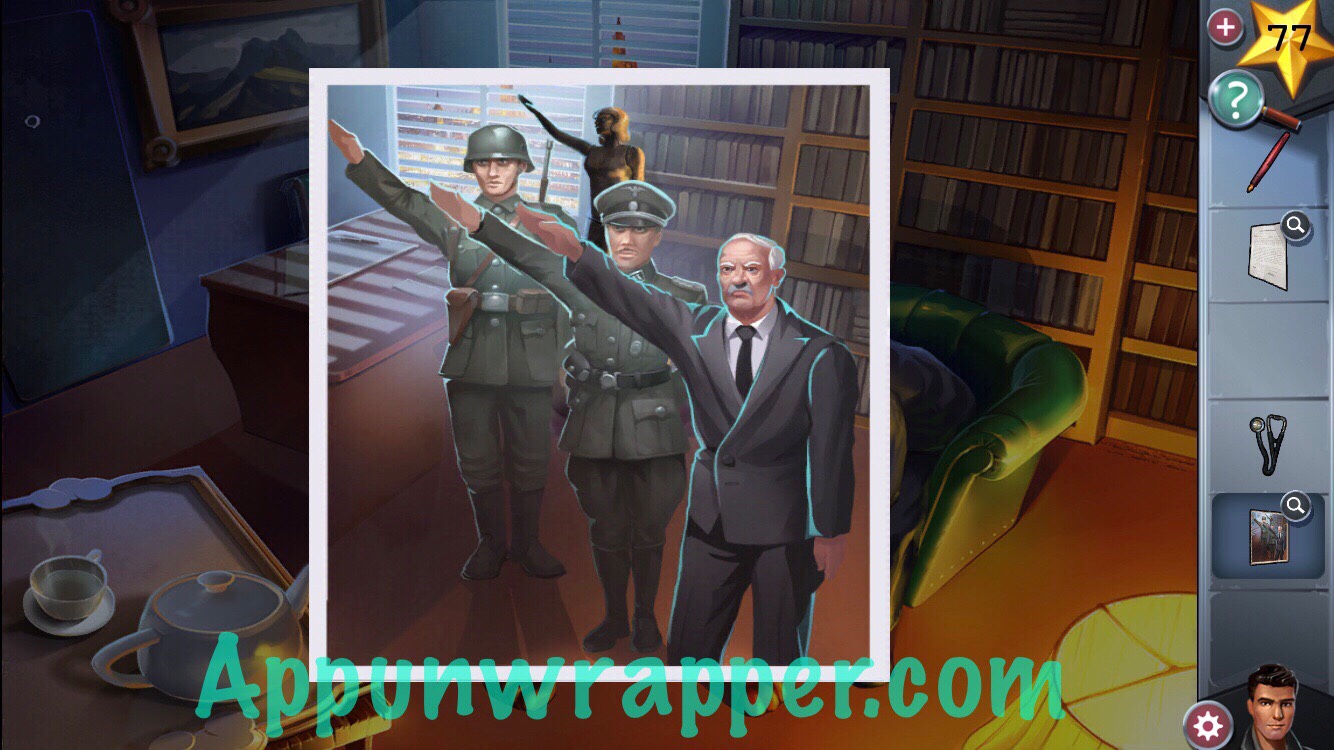 10. Change the statue's stance so it matches the men in the photo. Then tap on the safe.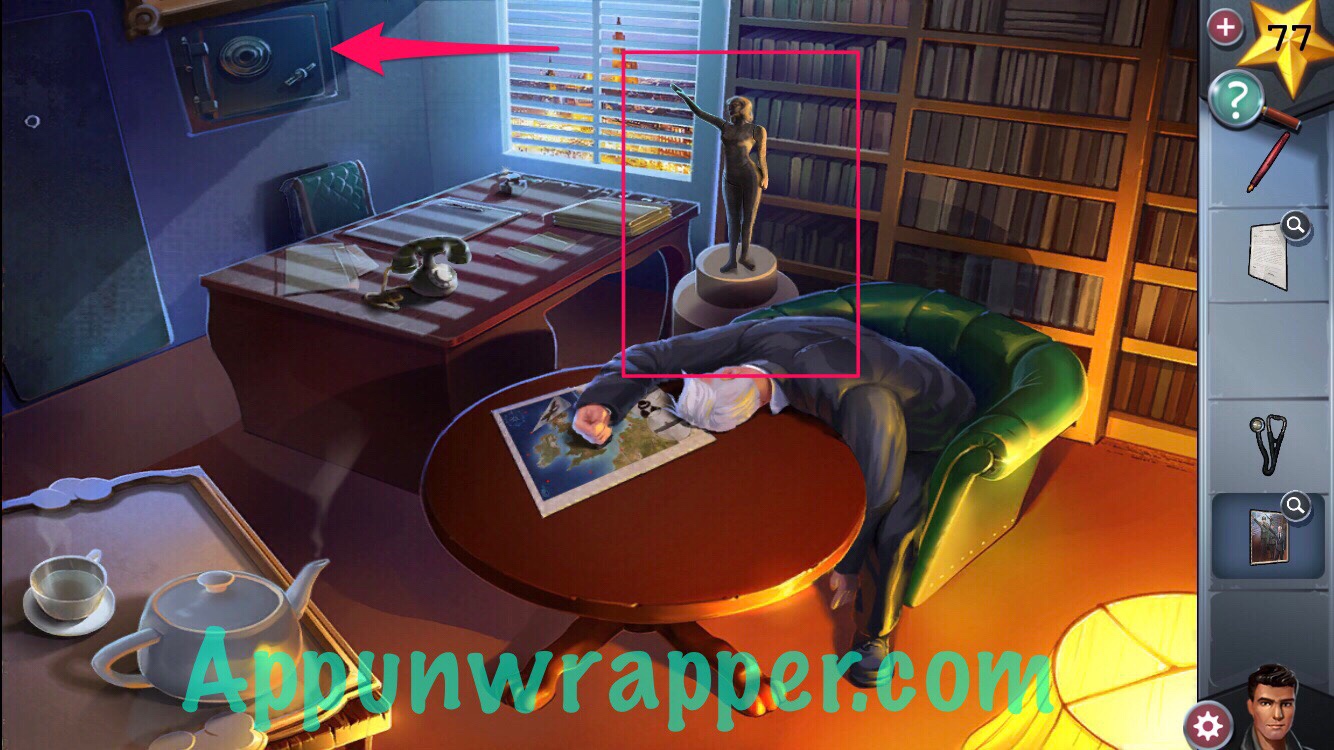 11. Use the stethoscope on the safe to crack it. It'll vibrate at the right numbers. Turn it clockwise until you reach 30. Then release. Turn it counter-clockwise to 15. Release. And last, turn it clockwise to 80. Take the map and escape note from inside.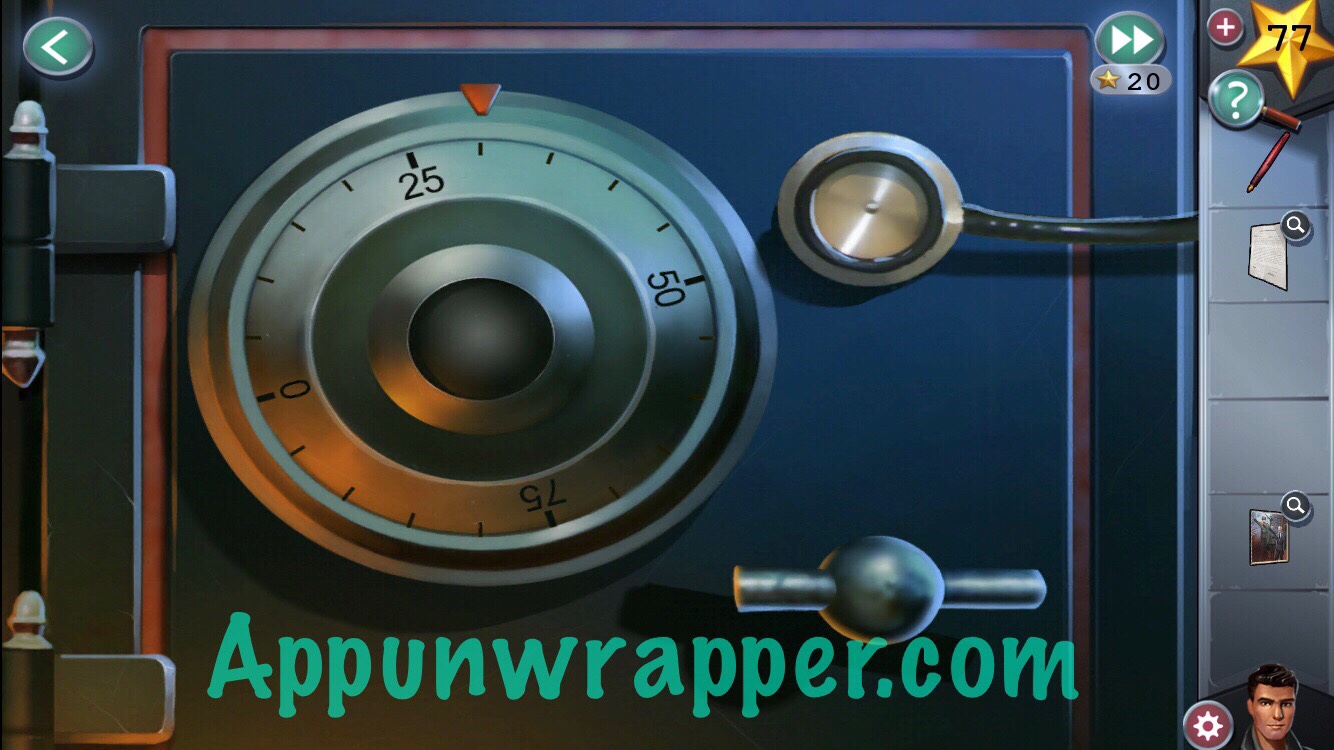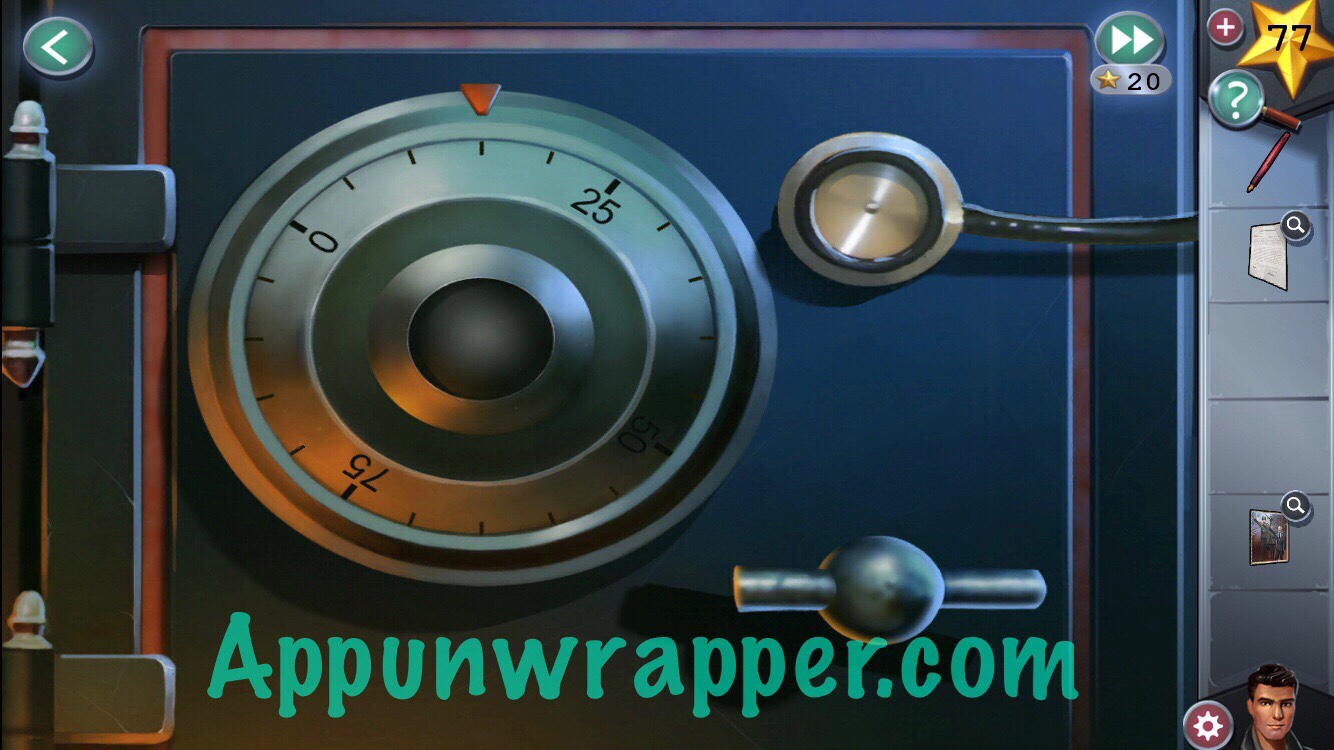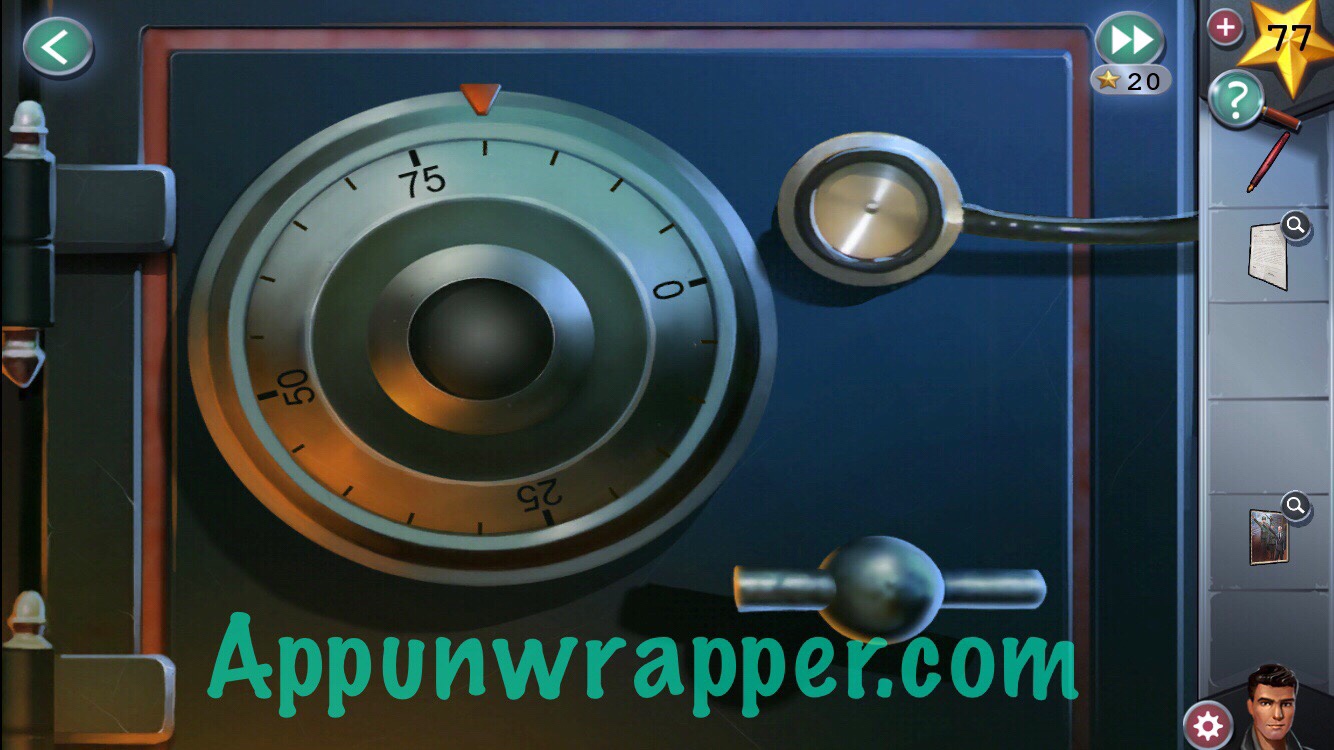 12. You're in a cell! Tap on the mirror and take the cup, which will turn into a bloody cup.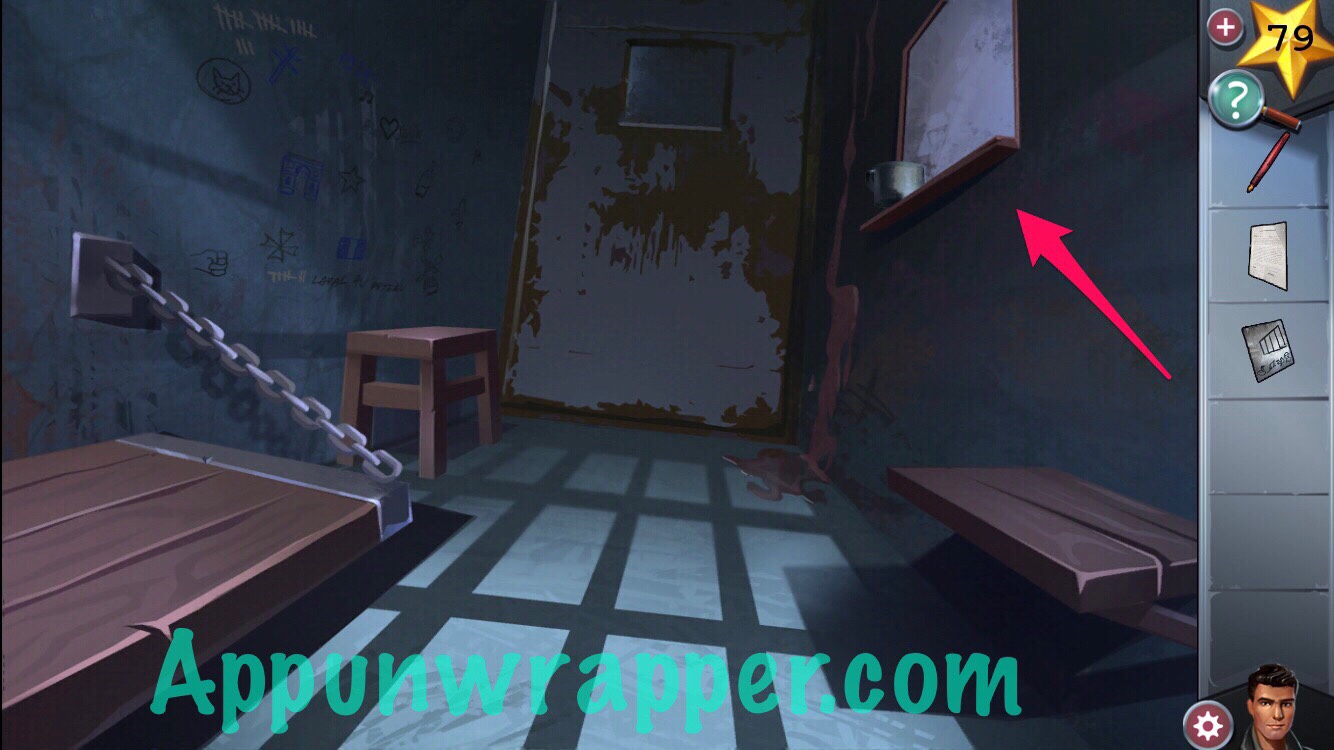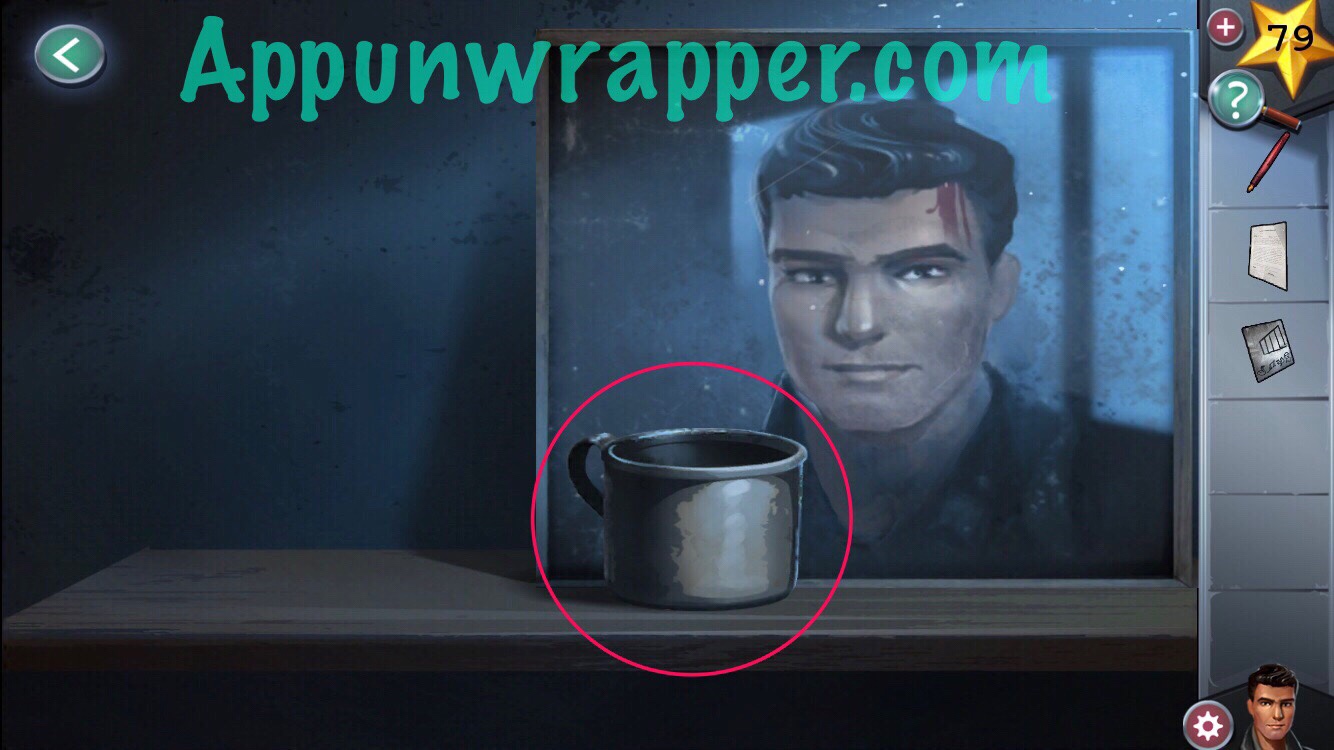 13. Place the escape notes on the mirror. You can move it and rotate it to change the reflection.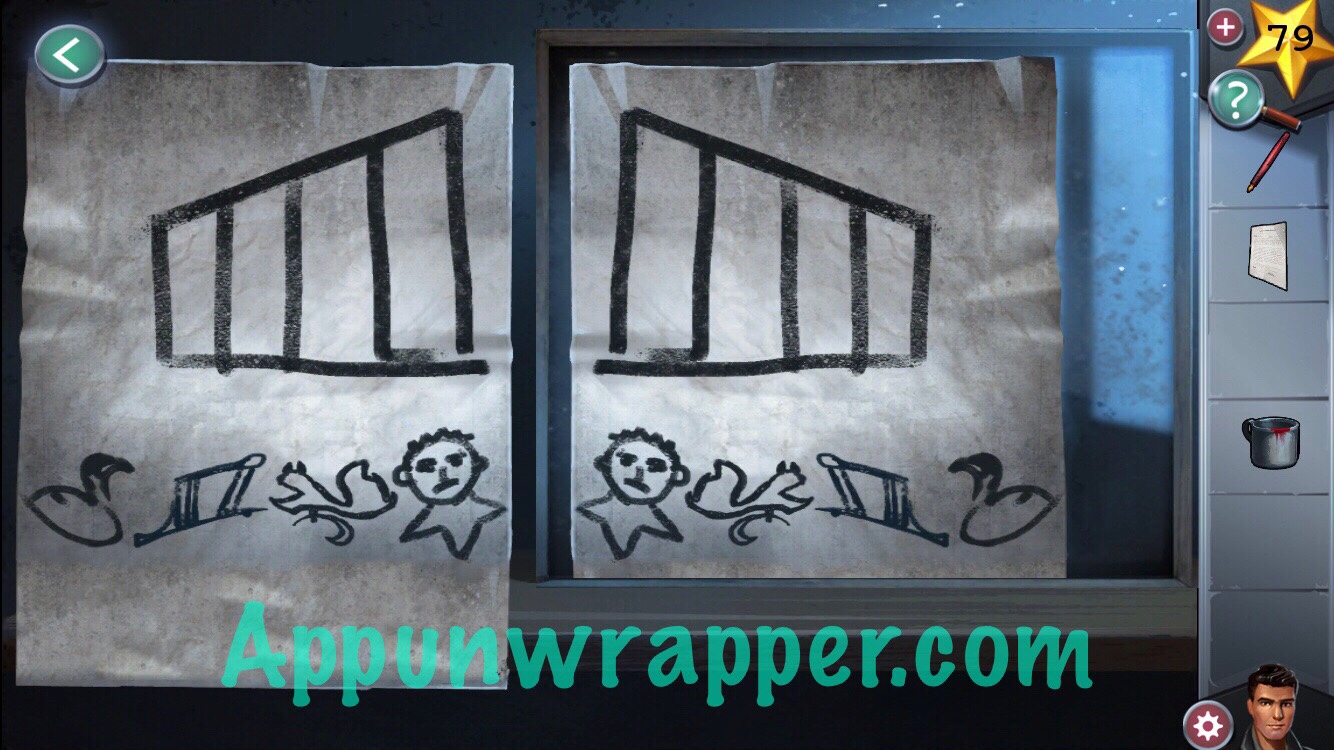 14. If you rotate it like below and then move it inwards, you get what looks like four symbols upside-down — a heart, Eiffel Tower, Fleur-de-lis, and star.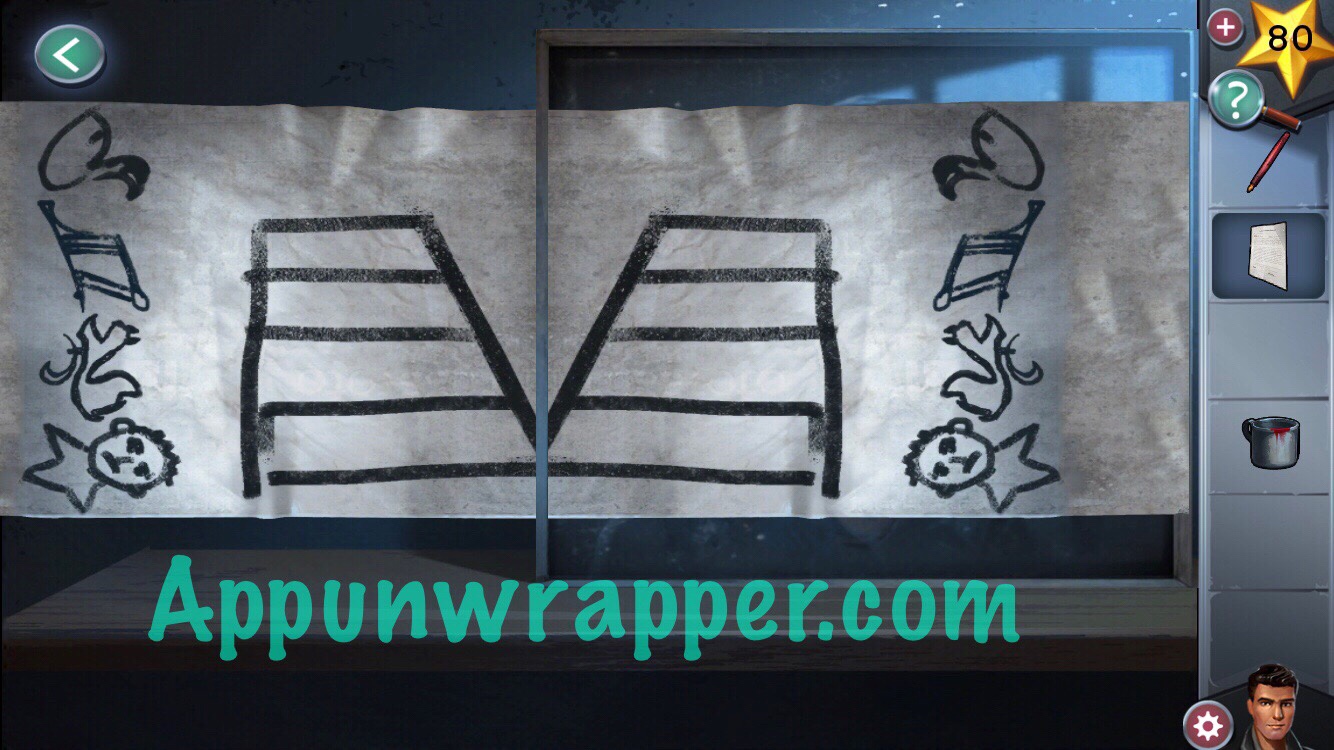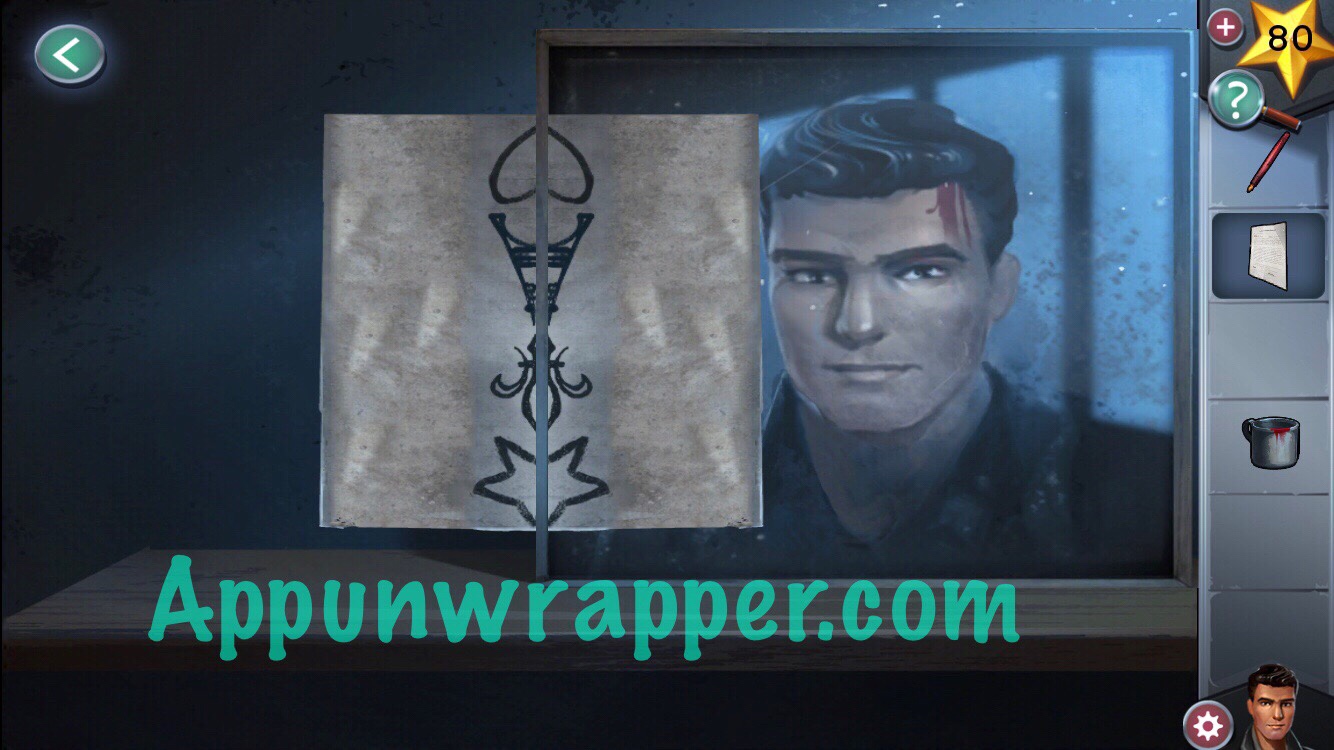 15. Find those four symbols on the wall and connect them. Then, tap quickly at the loose bricks to remove them and talk to Leo.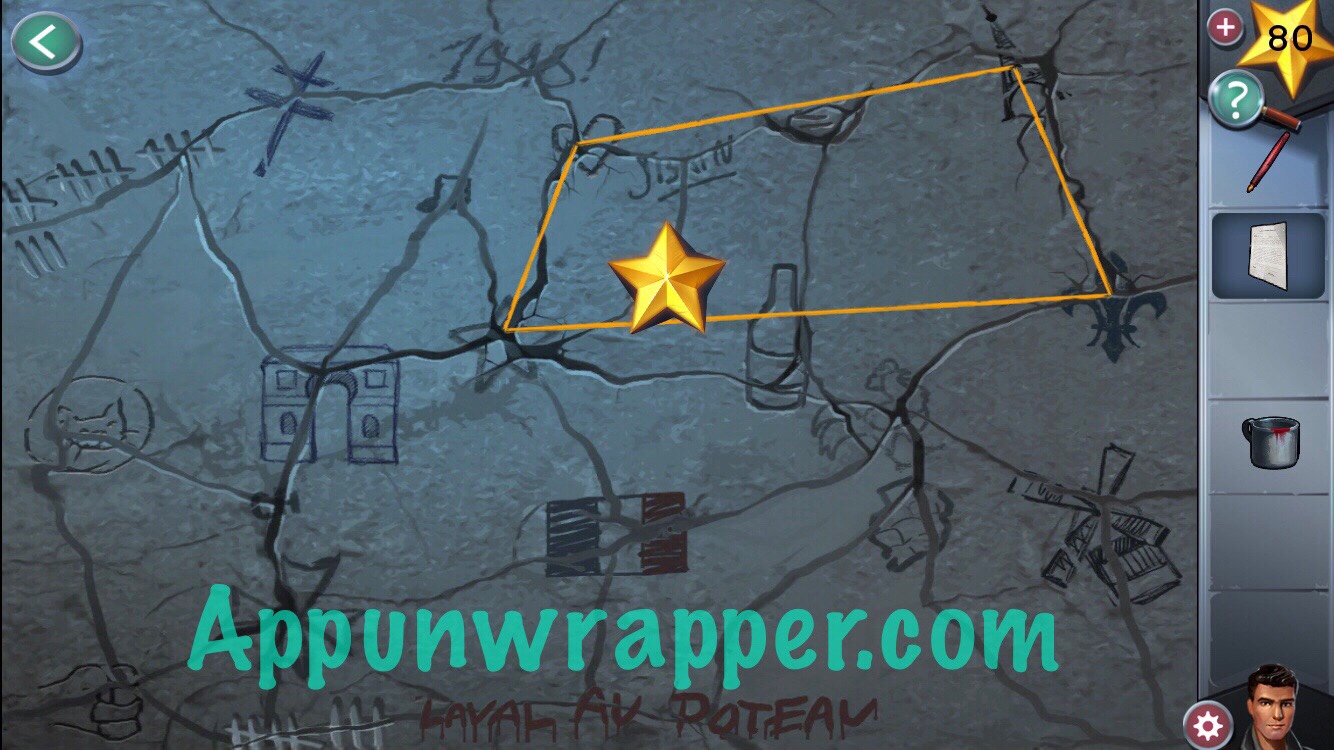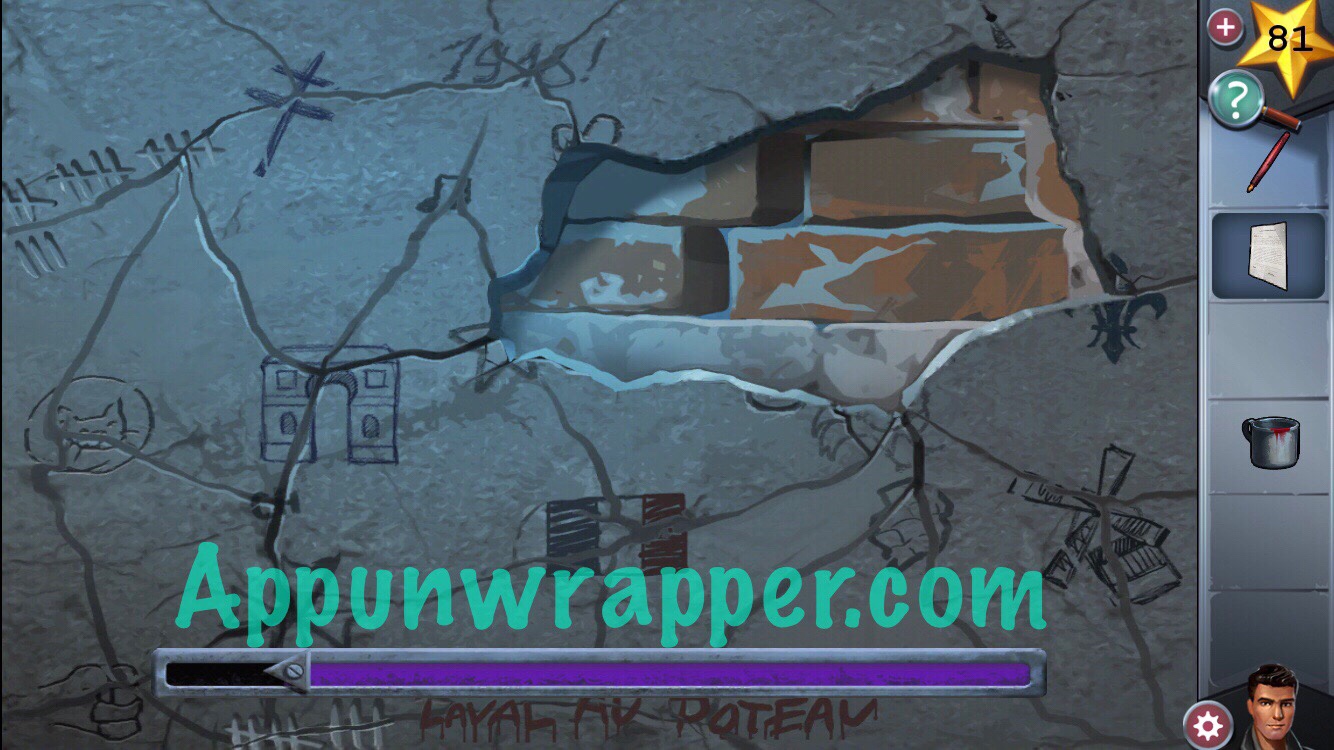 16. Give Leo the pen and paper. He still needs ink, so fill up the bloody cup with rusty water to make crimson ink. Give it to Leo and then take Leo's formula.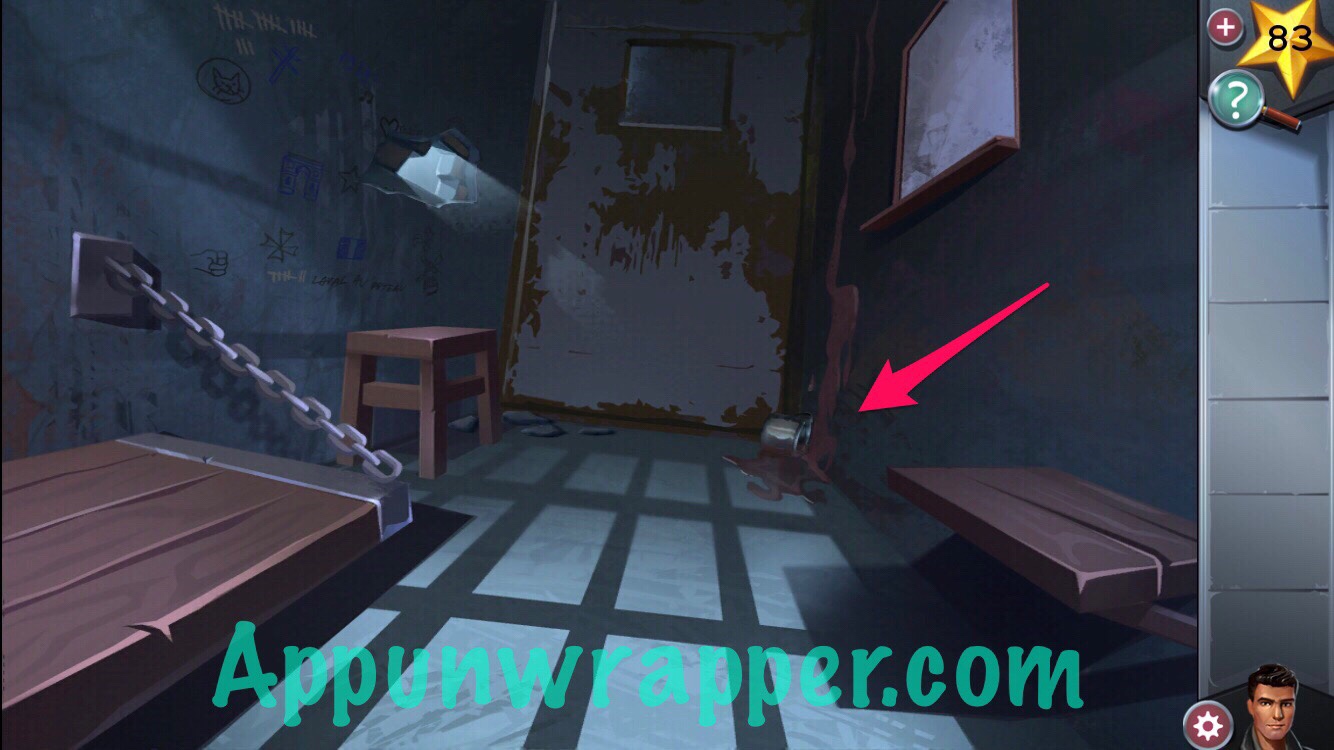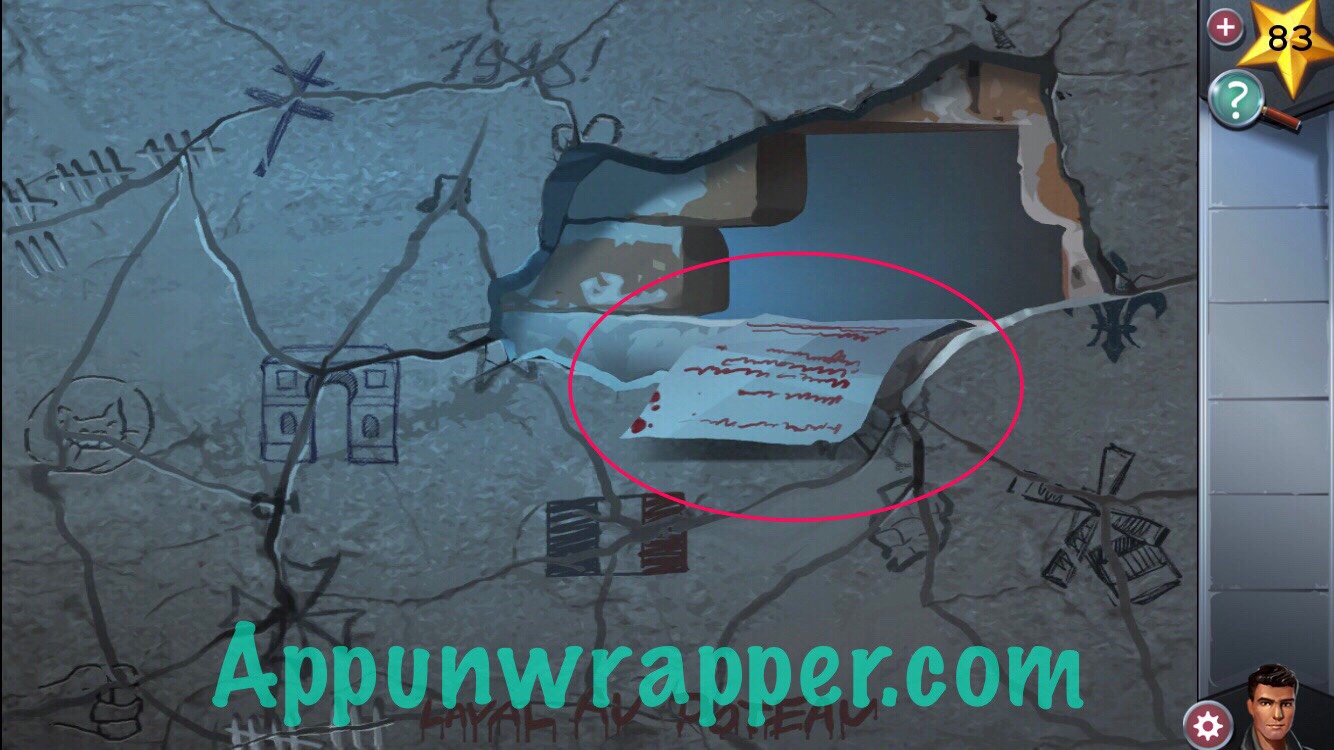 17. Now you have to answer more of Major Kressler's questions. I'm not sure there's any way to save Leo. This is how I answered the questions and he died, but I completed the chapter anyway.
My name? With papers, I could be anyone.
To the University of Chicago.
It's all theoretical.
We picked up rumors. A place name. Nothing confirmed.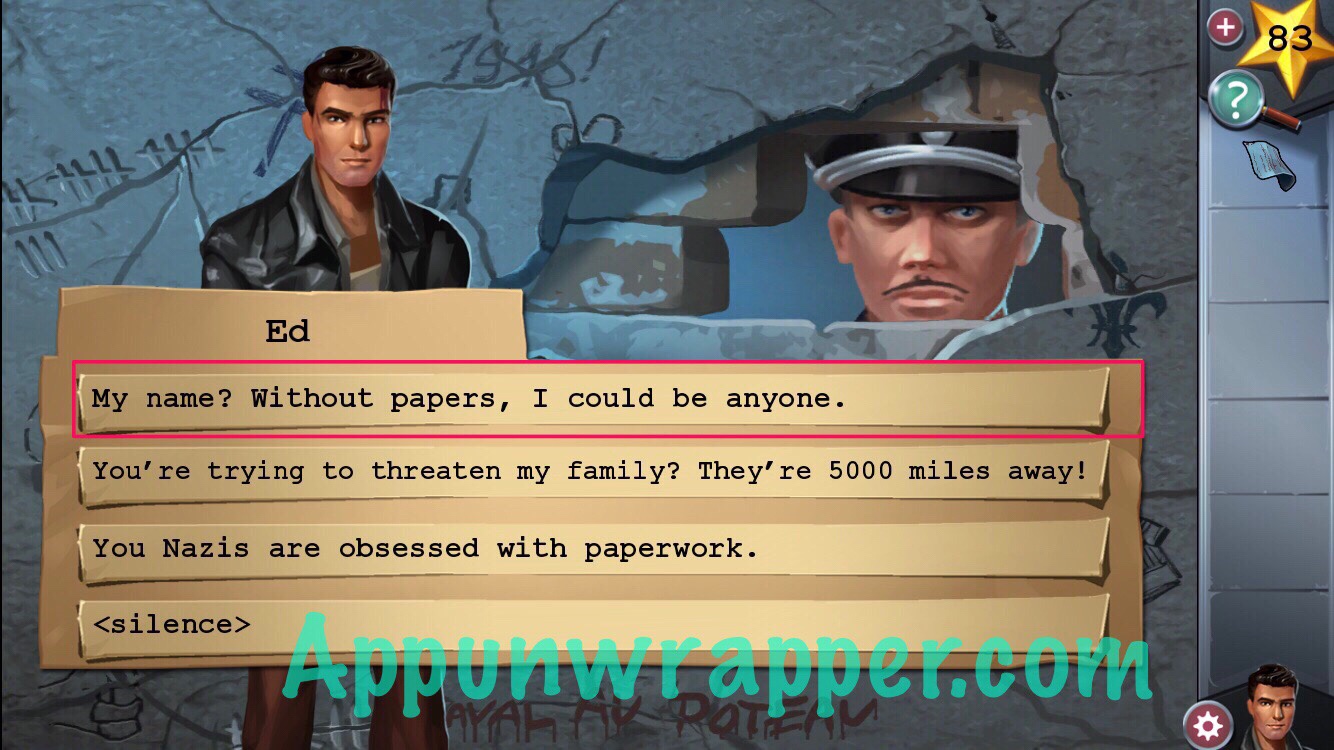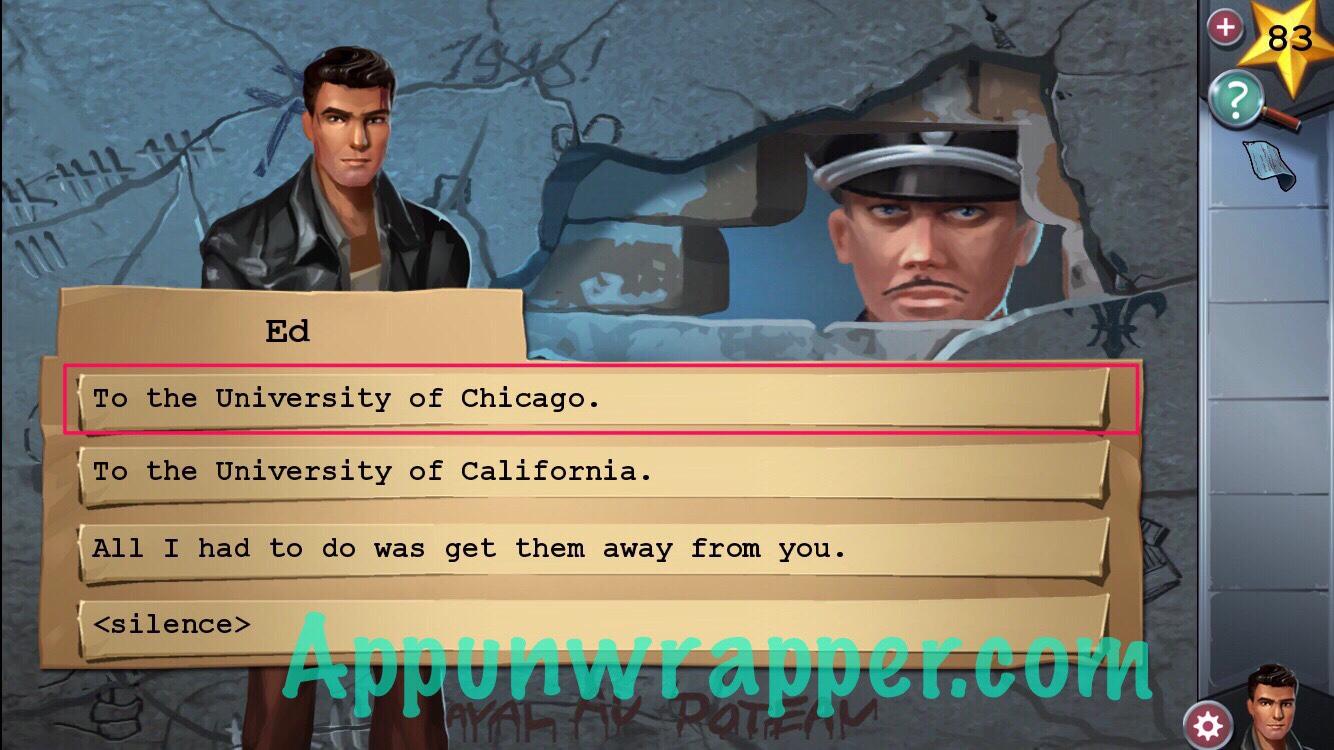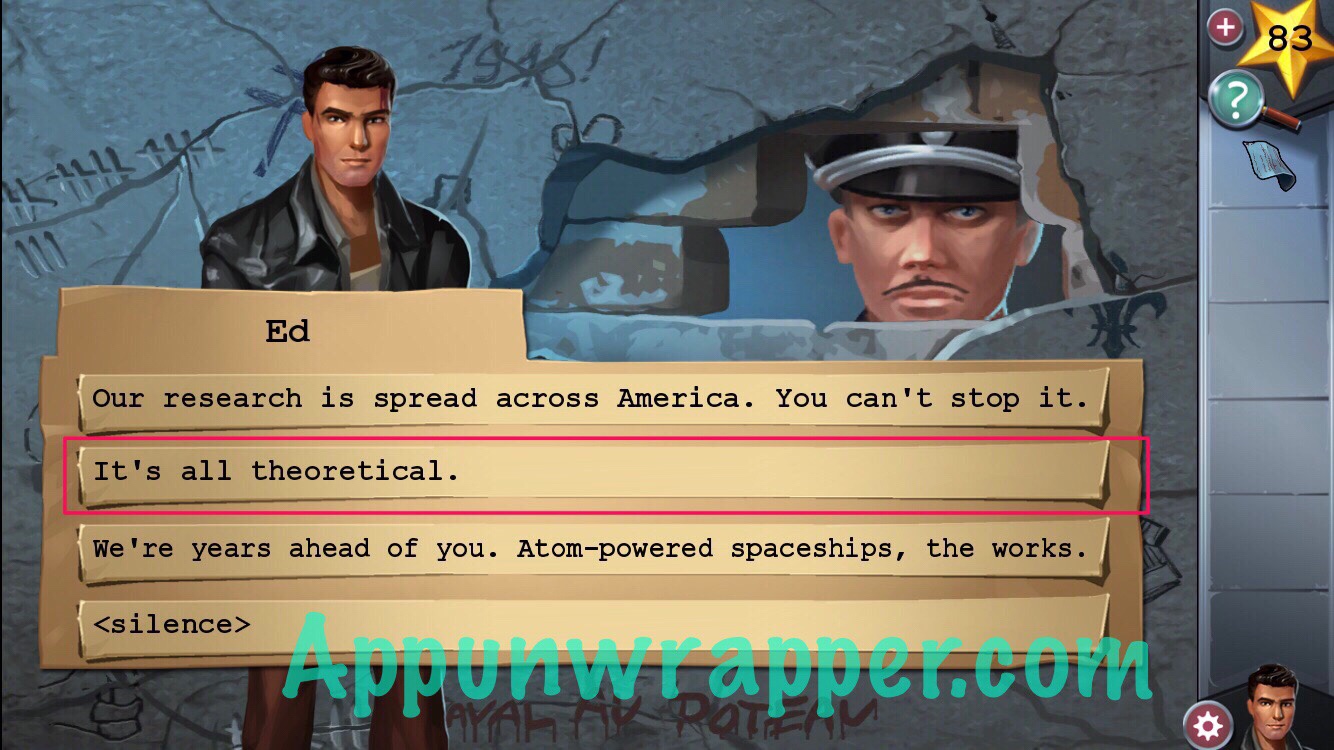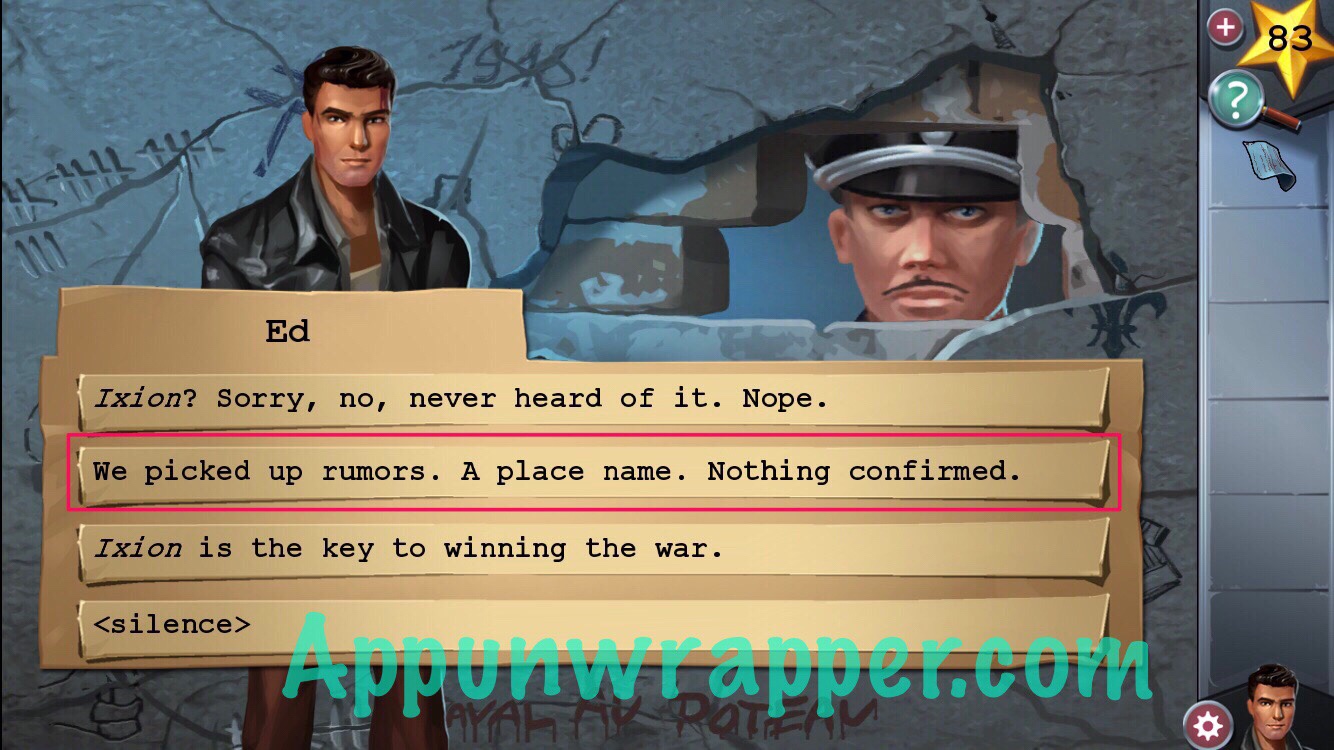 Click on the chapter you need below or click here to continue to Chapter 8.
Chapter 1 | Chapter 2 | Chapter 3 | Chapter 4 | Chapter 5 | Chapter 6 | Chapter 7 | Chapter 8 | Chapter 9 |