Now for the Good Ending:
Go back to Chapter 2:
1. You need to secure the door. Take the rope from the operating table and tie the door to the bookshelf. The Butcher will leave for now.
2. Listen to the radio on the shelf. You need to figure out a way out.
3. Tap on the couch. Melanie will notice a sound. Cut open the cushion with the knife and you'll find a map.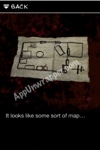 4. You can open the oven door now and let Melanie crawl inside, but the door will shut on her and the oven will turn on. If you can't open it in time, she dies. The clue to opening it is on the stove: "SEE NEWS". Use the buttons like a compass, with the map as a guide. South is the top button. Tap South, East, East, North, East, West, South. The oven will shut off. Open the door and let Melanie out.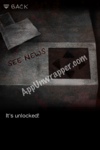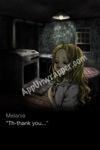 5. Melanie will hand you a steak she found in the oven. Put it in the oven to cook it and the scorch marks will look like Roman Numerals. Remember the numbers, as they might be different from mine.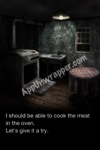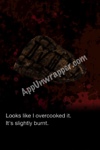 6. Go back to Chapter 1.
Click on the little numbers below to continue to the next page of the walkthrough.