Hero Emblems
By: CHUN LUNG KUO (HeatPot Games)

[DKB url="https://www.appunwrapper.com/HeroEmblems" text="Download" title="" type="" style="" color="green" width="" opennewwindow="" nofollow=""]
This is a walkthrough guide for Hero Emblems. It's a work in progress, so please bear with me. Feel free to ask for help in the comments section until the walkthrough's complete.
Note: It is possible to miss things in the game that you can't go back for. I recommend reading through this whole page to make sure you make the right choices.
I'm working on making videos for all dungeons. You can see them here.
Starting Guide:
Make sure to visit the shop when you have enough gold and buy emblem upgrades and new skills. Emblem upgrades are like equipment upgrades that make your heroes stronger. Skills change what spells your heroes unleash.
Match four emblems in a row to create a skill emblem, which will unleash that character's basic skill when used in another chain.

Match five emblems in a T-shape or L-shape to form a pink, more powerful version of the four-emblem skill that has lasting effects.

Match five emblems in a row to create a special cross emblem that you can swap with any of the elements to unleash that hero's special.

Swap two special emblems with each other to unleash stronger versions of all four heroes' special skills!
I'm working on a Debuffs guide here.
Note: If an emblem is debuffed (chains, ice, poison, etc) and you use it in a chain, it will remove the debuff, but no skill emblems will be created, and any skill emblems used in removing the debuff will just vanish. So be careful how you get rid of them. If you have Trista's Purify skill and a glowing heart emblem, it's better to make a chain with that emblem than to waste moves and chains trying to remove effected emblems one at a time.
I'm working on a guide for skill locations here.
Menu/Inventory:
When you get a new emblem, skill or item, you can view it and equip it in the Menu. To equip an emblem, tap the emblem icon on the bottom. Swipe left and right to view the different heroes. The emblem with a little E on it is the one that you have equipped. To equip a different one, select one and tap the check mark. The same goes for the skills.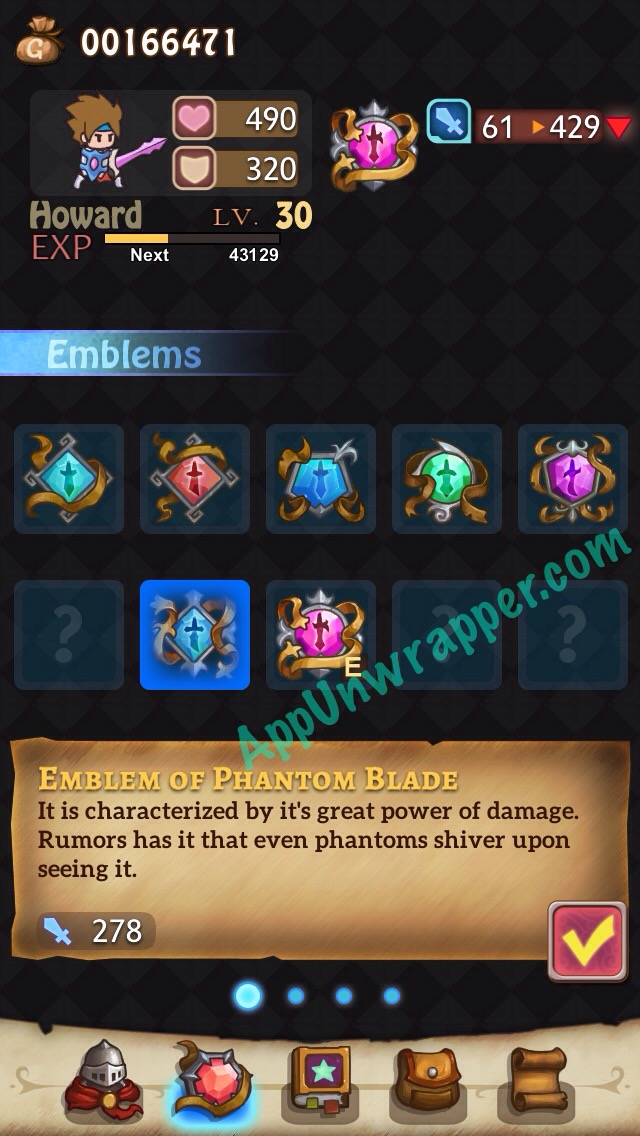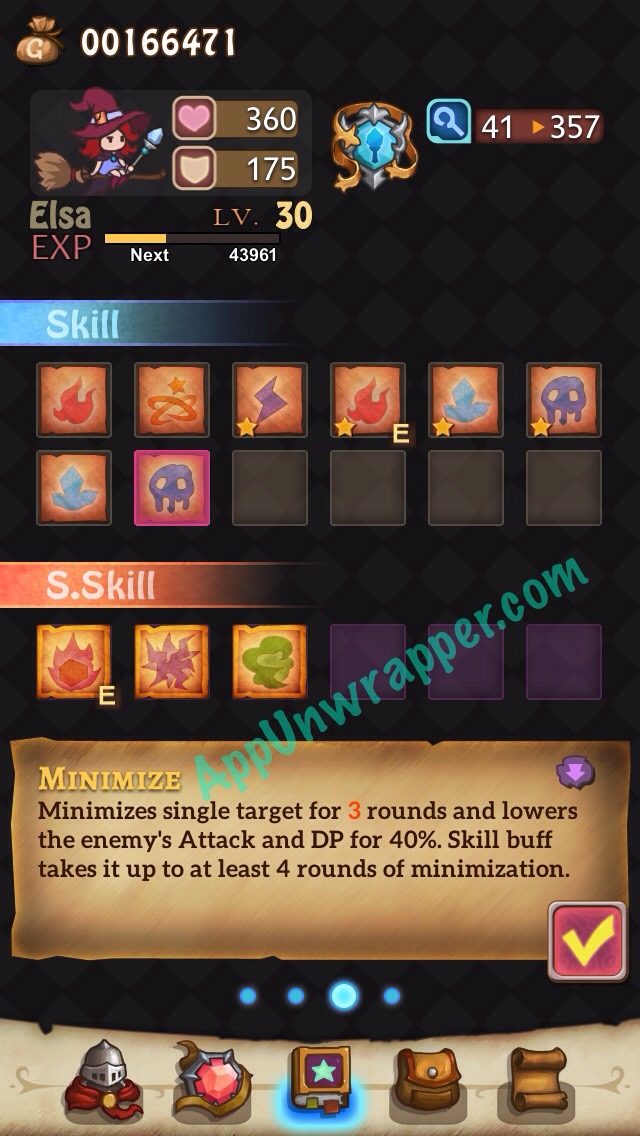 For items, open your satchel and select an item, then tap one of the four available slots. In battle, just tap one of those items to use it.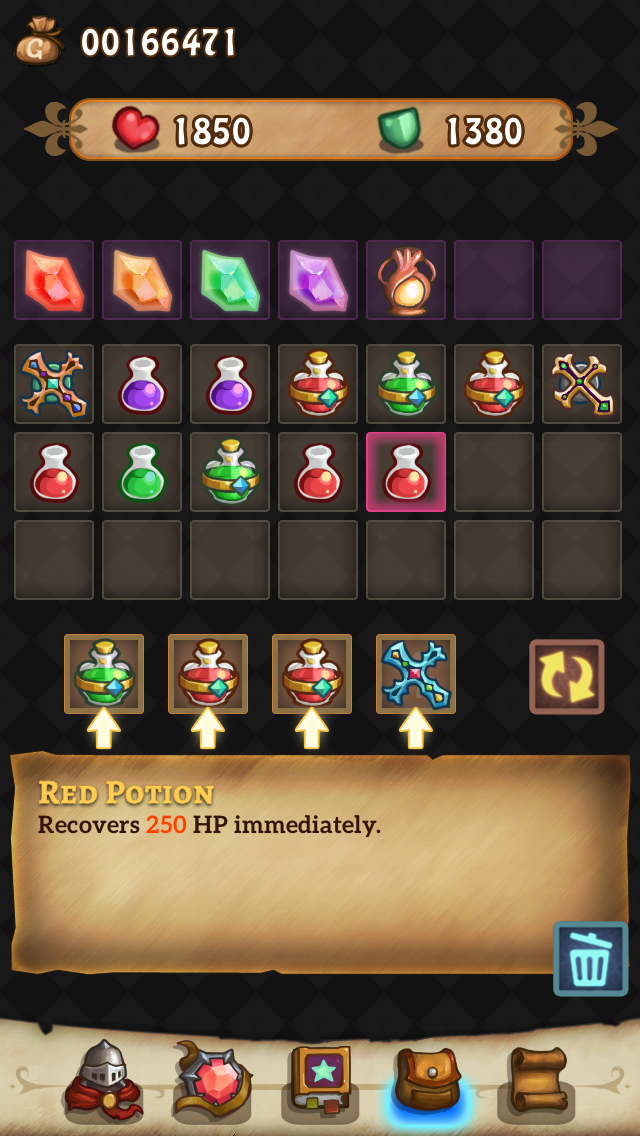 **Tip: This is mostly true for late game, when enemies throw some serious Debuffs at you. The only items I take into battle now are four of the most expensive crosses, Omnipotent Cross (remove up to 8 advanced Debuffs). I used three against a boss and wouldn't have survived without them. A million times more useful than a potion, in my opinion.**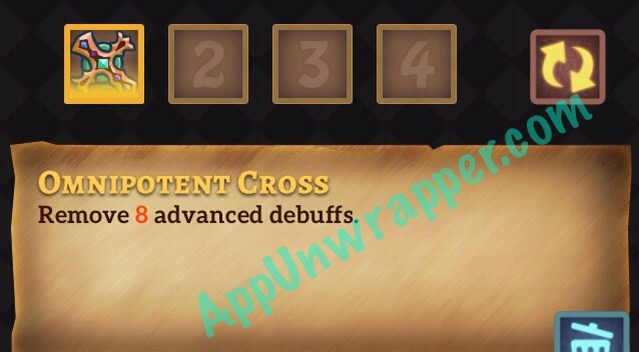 You might also like Shadowmatic.
The Map:
The game will point you in the right direction by marking your next destination with an exclamation point. Sometimes you may need to grind a bit and/or buy upgrades in order to be ready for it.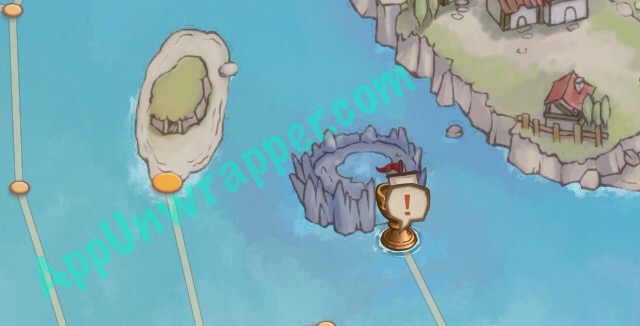 There are also side quests that can be difficult but offer big rewards if you complete them. These are marked with a different kind of exclamation point (I didn't get a photo — sorry!).
Heroes:
Sword: Pure Attack
Shield: Defense and Attack (attack is weaker than Sword/Magic, and will only kick in if defense meter is full)
Magic: Attack
Recovery: Heal & Purify (Remove Debuffs)
Red Devil:
Early on in the game, you'll likely die very quickly from the Red Demon. To defeat him, just replay the areas you already completed to get enough gold for an emblem upgrade from the shop. I recommend getting the Shield emblem first. This should give you that extra edge you need to defeat the boss.
Bosses:
Every dungeon ends with a powerful boss, but you won't know when he's coming. Try to prepare for him by having powerful emblems saved up. Many bosses are immune to regular attacks, and some are immune to certain elements. Try to have different elements in your party just in case! You can't change your hero's skills once you're inside a dungeon.
If you die (or fail) in a dungeon, you have to start over from the beginning of that dungeon. If you think you just messed up a bit and can handle it, try again! If not, you might want to grind a bit so you can buy stronger emblems and skills.
Keys & Chests:
Most dungeons will have at least one chest in it. You need to make the key drop to the bottom before its turns run out or the chest will vanish. Some chests turn into mimics if you don't open them, and will start attacking.
If you miss out on a treasure in a dungeon, you can go back and try to get it by revisiting the dungeon. I highly recommend it, because often there will be a spell or emblem inside.
Choices:
You'll be given several choices throughout the game.
I believe the correct choices are:
Allow Rajal the boss to live.
Save the king (not the seal).
Random Encounters:
Moving around the map, you will inevitably make some random encounters. These can be useful for farming and grinding. If you're going back through an area where the monsters are really easy for you and you want to skip the random encounters, you can simply pause and press the "back" button.
I'm working on a guide for boss resistances and weaknesses here. Please help out if you can!
**Tip: You can loot the Heist S. Skill fairly early on, which will allow you to steal from enemies. I've only ever gotten potions or crosses from it, but others have said they stole emblems from bosses. It's a risky endeavor, but might be worth trying.
The Death Forest boss, the hornet, is really hard. Took me about 15 tries before I beat him. Maybe my battle will help you:
Garoud, Secret Cabin & Cabin at the Sea:
If you take the boat to this little island called Cabin at the Sea, you can exchange the Princess' Crown (I think) for an S. Skill for Trista, called Obligatory Donation. It doesn't seem worth it. All it does is give you a few coins. There's another skill you can get from the crown at the Secret Cabin. You can get both skills, though. Don't swap the crown immediately. Wait till you make it to Garoud's Cabin on the fourth continent and he'll make a crown forgery for you. Then you can use your 2nd crown to trade at the Secret Cabin on the third continent (thanks to Azi for this info) to get the Counter Attack of the Archangel, an S. Skill for Alston.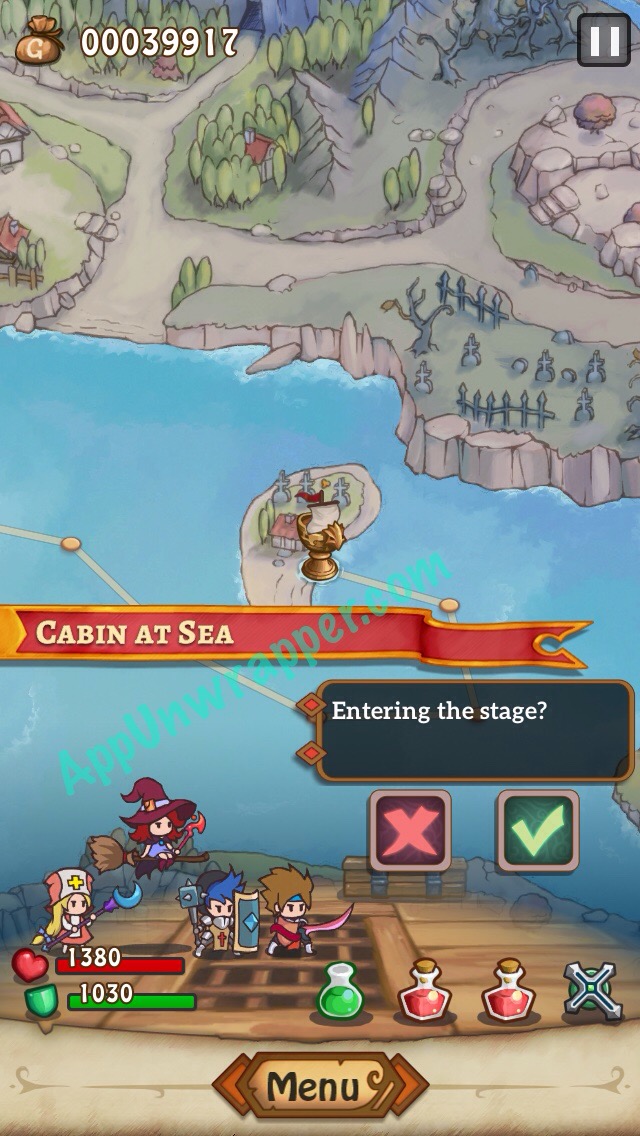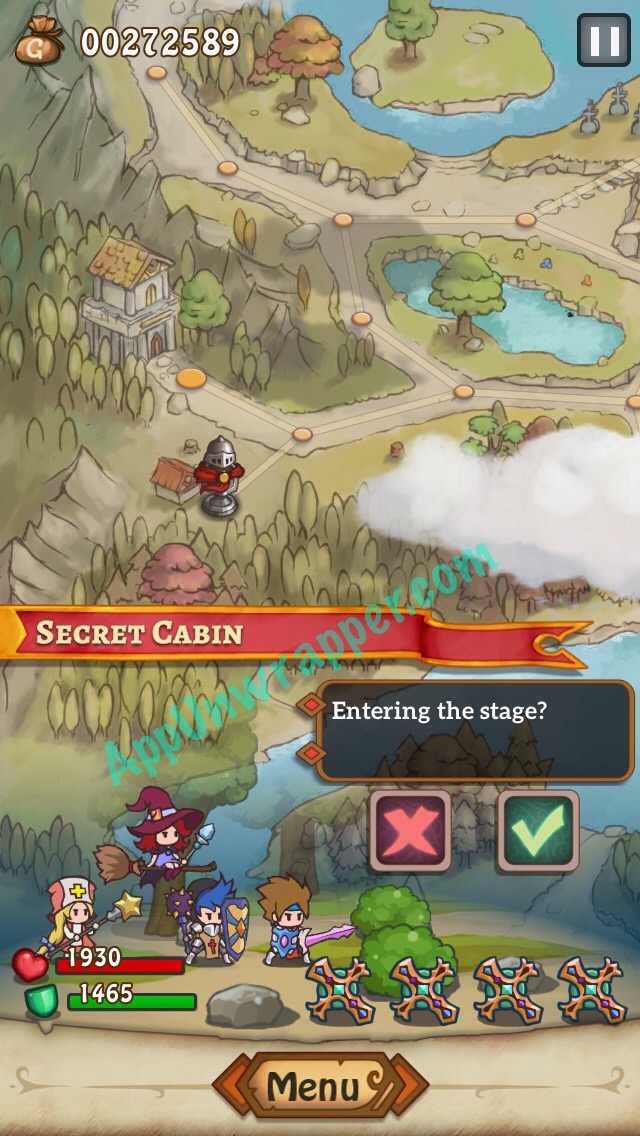 Please chime in if you have any tips to add. I also want to try adding in boss resistances, but I may need help with that, since I didn't take notes till now.
I have some videos here that might help if you want to see some bosses in action.
Tier 6 Emblems:
The two missions after saving the fairys on the 3rd island (the Cave of Conch and Poseidon's Relic) have two red chests that give Tier 6 emblems. HOWEVER if you use Heist ability on the bosses they drop a emblem each and you'll own all tier 6 emblems. This may be the only way to get all four tier 6 emblems! (Thanks to Azi for this info.)
Shayara Kingdom:
When you return later to the Shayara Kingdom, path A leads to a gnome with floor spikes that ALWAYS kill. The only way to get past them and to the chest with the tier 8 emblem in it is to equip Trista's Revive skill and use it before the spikes kill your team. It will automatically kick in and revive them!
Path B leads to a mini boss with a treasure chest (Super Minimization) and Path C leads straight to the main boss.
Tower of Deity:
To avoid spending an hour in this dungeon (like I did), take A, B, B to get to the boss.
Super Secret Hidden Shop!!
On the island of Armageddon (the last continent, there's a hidden shop! If you can, you might be better off skipping the obvious shop's emblems and going straight to this one. To find it, go all the way right to the end of the path. Looks like nothing's there, but if you tap on the little house, it opens a shop with tier 9 emblems and some new skills, including Strong Purification.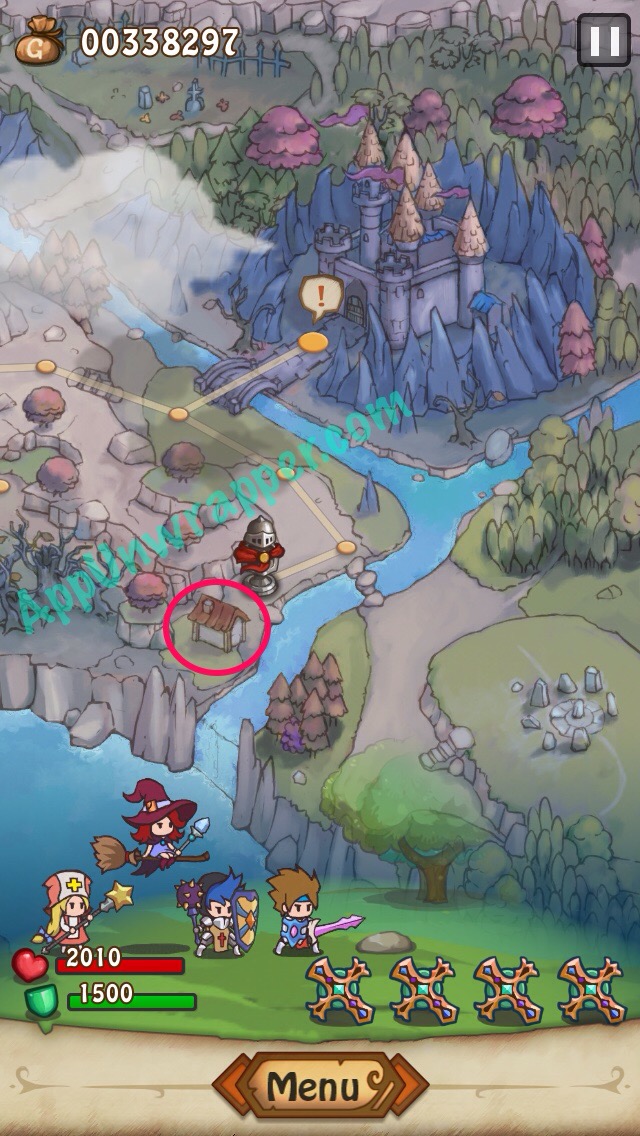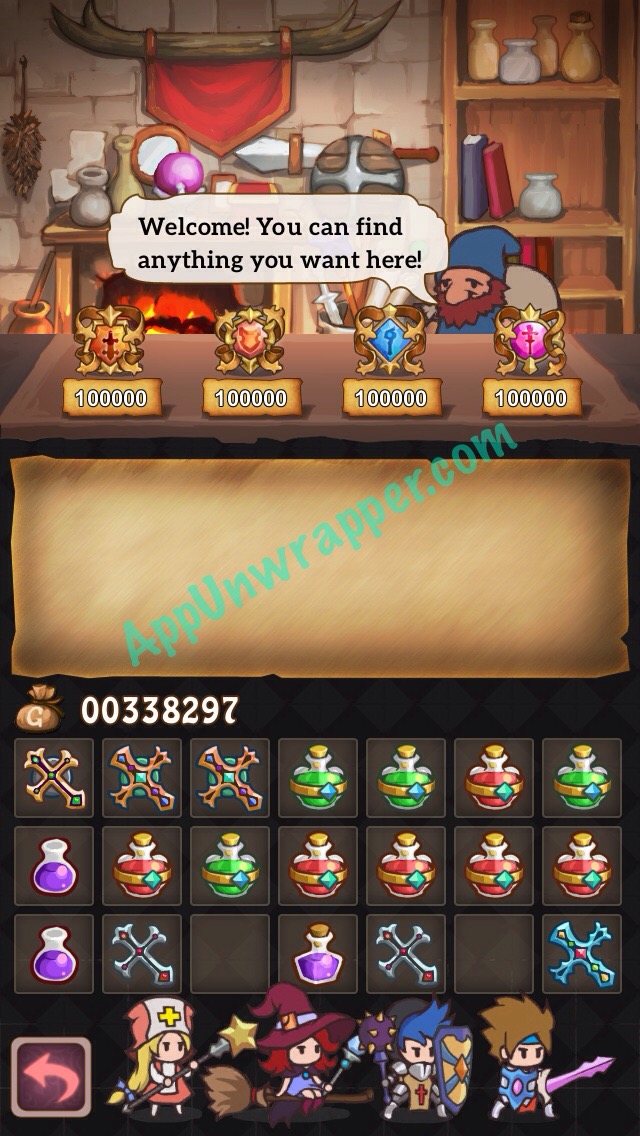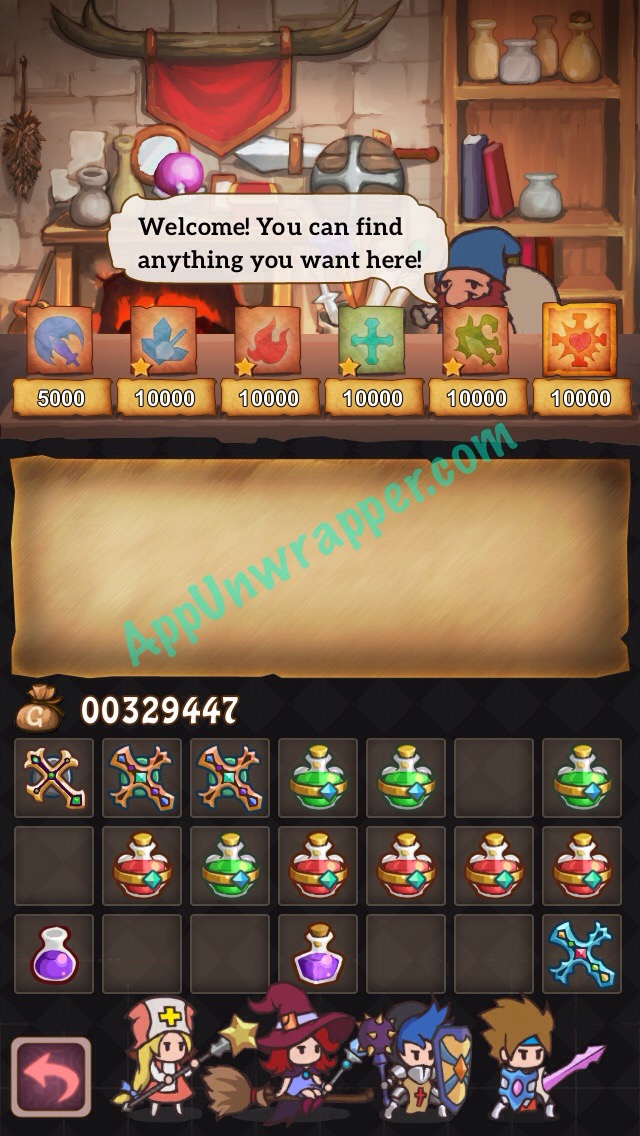 See my emblem locations guide here.
See my video walkthrough guide here.
See my skills locations guide here.
If you like this game, you might also like Gemcrafter: Puzzle Journey and Alto's Adventure.