Implosion – Never Lose Hope
By: Rayark Inc.

[DKB url="https://www.appunwrapper.com/Implosion" text="Download" title="" type="" style="" color="green" width="" opennewwindow="" nofollow=""]
Implosion – Never Lose Hope by Rayark Inc is a premium hack-and-slash game for iOS devices. This is a walkthrough guide with hints, tips, tricks and help for the game. It's a work in progress, so please bear with me. Feel free to ask for or offer help in the comments section. Let me know if you need help on a specific mission and I'll do my best.
Note: I'm using pagination for this guide. Click on the little numbers at the bottom to jump to another page.
Starting Guide:
Controls:
You control your war mech with the left side of the screen via a joystick. Your main attack in this game is melee, your sword. Hit the STRIKE button to attack the Xada. The other buttons are evade/dodge and special abilities that you can use after you've charged them up by performing regular attacks.
You'll soon be given a gun for ranged attacks. Drag the STRIKE button to aim your gun. But ammo is limited, so you can't always rely on it. Ammo does automatically recharge after a short wait.
Evade/Dodge Button:
It is tempting in this game to just go head-on and mash the attack (strike) button. And you can actually get away with this early on in the game. But don't ignore the Evade button. It makes you invulnerable for about a second, and even lets you go through enemies! I've been finding it particularly useful against large enemies (mini-bosses) that do lots of damage and have lots of HP.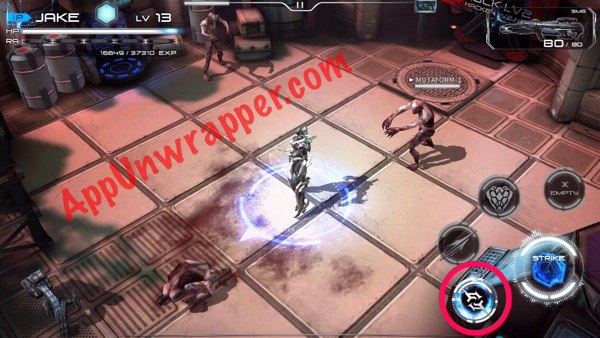 Ark System:
This is where you can equip new items you looted. Tap on one of the circles to see your inventory that can be equipped. Some have negative effects, so you need to take that into consideration. There are a lot of ways to play with your build here. You can also use credits to buy items from the shop using the shop icon in the upper right corner.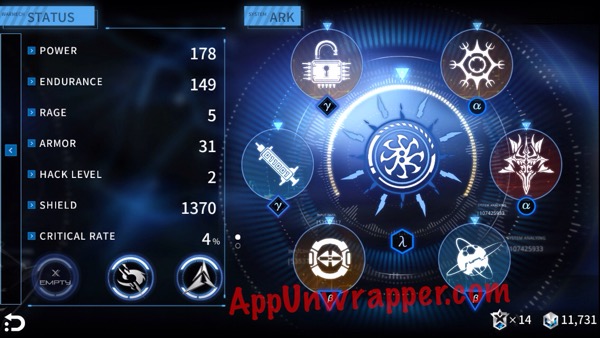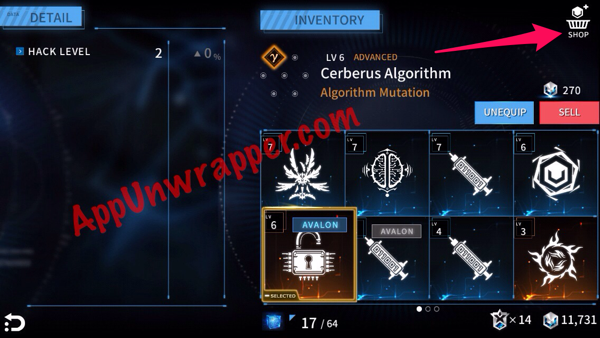 The central icon is what allows you to change your special abilities. You can tap the icons on the bottom to see a description of each ability.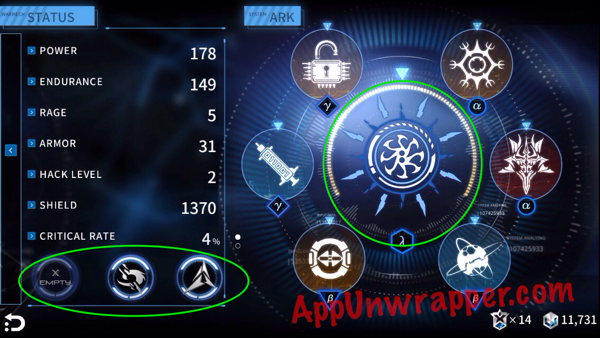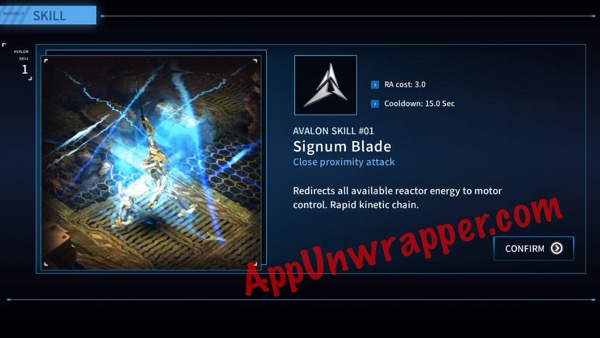 Stats: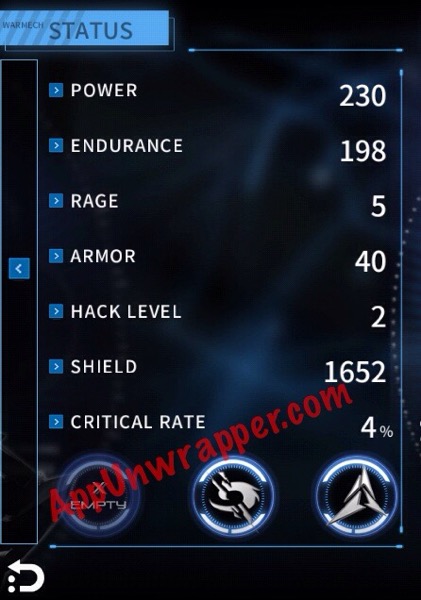 Power: Attack power
Endurance: Possibly health points?
Rage:
Armor: Defense once the shield is down
Hack Level: Allows you to unlock doors
Shield: How strong your shield is
Critical Rate: Your chance of making a critical hit
Agility: Dodge (how well you can avoid hits)
Badges:
You earn badges by meeting certain conditions on a mission. You can see the badges several ways. From the map, tap on the little badge icons.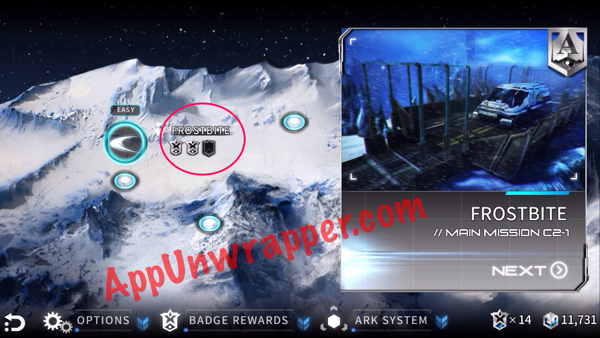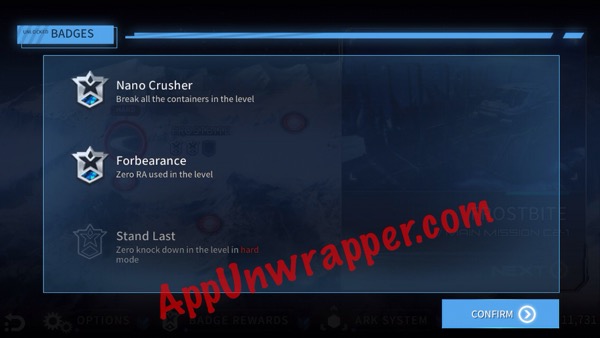 To earn a badge in Hard mode, tap on the blue circle on the map to switch from Easy to Hard. It will turn red.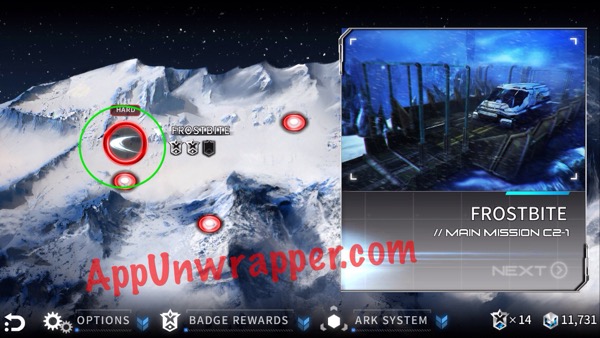 Badge Rewards:
On the bottom strip, to the left of the Ark System, you can see the Badge Rewards. These are rewards you can collect once you've earned a certain number of badges. Sometimes you have to choose between several different rewards — so choose wisely!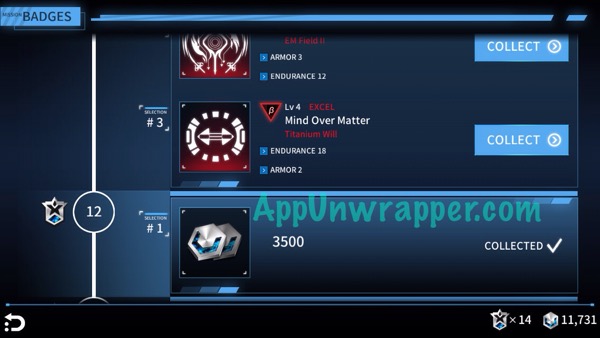 Unlocking Crimson (second character):
If you look at the badge rewards, you can see that you need 42 badges to unlock Crimson as a playable character. Crimson is the female warmech. When I unlocked her, Avalon was level 15 and she was level 15 as well. But they level up separately when you use them. She also has her own set of equipment and skills. She uses a staff instead of a sword. You can see her in action in my video on page 3. (Update: It appears that Crimson unlocks at level 15 no matter what level Avalon is.)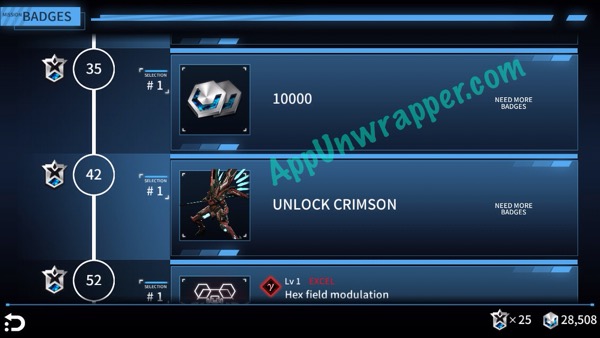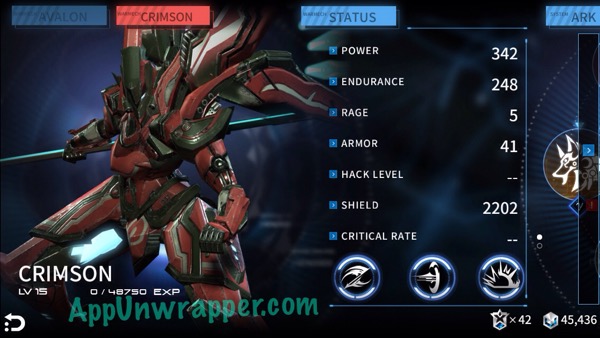 Tip: If you're having trouble earning a specific badge, come back to it later after you've leveled up and/or got better equipment. It will be much easier to achieve those goals when you're stronger.
Locked Doors:
You'll encounter some locked doors on certain missions. They usually say a Hack level on them. This means you need to equip an item that gives you some Hack stats in order to open that door. They usually look like an open padlock and are named Cerberus Algorithm. If you know there are no locked doors on a mission, you might want to swap out that equipment for something more useful. Just don't forget to re-equip the Cerberus Algorithm when you need it!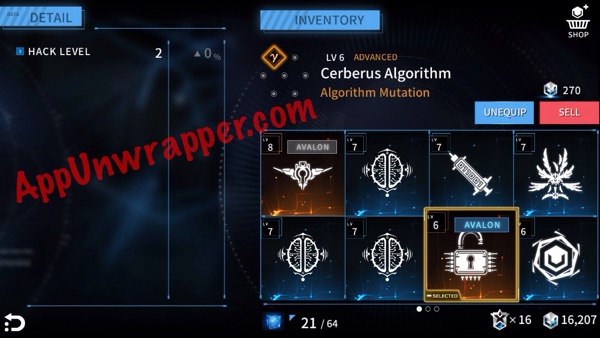 iCloud Syncing:
You can only access the iCloud after you complete the first mission on the device. That's when the options menu is available. If you delete the game and reinstall it, you'll have to play through that first mission again before you can access the cloud. Small inconvenience, but after that it's been working great for me. Just make sure to close down the game on the device you're not playing on so there's no conflict. But every time you switch devices, it should ask you if you want to use the local or the cloud save.
Note: I'm not sure if it works the same if you have only one device and delete the game. Can anyone confirm?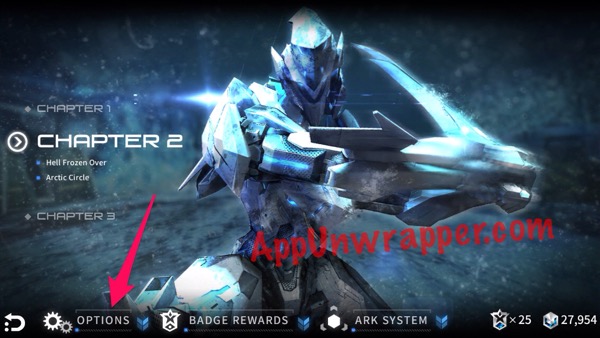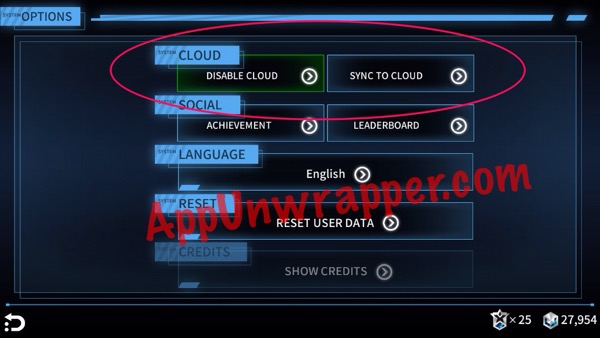 Infinite Weapons:
You can earn infinite guns with badges. But there's a catch — you can't earn more badges when one is equipped. They're mostly for farming and fun.
Expert Mode:
Once you complete the campaign, you can start the game over on Expert mode. You can also earn badges here, and they add to your overall badges from the regular campaign. So I suggest working on getting some from there if you're having trouble getting them all in the regular campaign. There are no revives in Expert mode, so you may need to level up a bit for it.
Build Recommendations:
For those asking, these are my current builds for Avalon (level 17) and Crimson (level 20). I don't know if they're the best builds. Feel free to offer your own advice on the best equipment and stats to use.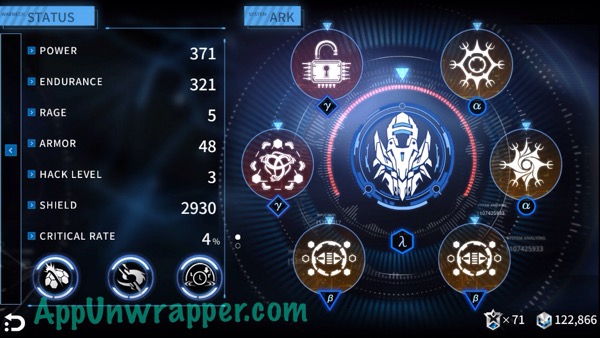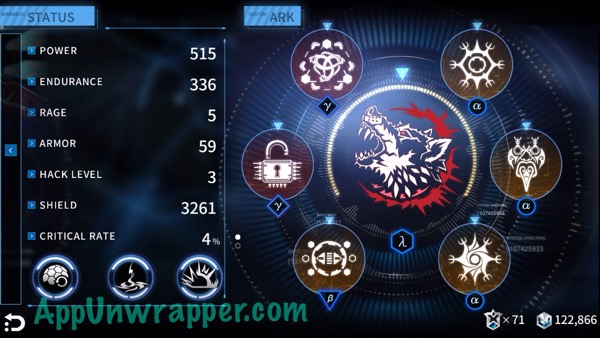 Click on the little number 2 below to continue to Chapter 1.