Sky: Children of the Light
By: thatgamecompany
Sky: Children of the Light is the latest game by thatgamecompany, and it's similar to Journey. It's a massive multiplayer online game (MMO) in which you can fly around beautiful landscapes and join with others to solve simple puzzles. There are a lot of hidden collectibles, your wings need to be upgraded, and you need to fill your constellations by freeing spirits. In this guide, I've included many tips and tricks that aren't completely obvious the first time you play. I also included videos of my first playthrough, including all the spirit locations. This is a work in progress and I'm still adding to it. Feel free to ask for extra help in the comments section.
Currency Guide | Spirit & Wing Locations | Daily Quests | Eye of Eden Guide | Meditation Locations | Review
Tips & Tricks:
– Tap the upper right corner to access the settings options. This includes the graphics settings, IAP store, bug reports, etc. You can also change the controls to be two-handed.
– Tap the lower right corner of the screen to access the public chat and also to take photos or video.
– Tap the upper left corner to see your daily quests and how many wing pieces you have.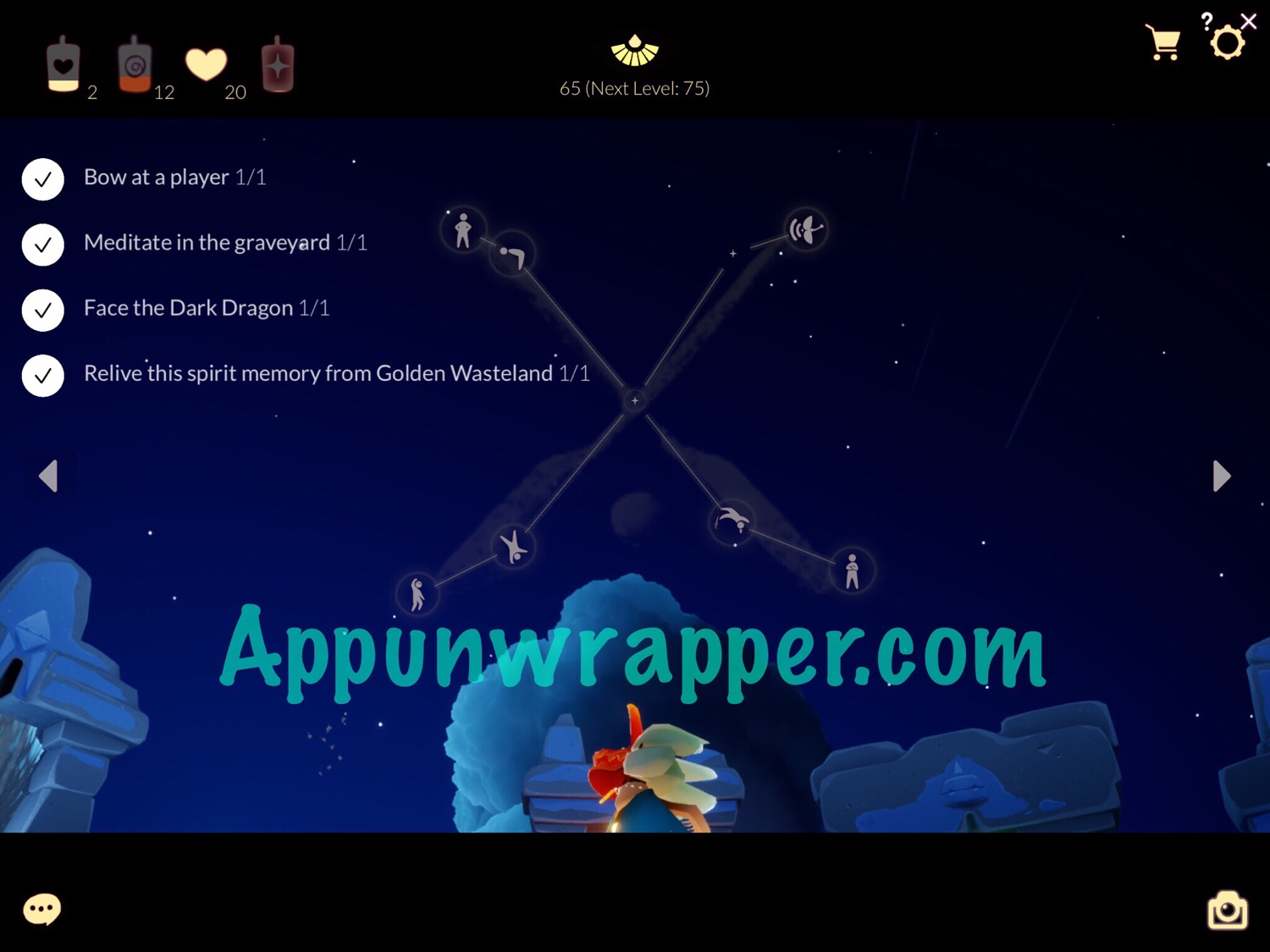 – Collect Winged Light to upgrade your wings and fly higher.
– Seek out spirits and free them from their stone slumber to add an expression to your constellations. You can then summon them back at Home and unlock expression upgrades, spells and cosmetics.
– Candles are the main currency in Sky. You use them to add friends, upgrade expressions and unlock spells. Each spirit you unlock also allows you to buy a heart for three candles. The only other way to get hearts is to receive them from friends. The hearts are valuable because they're required for cosmetics.
– Red candles and plants that you can burn fill up your candle meter. You can usually get currency from them once a day.
– You can complete the game without worrying about candles or hearts, but you won't be able to afford the cosmetics unless you either grind for candles or buy candles.
– Don't rush. Make sure to explore your surroundings and look for hidden items and areas. If you can't reach something, come back when your wings are stronger.
– If you miss things on your first playthrough, don't worry. You can return to any area from the Home base.
– Try to make friends so you have some people to call on if you encounter a puzzle that requires more than one person.
– In each area, look for the spirits. You earn expressions by freeing spirits, which then get added to the constellations. They're also needed for accessing new areas.
– Each kingdom has its own constellation full of expressions. If you're missing one, go back through that portal and check your list of expressions. If one is grayed out, that spirit is nearby. If you have all the spirits in an area, none will be gray.
– From the Home base, you can easily access any areas you've been to already, as well as the next one. You can also change your appearance, but first you need to collect the different unlockables. Make sure to also examine your constellations for any new unlockables you can get.
– If you're having trouble, try asking a friend (or stranger) to hold your hand and take the lead. You can get pulled along for the ride and just enjoy the view.
– Be careful in the rain area and beyond, as if you lose your fire and continue to get wet, you could end up losing a wing upgrade. It will then reappear somewhere as one of the wings you already collected.
– The game does have IAPs, but you can complete it without them. They're mostly for cosmetics and people who want to collect everything without having to keep replaying the game.
– If you want in-game headphones like mine, I believe you need to have headphones plugged in and recording gameplay or listening to music that isn't from the game.
– If you have real life friends you want to play with, use the bar code feature to invite them as a friend.
– Make sure to complete the seasonal achievements and find the seasonal spirits to earn seasonal candles and special expressions.
– Each day, one of the seasonal achievements will ask you to meditate somewhere. You don't need a specific expression for this. You just need to find a stone marker with a white circle in front of it. You can meditate on that circle and then answer a question to complete the achievement.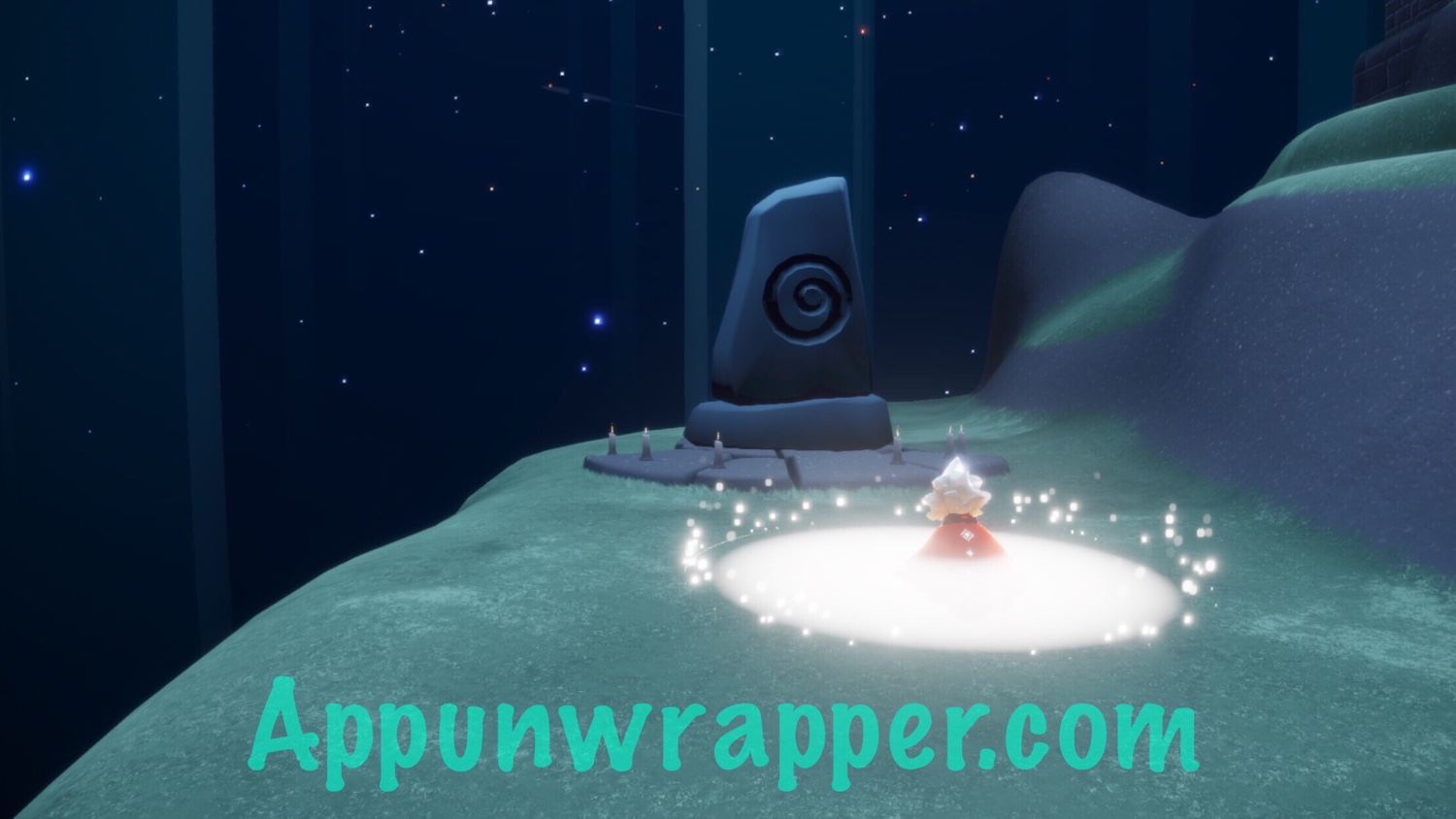 – The Adventure Pass gets you some extra seasonal stuff — including the top tier — but don't be fooled by the message that tells you you get all those cosmetics "straight away." Most cost hearts even if you do manage to unlock them.
– When you hold hands with a friend, you replenish each other's light, so that's another good reason to travel in groups.
– If you go back to an area to look for spirits you missed, make sure you complete the entire area again or you won't be able to access the spirit's upgrades.
– Each day, you can send candle wax to your friends through their constellation stars.
– Press the kneel/site emote to cycle through different positions like sitting, leaning back, lying down. You can then use the expressions lower down in the menu to further adjust your position.
– After you complete the Eye of Eden, you lose all your Winged Lights. But you get Ascended Candles that can be used to buy a permanent wing upgrades. This means you need to replay the game over and over and over and over. Uhhh have fun!
– If you 8 players pray at the puppy's grave, you can resurrect him and ride him.
Walkthrough:
Part 1, Isle of Dawn & Daylight Prairie:
Part 2, Hidden Forest:
Part 3, Valley of Triumph & Golden Wasteland:
Part 4, Vault of Knowledge:
Part 5, Searching for missing spirits and wing upgrades:
Part 6, Collecting more wing upgrades and spirits, including seasonal ones:
Part 7, More spirit collecting:
Part 8, Vault spirit collecting:
Part 9, Wasteland spirit collecting:
Part 10, Rest of the spirits found:
Part 11, The Eye of Eden:
Finding the Puppy:
Note that you need the Pray expression or you can't participate. Also, all 8 people in the instance need to participate. So if you don't have the expression, you should leave so someone else can take your place.
More Puppy:
—
Here are the videos I made from the beta:
Part 1:
Part 2:
Part 3:
More coming soon!
Currency Guide | Spirit & Wing Locations | Daily Quests | Eye of Eden Guide | Meditation Locations | Review
***
Note: Sometimes a promo code is provided for a game, but it does not affect the review in any way. At AppUnwrapper, we strive to provide reviews of the utmost quality.

Check out my recommended list for other games you might like.

If you like what you see on AppUnwrapper.com, please consider supporting the site through Patreon. Every little bit helps and is greatly appreciated. You can read more about it here. And as always, if you like what you see, please help others find it by sharing it.

I also offer affordable testing and consulting for iOS developers.

COPYRIGHT NOTICE © AppUnwrapper 2011-2018. Unauthorized use and/or duplication of this material without express and written permission from this blog's author is strictly prohibited. Links may be used, provided that full and clear credit is given to AppUnwrapper with appropriate and specific direction to the original content.