RoomBreak: Escape Now!!
By Gameday Inc.
Click here for my walkthrough.
[DKB url="https://www.appunwrapper.com/roombreak" text="Download" title="" type="" style="" color="blue" width="" opennewwindow="" nofollow=""]
RoomBreak: Escape Now!!, by Gameday Inc., is a fairly large room escape game, clocking in at almost 200 mb. It is visually stunning, with challenging puzzles, but takes a bit getting used to. It is geared more towards hardcore gamers than casual.
Gameplay 3.5/5
First off, don't spend too much time on the tutorial, and don't judge the game based on it. The tutorial is maddeningly slow, not very helpful, doesn't save your spot, and I'd suggest skipping most of it if you can get by without it. Integrating the tutorial into the game would have been much more helpful — and tolerable — than the way it is done here. Some better instructions would have been helpful, as well. My first time using the hammer made me want to take a hammer to my iPhone! Luckily you can skip the tutorial and delve right into the game. If you have any trouble figuring out certain aspects of the game, you're better off learning as you go or asking others instead torturing yourself with the tutorial.
Beyond that, RoomBreak suffers from an overly-complicated interface and clunky controls. The player needs to constantly switch between the hand, magnifying glass, and foot cursor, all while trying to escape on a timer. This seems completely unnecessary and takes a lot of fun away from the game. Most room escape games have one control for everything – your finger – and the experience is much more fluid that way.
You get "exhausted" before you've finished looking around. What's truly exhausting is having to start the room over and over again because the timer runs out. Being rushed through a level occasionally would be fine, but it gets old quickly when every level is timed. All these things almost made me give up on the game right away. But I'm glad I didn't, because it is quite good game once you get past these issues.
What the game does have going for it is that it is considerably longer than most other room escape games out there. There are five episodes (sixth to come) with five levels each, a total of twenty-five. The puzzles have enough variety and complexity to be challenging but not overly frustrating. There are also a few interesting game mechanics not often seen in room escape games, that take advantage of the touch capabilities. For instance, you have to swipe the screen in a specific sequence in order to properly slice something with the knife. Use of the hammer also requires some hand-eye coordination. While some of the hammer puzzles can be quite challenging, the worst part of it is having the word "FAILED" slowly fade off the screen before you can try again, as though the game is rubbing it in your face. But if you can get past the clunky controls and don't mind being rushed through each level (or starting them over a few times), then you might learn to love the game. It is possible to get used to the controls, but it takes some time. The key here is patience.
Story 4/5
The first episode is really quite boring and pointless. Your girlfriend keeps locking you in the room every morning after she leaves. This is never explained, either, but might just be suffering from poor translation. But if you can get through it, the game does get more interesting with episode 2, where you play a man accused of being a serial killer. You play a different character in each episode, so it's more like you're playing five room escape games in one app. The stories get more interesting with each episode, but I don't want to give too much away here. The excitement is in the discovery.
Graphics 5/5
RoomBreak sports some gorgeous graphics, especially the cut scenes. It feels like you're participating in a graphic novel. The menu and item animations are also quite impressive. Everything is clean and polished. You can tell a lot of work and passion went into making the art for this game.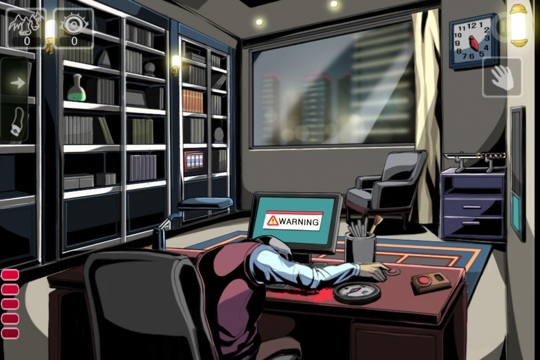 Audio 4.5/5
The soundtrack works well with the game. It's not too distracting, but sets the right mood. If a level requires some serious rushing, the music has an urgency to it and keeps you from slacking off. The sound effects make sense and pull the whole experience together. Overall, the audio is polished and immerses you in the game.
Replay Value 3/5
If you're a completist who likes to collect all achievements and get top scores, RoomBreak can offer considerably more replay value than other room escape games. You get graded on each room, based on how quickly you get out. So if you're into that sort of thing, you can keep trying to beat your score for a room. There are also golden keys to find in each room, as well as various GameCenter achievements. Gameday also promises to keep the updates coming, and there is already a space-saver for the sixth episode to leave you in anticipation for the first update.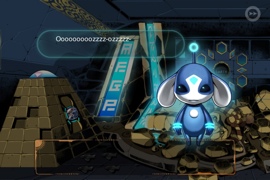 Conclusion 4/5
A lot of work obviously went into this game, and it is fun to play once you get used to the controls and accept the fact that you may have to play some of the rooms more than once before completing them. The interface and controls could be much more user-friendly. But if you can get past the awkward controls, awful tutorial, and timed gameplay, this game can be quite an enjoyable experience. If you're a room escape fan, you should definitely give it a try with the lite version.
[DKB url="https://bit.ly/y1N6jD" text="Download" title="" type="" style="" color="blue" width="" opennewwindow="" nofollow=""]
If you enjoyed this game, check out Atmosfear, Escape Game: "An Odd Game", Escape Game: "A Cold and Deserted House" and these other escape games.