Closed Room
By Ateam
Ateam, the makers of "Ellie – Help me out…please," return with another top-notch free room escape game for the iPhone.
Click here for my walkthrough.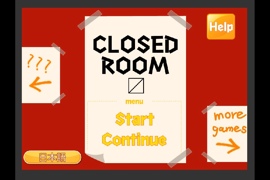 [DKB url="https://www.appunwrapper.com/closed" text="Download" title="" type="" style="" color="green" width="" opennewwindow="" nofollow=""]
Gameplay 4.5/5
Closed Room is an escape game, consisting of the usual room escape controls. You tap on objects around you, picking up some and interacting with others. The goal is to use your surroundings and your wits to solve puzzles and eventually escape the room.
If you're familiar with "Ellie," you may be expecting some near-impossible challenges in this game. But don't fret, Closed Room is much more straightforward, and the items you find offer tips on how to use them. There are quite a lot of clues to find here, and this game will last you considerable longer than most free games in the app store. The controls are also very intuitive and responsive, which is not often the case with free room escape games.
Like "Ellie," the room is split into only two screens. But don't let the minimalist appearance fool you. There are quite a lot of items and clues hidden throughout. Just about everything you interact with has a purpose. Also, some items have several different uses, a feature often overlooked in many free room escape games. All this makes the game very satisfying to play through.
I rather like the little red laser dot (and sound) that appears every time you tap on something and there's nothing there. It lets you know that your tap registered. With so many other room escape games, it's ambiguous whether your tap registered or not, which can lead to much frustrated hyper-tapping.
I did have a couple of gripes with the game. One puzzle has several parts to it and they all need to be completed in one sitting, because the game won't save your progress for it. This can be frustrating, as you can't take a break and come back to finish it later. So make sure you start it when you have plenty of time to spend on it. I also had to redo the entire puzzle because the the "Start" and "Continue" buttons are right on top of each other. Instead of asking me if I'm sure I want to start a new game, it just did so anyway. So be extra careful when you return to the game so you don't make the same mistake I did. And one last thing — there's a clue in Closed Room 2 that says the exact opposite of what you actually need to do. That's a pretty big mistake, but you shouldn't scrap the game over this. If you get past these few small hurdles, the game offers quality escape fun for free!
Story 2/5
It might be lost in translation, but I didn't see much story here. I'm not even sure why I walked into this room that had a sign on it's front saying "Closed Room." Perhaps some sort of explanation would help me understand why I'm here and need to escape. The end did make me smile a bit, though.
In any case, what this game lacks in story, it more than makes up for in puzzles.
Graphics 3/5
The 2D graphics are very basic, but they get the job done. If you were looking for something on par with "Ellie," you'll be disappointed. But the graphics are clear, and I never had any problem understanding what I was looking at.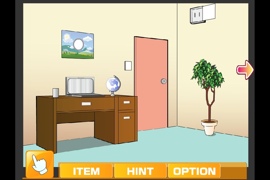 Audio 2/5
Again, if you were looking for a soundtrack as immersive as Ellie's, you won't find it here. In fact, there's no music at all in Closed Room.
The sound effects are minimal, but they get the job done. I especially appreciate the little noise you here every time you tap on something.
Replay Value 2/5
Once you escape the room, there isn't really much of a reason to play again, unless perhaps to practice the "Tap to Fill" game. But this app does include both Closed Room 1 and 2, so there's plenty of content here.
Conclusion 4/5
These guys are putting bored.com and IDAC to shame with their high-quality free room escape games. I thoroughly enjoyed playing Closed Room. Clues and items were revealed at just the right pace to keep it from getting too frustrating or too easy. It's perfectly paced.
(P.S. If you're stuck on the last puzzle of Closed Room 2, try doing the opposite of what the clue tells you. Yeah, not cool. But the rest of it made sense.)
[DKB url="https://www.appunwrapper.com/closed" text="Download" title="" type="" style="" color="green" width="" opennewwindow="" nofollow=""]
If you liked this game, also check out  Atmosfear, Escape Game: "An Odd Game", RoomBreak: Escape Now!!, and these other escape games.