Sky: Children of the Light
By: thatgamecompany
Sky: Children of the Light is the latest game by thatgamecompany, and it's similar to Journey. It's a massive multiplayer online game (MMO) in which you can fly around beautiful landscapes and join with others to solve simple puzzles. I have a generic guide here, but wanted to break things down into more specific ones. There are lots of spirits to collect that get added to your constellations and some can be tricky to find. This guide will show you where all the Season of Sanctuary spirits will be found once the season starts.
Walkthrough Guide | Spirits & Wings | Seasonal Spirits | Currency Guide | Seasonal Candles | Daily Quests | Review
Season of Sanctuary – Beta
The Season of Sanctuary will be here soon! It's currently in beta. This guide will show you where to find all the seasonal spirits so you can collect their expressions and cosmetics.
SPOILER WARNING
Here's my seasonal candle guide.
All six spirits this season are in the new area called Sanctuary. There doesn't seem to be any specific order to how you collect them, so I'll just number them based on the order I found them.
See my Memory Fragments guide here.
First, to get to Sanctuary, head to Daylight Prairie. From there, go to the Bird's Nest area. Then look down through the clouds for a new structure fly towards and past it to the new area.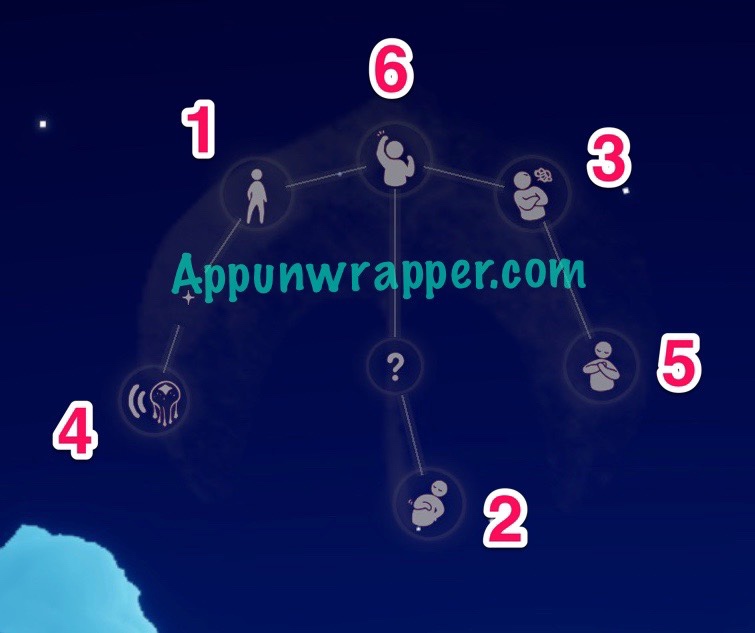 1. Timid Bookworm – Timid Stance:
2. Chill Sunbather:
3. Hiking Grouch:
4. Jellyfish Whisperer – Jellyfish Call:
5. Grateful Shell Collector:
6. Rallying Thrillseeker:
And that's all the Sanctuary spirits!
Walkthrough Guide | Spirits & Wings | Seasonal Spirits | Currency Guide | Daily Quests | Review
***
Note: Sometimes a promo code is provided for a game, but it does not affect the review in any way. At AppUnwrapper, we strive to provide reviews of the utmost quality.

Check out my recommended list for other games you might like.

If you like what you see on AppUnwrapper.com, please consider supporting the site through Patreon. Every little bit helps and is greatly appreciated. You can read more about it here. And as always, if you like what you see, please help others find it by sharing it.

I also offer affordable testing and consulting for iOS developers.

COPYRIGHT NOTICE © AppUnwrapper 2011-2020. Unauthorized use and/or duplication of this material without express and written permission from this blog's author is strictly prohibited. Links may be used, provided that full and clear credit is given to AppUnwrapper with appropriate and specific direction to the original content.