RoomBreak: Escape Now!!
By: Gameday
Episode 5 Room 3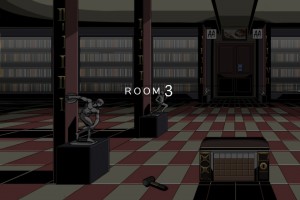 Walkthrough:
1. Pick up the hammer.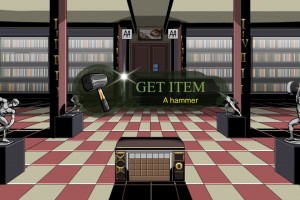 2. The security guard gave you a clue: Olympic.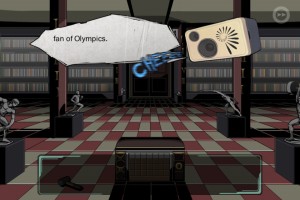 3. Tap on the wooden puzzle in front of you.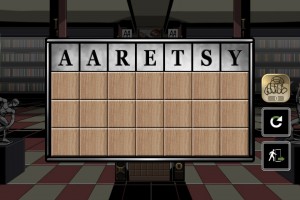 4. You need to slide the wooden panels up until you get the word "OLYMPIC".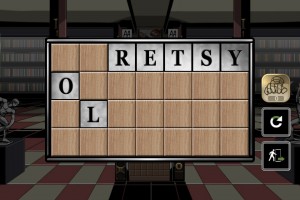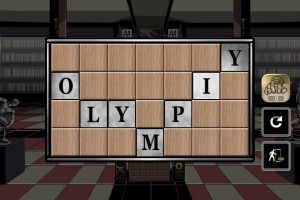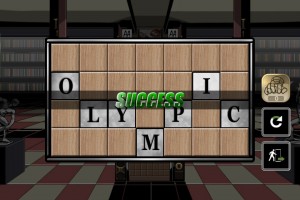 5. The lid opens up, revealing a button. There is also a clue, which refers to the two pillars besides the door. Together they reveal that 3 = 1234. We'll need that for later.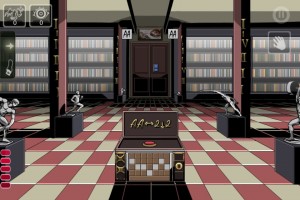 6. Press the button. The glass lifts from the books in the back.
7. Scroll to the right. There's a book that stands out from the others (it's pinkish-red).
8. Take the book.
9. Divide the book to get a key from inside.
10. Use the key on the puzzle in the center of the room and a hidden board slides out.
11. Take the wooden board.
12. Scroll to the left side of the screen.
13. Tap the shelf of books a few times so the books fall.
(GOLDEN KEY: Make sure to take the golden key here.)
14. Pick up the knife that fell to the ground.
15. Zoom in on the puzzle on the shelf.
16. Examine the wooden board you found and tap each part of the puzzle the number of times it shows on the board. For example, the middle button needs to be tapped three times. It fan be done in any order.
17. When you get it right, another clue will be revealed underneath.
18. Use the knife on the painting above the door. It tears.
19. Examine the painting with the magnifying glass. It's talking about the weightlifter statue.
20. Use the hammer to break the weightlifter.
21.Take the note from inside.
22. You now have all the clues you need. Zoom in on the painting to see "3 + 5 + 7 = ?". The three clues show that 3 = 1234, 5 = 4321, and 7 = 2424. Add them all up and you get 7979.
23. Zoom in on the keypad on the door.
24. Enter 7979.
25. The door opens. Walk out and on to room 4!
—-
RoomBreak Walkthrough Main Page
Episode 1:
Room 1
Room 2
Room 3
Room 4
Room 5
Episode 2
Room 1
Room 2
Room 3
Room 4
Room 5
Episode 3:
Room 1
Room 2
Room 3
Room 4
Room 5
Episode 4:
Room 1
Room 2
Room 3
Room 4
Room 5
Episode 5:
Room 1
Room 2
Room 3
Room 4
Room 5
Episode 6: