Walkthroughs
Here's a list of room escape games and point-and-click adventure games for which I've written walkthroughs and cheats. If you'd like to contribute a walkthrough I haven't written yet, let me know. Click the green "Download" buttons to open the games in the App Store.
Click here for even more escape games.
Follow me on Twitter to be the first to know about new walkthroughs: @AppUnwrapper
Like me on Facebook: AppUnwrapper
***Help choose my next walkthrough by voting here!***
See this page for promo codes I have available!
If you like escape games, download AppNavi and enjoy IDAC escape games free of charge! Enter the ID nDvU to gain 100 bonus points for more games.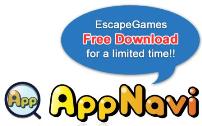 1. Ellie – Help me out…please by Ateam Walkthrough Download
2. Closed Room 1 & 2 by Ateam Walkthrough Download
3. RoomBreak: Escape Now!! by Gameday: Walkthrough Download
4. Escape Game: "Strange House" by IDAC Walkthrough Download
5. Escape Game: "An Odd Game" by IDAC: Walkthrough Download
6. Escape Game: "An Uninspired Man" by IDAC: Walkthrough Download
7. Escape Game: "The Meddling Shogi Player" by IDAC: Walkthrough Download
8. Escape Game: "Snow White" by IDAC: Walkthrough Download
9. Escape Game: "A Cold and Deserted House" by IDAC: Walkthrough Download
10. Atmosfear by Applix srl: Walkthrough Download
11. Escape Game: "The Drifting Locked Chamber" by IDAC: Partial Walkthrough / Full Walkthrough Download
12. Escape Game: "The Mystery of the Abandoned Factory" Walkthrough Download
13. Sapphire Room Escape by TeraLumina: Walkthrough Download
14. Escape Game: "Memories Lost on a Beach" by IDAC: Walkthrough Download
15. Escape Game: "The Whisper of the Plums" by IDAC: Walkthrough Download
16. Haunted Halloween Escape by TeraLumina Games: Walkthrough Download
17. Antrim Escape 3 Deluxe: Christmas Hidden Object Adventure Walkthrough Download
18. Antrim Escape 3 Walkthrough Download
19. Escape Game: "Dangerous Luxury Liner" Walkthrough Download
20. Escape Game: "The Inn of the Ordeals" by IDAC: Walkthrough Download
21. Escape Game: "Flames of Light and Shadow" by IDAC: Walkthrough Download
22. Escape Game: "The Basement Plot" Walkthrough Download
23. Escape Game: "The Locked Up Girl" Walkthrough Download
24. Escape Game: "The Phantom Composition" Walkthrough Download
25. Escape Game: "A Strange Invitation" Walkthrough Download
26. Escape Game: "Meeting Up" Walkthrough Download
27. Escape Game: "In the Darkness" Walkthrough Download
28.Escape Game: "The Dying Message, Part 1″ Walkthrough Download
29. Escape Game: "Dying Message — The Sequel" Walkthrough Download
30. Escape Game: "Eyes to Ambush" Walkthrough Download
31. Escape Game: "Behind the Smile" Walkthrough Download
32. Escape Game: "The Hidden Trap of the Hotel" Walkthrough Download
33. Escape Game: "Prison Bar" Walkthrough Download
34. Escape Game: "A Night of Enchantment" Walkthrough Download
35. Escape Game: "A Twisted Love" Walkthrough Download
36. Luchuza – horror point and click game – Walkthrough Download
37. Escape Game: "The Airtight Warehouse" Walkthrough Download
38. The Passenger: Walkthrough Download
39. Escape Game: "My Girlfriend and the Cafe" Walkthrough Download
40. Escape Game: "An Evening of Envy" Walkthrough Download
41. DOOORS – room escape game – Walkthrough Download
42. Broken Sword Walkthroughs Download
43. Broken Sword 2 – The Smoking Mirror: Remastered Walkthrough Download
44. Escape Game: "The Twin Prank": Walkthrough Download
45. Escape Game: "The Black Lodge" Walkthrough Download
46. Escape Game: "The Blood-stained Mansion" by IDAC: Walkthrough Download
47. Escape Game: "The Bored Victim" by IDAC: Walkthrough Download
48. Speed Escape: Chamber Walkthrough Download
49. Escape Game: "Stolen Happiness" by IDAC: Walkthrough Download
50. Escape Game: "The Summer Cottage" by IDAC: Walkthrough Download
51. Plants vs Zombies Cheats Download
52. Escape Game: "The Stray School" by IDAC: Walkthrough Download
53. Escape Game: "The Dangerous Dollhouse" by IDAC Walkthrough Download
54. Escape Game: "The Secret at the Bottom of the Water" by IDAC: Walkthrough Download
55. Escape Game: "Falsely Accused" by IDAC Walkthrough Download
56. Escape Game: "Prank House" by IDAC: Walkthrough Download
57. Escape Game: "A Sweet Trap" by IDAC: Walkthrough Download
58. Cryptic Keep by 3D Methods: Walkthrough Download
59. Escape Game: "The Single Room Murder" by IDAC: Walkthrough Download
60. Snappers Walkthrough Download
61. Escape: The Room Walkthrough Download
62. Escape: The Room 2 Walkthrough Download
63. Escape Game: "The Hidden Present" by IDAC: Walkthrough Download
64. Escape Game: "The Wandering Calico Cat" by IDAC: Walkthrough Download/AFwL4b
65. e3D: The Jail Pro by Bored.com: Walkthrough Download
66. ESPACE by 989 works: Walkthrough Download
67. Before the Storm by AEMI: Walkthrough Download
68. Death Call by Betz Software: Puzzles Walkthrough Download
69. Escape Game: "On the Brink of Death" by IDAC: Walkthrough Download
70. Law & Order: Legacies by Telltale Games: Walkthrough Download
71. The Lost City by Fire Maple Games: Walkthrough Download
72. iRoom Perfection by Gam.eBB: Walkthrough Download
72. Escape Game: "The Hidden Truth" by IDAC: Walkthrough Download
73. Escape Game: "Led by a Cat" by IDAC: Walkthrough Download
74. Escape Game: "The Cage of Envy" by IDAC: Walkthrough Download
75. Escape Game: "Remote Escape" by IDAC: Walkthrough Download
76. The Mystery of the Crimson Manor by Media City Games: Walkthrough Download
77. Cryptic Caverns by 3D Methods: Walkthrough Download
78. Escape Game: "The Woe That Befalls Me" by IDAC: Walkthrough Download
79. The Hauntening by Glitch Games: Walkthrough Download
80. Escape Game: "The Howling Atelier" by IDAC: Walkthrough Download
81. Escape Game: "Mask" by IDAC: Walkthrough Download
82. Escape: Geisha House by WaveA PTE.LTD. (IDAC): Walkthrough Download
83. Emerald Den Escape by TeraLumina Games: Walkthrough Download
84. Escape Game: "Studio" by IDAC: Walkthrough Download
85. Escape Game: "A Plot on the 8th Floor" by IDAC: Walkthrough Download
86. Escape Game: "Night Pranks" by IDAC: Walkthrough Download
87. Escape Game: "The Distorted Island" by IDAC: Walkthrough Download
88. The Spear of Destiny by rupas games: Walkthrough Download
89. Escape Game: "Special Cleaning – The Mad Client" by IDAC: Walkthrough Download
90. Escape Games: "The Devil's Playground" by IDAC: Walkthrough Download
91. 100 Floors by Tobi Apps Limited: Walkthrough Download
92. Escape Game: "Keys and Pieces" by IDAC: Walkthrough Download
93. Infinity Blade II (2) Treasure Maps Guide Download
94. Escape the Room: Limited Time Discussion
95. Adventures of Valentin the Valiant Viking by Playtinum: Walkthrough Download
96. The Enchanted Kingdom: Elisa's Adventure by HeroCraft: Walkthrough & Discussion Download
97. Mystery Lighthouse by Digi-chain Games: Walkthrough Download
98. Mystery Lighthouse 2 by Digi-chain Games: Walkthrough Download
99. Escape: Knight's Glory by WaveA (IDAC): Walkthrough Download
100. Yesterday by Bulkypix: Walkthrough Download
101. The Act by Chillingo: Walkthrough Download
102. The Secret of Arcanesium by Playtinum: Walkthrough Download
103. 100 Exits by Apperleft Ltd: Walkthrough
104. Help Purple by Gameday: Walkthrough
105. Hold Up by Relief M3dia: Walthrough Download
106. The Haunt by Synthesis Design Solutions: Walkthrough Download
108. Waking Mars by Tiger Style: Walkthrough Download
109. Haunted Manor: The Secret of the Lost Soul by MG Mobile Apps (Redbit): Walkthrough Download
110. Cryptic Kingdoms by 3D Methods: Walkthrough Download
111. Murder Room by Ateam: Walkthrough Download
112. Forever Lost: Episode 1 by Glitch Games: Walkthrough Download
113. Doors & Rooms by Gameday Inc: Walkthrough Download
114. Vanished: The Island by Sky Horse Interactive: Walkthrough
Download
115. Limbo game by Playdead: Walkthrough, guide & discussion Download
116. Forever Lost Episode 2 by Glitch Games: Walkthrough Download
117. Alice Trapped in Wonderland by MediaCity Games: Walkthrough Download
118. Cryptic Cosmos by 3D Methods: Walkthrough Download
119. Infinity Blade III (3) Treasure Maps Guide, Help and Walkthrough Download
120. Rooms – open the doors to escape: WalkthroughDownload
122. Mosaika by Fire Maple Games: Walkthrough Download
123. Haunted Manor 2: The Horror Behind the Mystery by RedBit Games: WalkthroughDownload
124. EPOCH.2 by Uppercut Games: Walkthrough, Strategy Guide, Hints and TipsDownload
125. Oceanhorn: Monster of Uncharted Seas: Walkthough, Strategy Guide, Hints and TipsDownload
126. a href="http://www.appunwrapper.com/2013/11/16/stellar-wars-walkthrough-strategy-guide-hints-and-tips/">Stellar Wars by Liv Games: Walkthrough, Strategy Guide, Hints and TipsDownload